Through life with Sagitta soaps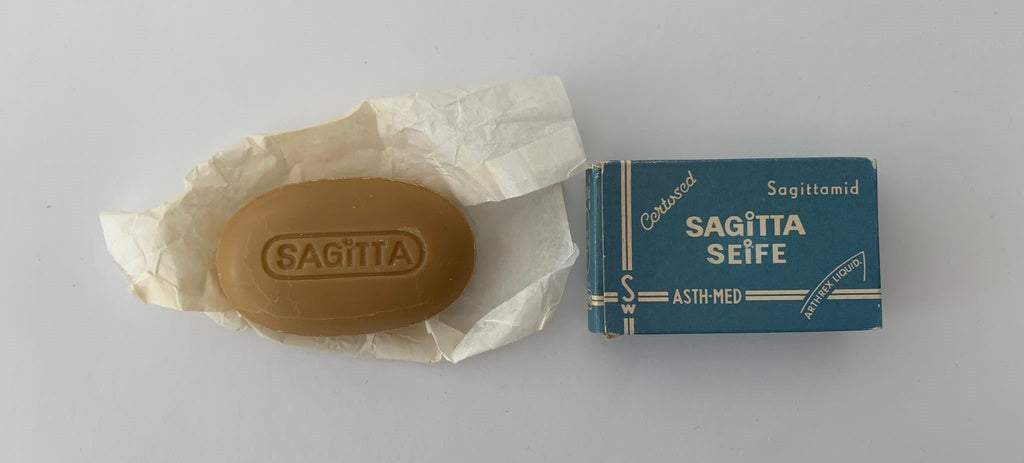 A few days ago we received a dear greeting from Sagitta's past together with a Sagitta soap from 1964 in excellent condition. After all, it has almost half a century on it's back!
At that time it so happened that a cousin of mine was stationed at the Fürstenfeldbruck air base. One day my grandfather gave a big family party at our headquarters in Aschbach (Feldkirchen-Westerham), to which employees of the Sagitta company and the Schützenapotheke in Munich, which belonged to my grandfather at the time, were also invited. A comrade from the air base, Edgar Menzel, chauffeured my grand cousin to this party and celebrated with me.
After that he attended a few Sunday meetings in Munich taverns, until one Sunday at 11 a.m., over a mug of beer and white sausages, my grandfather asked him if he would like to work for the Sagitta company. After 2 days of sniffing in the Schützen pharmacy and in the Sagitta company, everything was clear. It all started on February 1st, 1964 at the Frankfurter Ring. Fritz Fasching offered me the stepping stone for 40 years of pharmaceuticals and I am very, very grateful, Mr. Menzel wrote to us.l.
I was very happy about this greeting, combined with a short look back at our company history, and I would like to thank Mr. Menzel. I admire my grandfather's personnel policy! As you can see, things were different in the good old days than they are today.
But there is still Sagitta and we still have soaps in our range. Our Sagitta Hand Soap 1911, for example, has been manufactured using the gentle cold process for over 100 years according to an old tradition. The recipe was developed in our Schützenapotheke, the oldest pharmacy in Munich. Enriched with juniper and stone pine, it smells like a walk in the forest and lifts the mood with this pleasant association. It has now stood the test of time for over a century.
Sustainable soaps
But time does not stand still. We have been going the ecological route for years and have focused on the sustainability of the products. That is why we only use healthy, organic ingredients and do without any additives that can have a harmful effect. No chemicals, no microplastics, no palm oil. And if possible no packaging. In addition to the 1911 hand soap, we now have new, innovative soaps in our range:
Sagitta Probiotic Body Soap: Enriched with inulin, which is known as food for the good bacteria living on the skin flora, it cleans the skin with a light alkaline. The inulin promotes the natural formation of lactic acid in the skin. (Link) By the way, it is the ideal supplement to our probiotic deodorant.
Sagitta Sea Salt Body Soap: It is a blessing for sensitive skin, because the La Palma sea salt in the body soap can have an anti-inflammatory effect and naturally strengthen the skin structure so that the skin feels firmer and more elastic.
Sagitta Felt Soaps: Our felt soaps are handmade almond oil soaps with a fresh, summery scent of lemongrass. They are lovingly hand-felted in an elaborate process with pure eco-wool. The felted wool contains a lot of valuable lanolin, which moisturizes and protects the skin.
Sagitta hair soap: It gently cleanses the hair without irritating the skin. It is therefore ideal for thin, quickly greasy hair and itchy scalp. It is enriched with sage, nettle and chamomile, a balanced mixture of which helps to soothe the scalp.
Conclusion
The greeting from the past made us pause for a moment and look back. And we are proud to be able to span the Sagitta arc over 100 years and hope that the founding fathers of our family of pharmacists would also be proud and satisfied with the first 100 years.