Sagitta lip balm:don't eat, but eatable!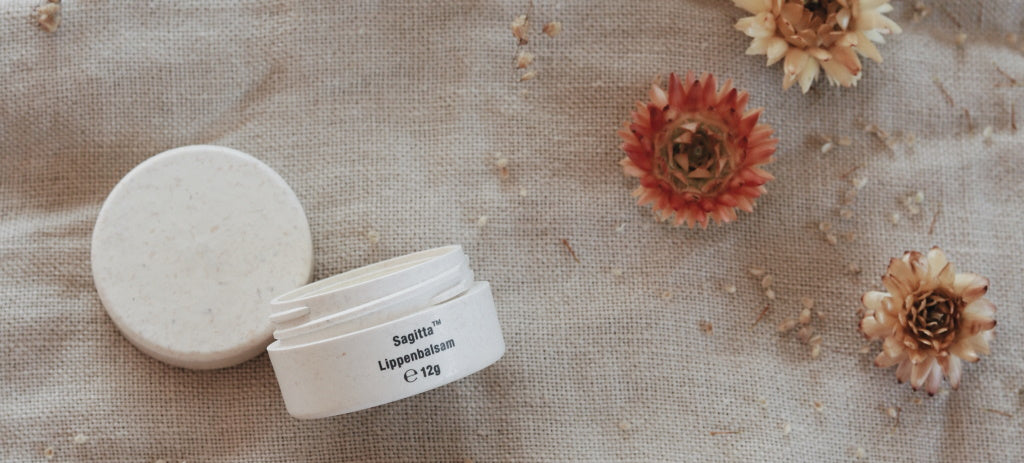 Even as a child I was fascinated by lip balm. Back then the selection was smaller, but anything that made the lips shine was a hit. Now I see the same fascination in my daughters: thelip balm carefully applied, they stand in front of the mirror, laughing and making faces. They took part in the long test phase of our lip balm with great enthusiasm and enthusiasm.

I myself have always had the feeling that some types of lip balm have a certain addictive factor. - Not just because a balm looks nice, the packaging is right and it's a great accessory to have in your purse, but because your lips dry even faster once you've started applying it. This is how you quickly mutate into a slave to your lip balm. Do you know that feeling too??

I never use lipstick. The reason is probably a combination of taste and weird feeling on the lips. On the other hand, I don't know my mother without it. She has a crazy collection of brands and shades in Hermès colors and Tom Ford quality. I've tried them all, but lipstick just isn't my thing. But I love a good natural lip care all the more.

Colored version
During the development of the Sagitta lip balm we toyed with the idea of offering it in a colored version. However, since our top priority was to make the lip balm fully edible, it quickly became clear that this wasn't going to work. There are no edible pigments that can be dissolved in oil.

Recent fungal pigments offer hope, astonishing as it may sound. Yet mushrooms are an under-researched source of sustainable dyes that are non-toxic, biodegradable and fade-resistant. Some even have cosmetic benefits, such as: B. antioxidant properties and UV protection, explains Jesse Adler, recent graduate of the MA in Material Futures at London's Central Saint Martins, who is researching the topic in depth. We're staying on with the mushrooms, even though Jesse Adler and the research still need a little more time.en.



Practically edible
Now I am totally happy with our colorless, but practically edible lip balm. You can also give it to the children without a guilty conscience. Because when mom uses it, the little ones all want to try it out.

We have placed particular value on the consistency of the balm. I appreciate it when lip balm lasts a long time and doesn't melt into a lake in your pocket that your fingers literally sink into. Pick up a tiny little amount with your finger, rub it onto your lips and it has to be good.


circular product
Of course, there are every lip balm product out there, but when Elizabeth Arden's 8 Hour Cream and Nuxe and Burt's Bees Honey Lip Balm came out, I thought they were so much better than all the others. You can always improve a product, claims Yvon Cotillard from Patagonia and he's right! er!

That's why we've now developed our own lip balm that is guaranteed not to be addictive, has only healthy ingredients and is even edible. It is also always important for us to consider whether a new product will make us and our planet better or worse. I think we got everything under one roof with the lip balm, because all the ingredients are certified organic. And like our probiotic deodorant, the lip balm in the compostable jar from the Finnish start-up Sulapac is a circular product: everything comes from nature and goes back to nature.


Nut special edition
We are currently working on an elaborate special edition that is ideal as a gift. We have already taken a first picture of our sensational nut jar, but it will still be a few weeks before the development phase is completed.



The lip balm in a jar is now available in our shop.Look here!

I'm already looking forward to your feedback and suggestions. And of course I'm really curious about your opinion on our nut.

happy testing :)
sabine