Sagitta Hand Soap 1911 available from Manufactum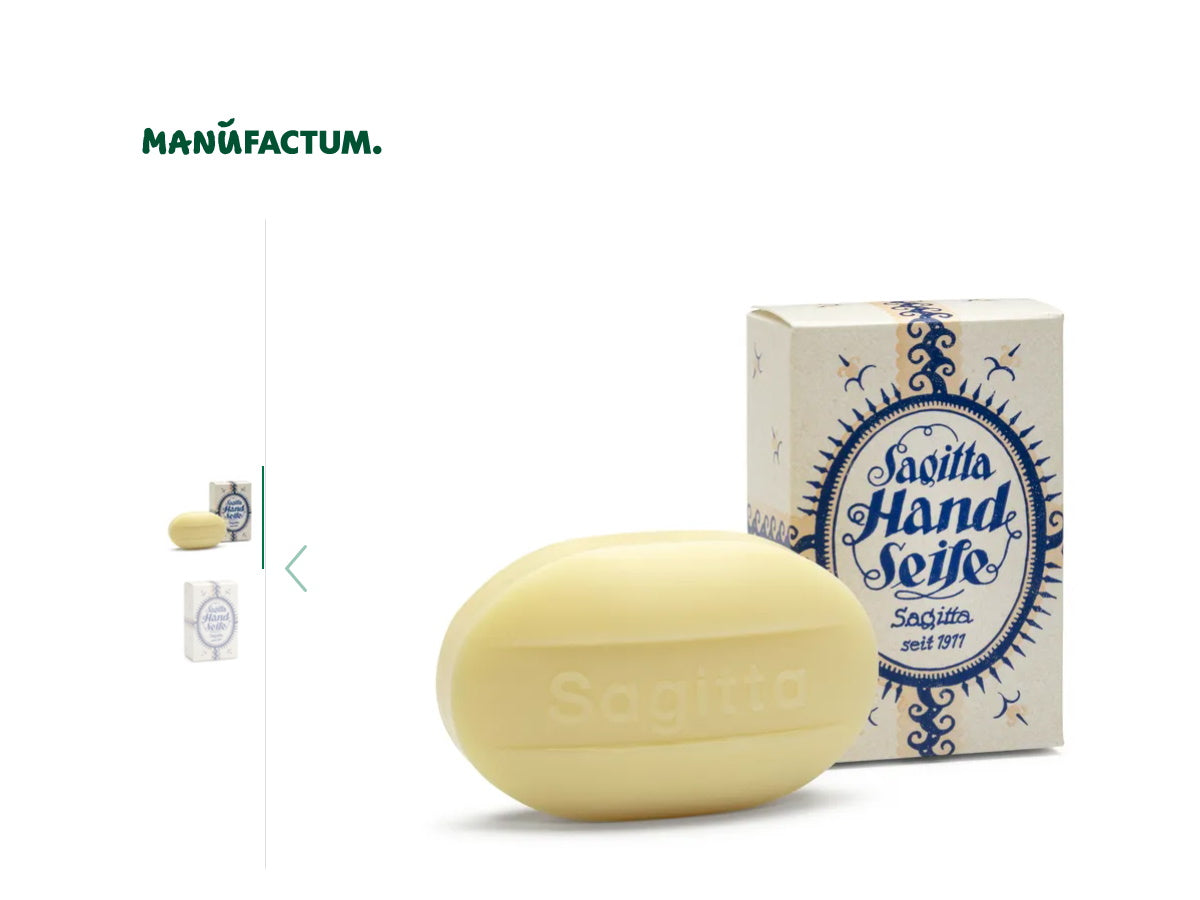 From now on oursprebiotic Sagitta hand soap 1911 also available from Manufactum. Manufactum calls itself the department store of good things and has shops in 11 major German cities.n.
Manufactum's guidelines convinced us, because the Manufactum department store relies on high quality for its goods. Originally, durability, functionality and timeless aesthetics determined the quality of the goods, but for many years sustainability has been the focus of product selection:"We believe the best way to avoid unnecessary waste is to never create it in the first place. That's why we've been offering a conscious alternative to the throw-away mentality for over 30 years now: We're looking for good things for you that are worth keeping and caring for - environmentally and socially responsible, high-quality products that you can always use even after years of use be able to inspire again.."
Even if the Sagitta Hand Soap 1911 doesn't see years of use because it dwindles in the hands with frequent use, Manufactum's attitude fits our way of thinking and the range forms a valuable framework for our products.e.
Interested in Sagitta products
Manufactum was very interested in our products when we first contacted them. The Sagitta Hand Soap 1911 easily met the strict requirements for admission. So we are delighted that our prebiotic hand soap is now also available in 11 local shops, in the Manufactum catalog and in the online shop.
Because our
Probiotic deodorant
performs so sensationally well in all tests, Manufactum really wanted it for its range. However, the deodorant is sensitive to heat and should always be fresh when you buy it. That's why it's too risky for us to offer the deodorant through Manufactum. Because then we no longer have any influence on the temperature and duration of storage. In the Sagittashop, on the other hand, we can guarantee the optimal storage and freshness of the deodorant at all times.
The Sagitta Hand Soap 1911 is therefore our only product in the Manufactum range for the time being and we are very excited to see how much interest Manufactum customers will show in our hand soap.


Where is the deodorant available in the store?
Locally it is in the North Star Pharmacy in Munich and, brand new, also in the farm shop locals" available in Lampertsham near Palling, near Traunreut. There you can admire beautiful handicrafts in the historic columned room of the Christandl Hof and also buy our deodorant and our traditional Sagitta Hand Soap 1911. The local area is certainly worth a short trip. We highly recommend it!
Logo Manufactum: License Manufactum Waltrop. Playback without changes