New:Sagitta Urea Serum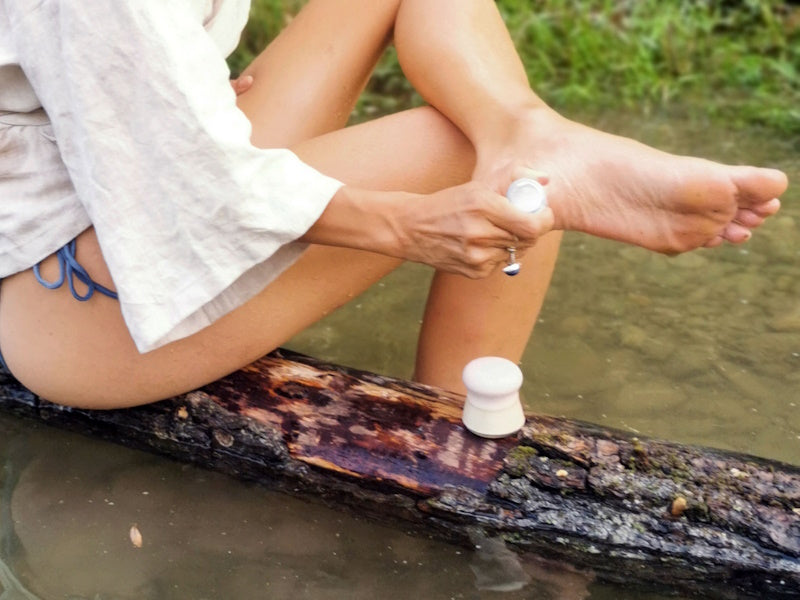 After intensive research and development, we are pleased to be able to present a real innovation: Our Urea Serum makes your feet as soft as velvet and prevents excess callus formation - within just a few weeks.
"For me, the feet are a particular challenge when it comes to body care. There are great products for hands and body, such as our soaps, that make the skin soft and supple. But the skin on the feet often tends to be extremely dry. This causes it to become rough and brittle and loses its elasticity. The heels in particular look unsightly and painful cracks can occur. Finding a solution is difficult. I know this condition too well from my own experience and customers also ask again and again whether we have any remedies for it. And now the time has finally come: Our Sagitta Urea Serum, which makes the feet really soft and delicate, is currently being bottled and will be available in our shop in a few days., explains managing director Sabine Fasching the background of this new serum..
The secret of the Sagitta Urea Serum lies in its unique formula with eleven carefully selected ingredients. The high urea content is particularly noteworthy. The human horny layer itself consists of seven percent urea, also known as urea. When the skin is dry, this proportion is reduced by around half, making the skin's protective layer permeable. Here the Urea Serum helps to create a natural balance between oil and moisture in the skin by rebuilding the acid mantle. This protective acid mantle is populated by the skin flora. If the skin flora is intact, this environment can keep the skin moist, leaving it permanently supple and resilient. Even with pressure and friction, little or no calluses form.
At the beginning of 2023 we offered the serum for testing in our newsletter. 40 customers received a free skin scrub and a serum to test the effect and give us their honest feedback. The overwhelming majority (92%) were enthusiastic about the effect and would unreservedly recommend both the skin scrub and the urea serum.
From now on you can order the skin scrub and the urea serum in the Sagittamed shop and experience for yourself how soft your feet become.
For the Sagitta Urea Serum
By the way: Have you already subscribed to our newsletter? Every three to four weeks you will receive attractive offers or exciting promotions. In September, for example, there was a 15% discount on all products for five days..