You can order free shipping in DE from an order value of €50 or more 📦. To AT, CH, BE, DK, NL, LU from 75 €!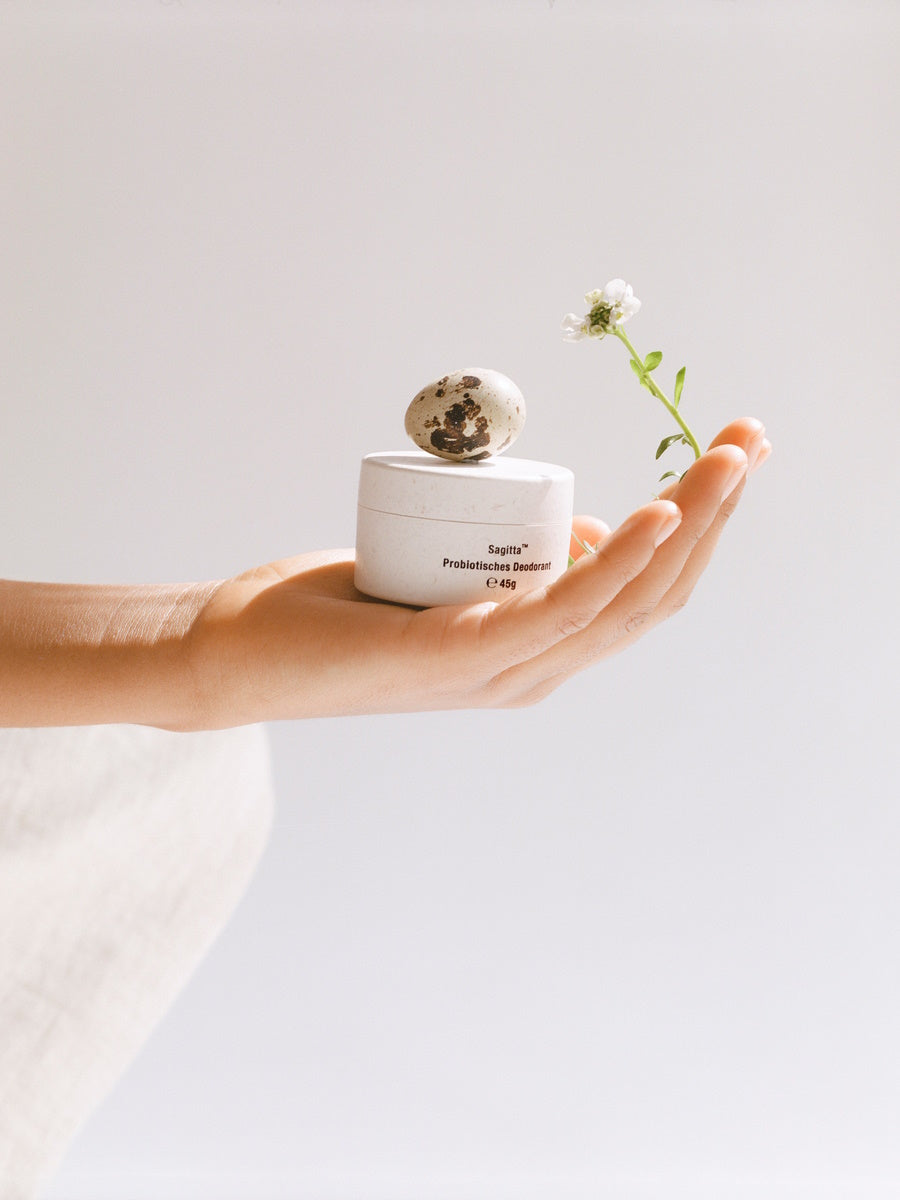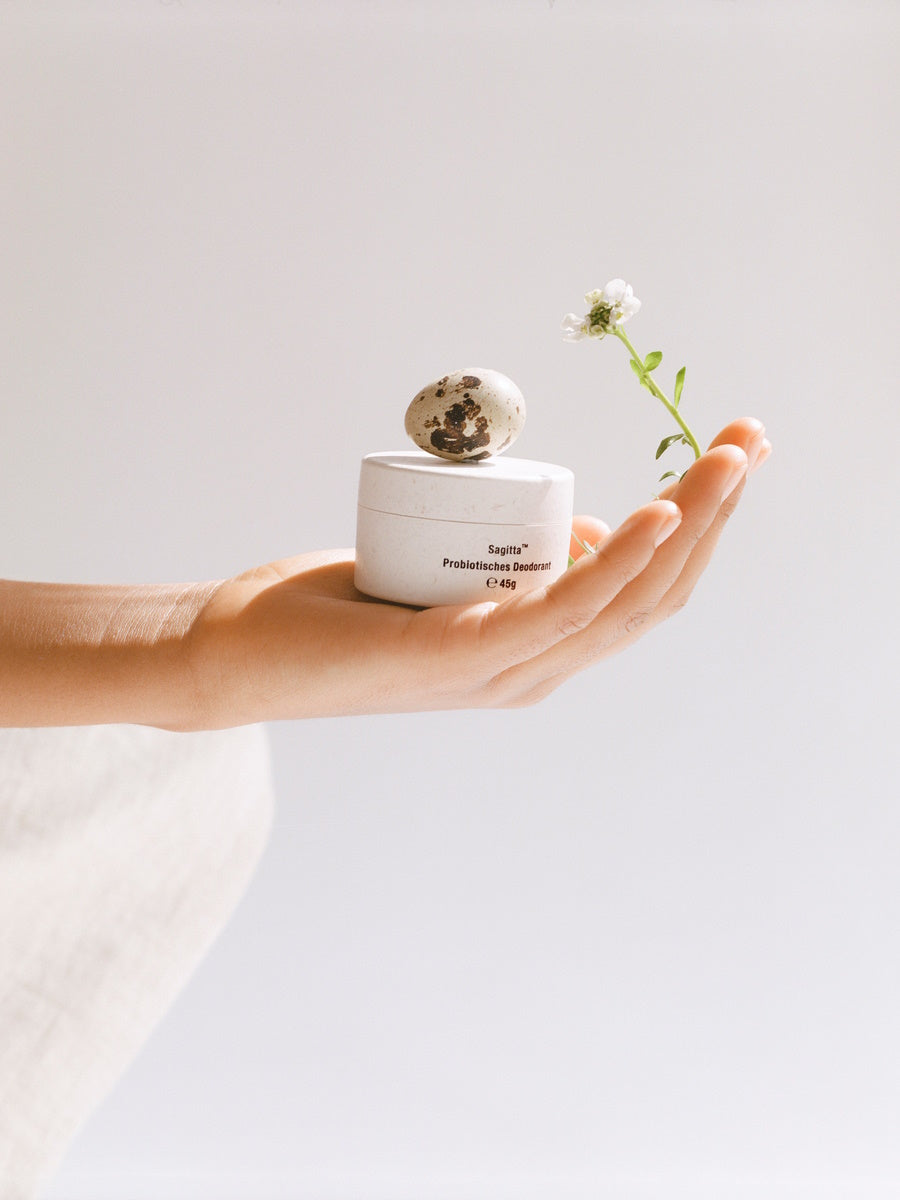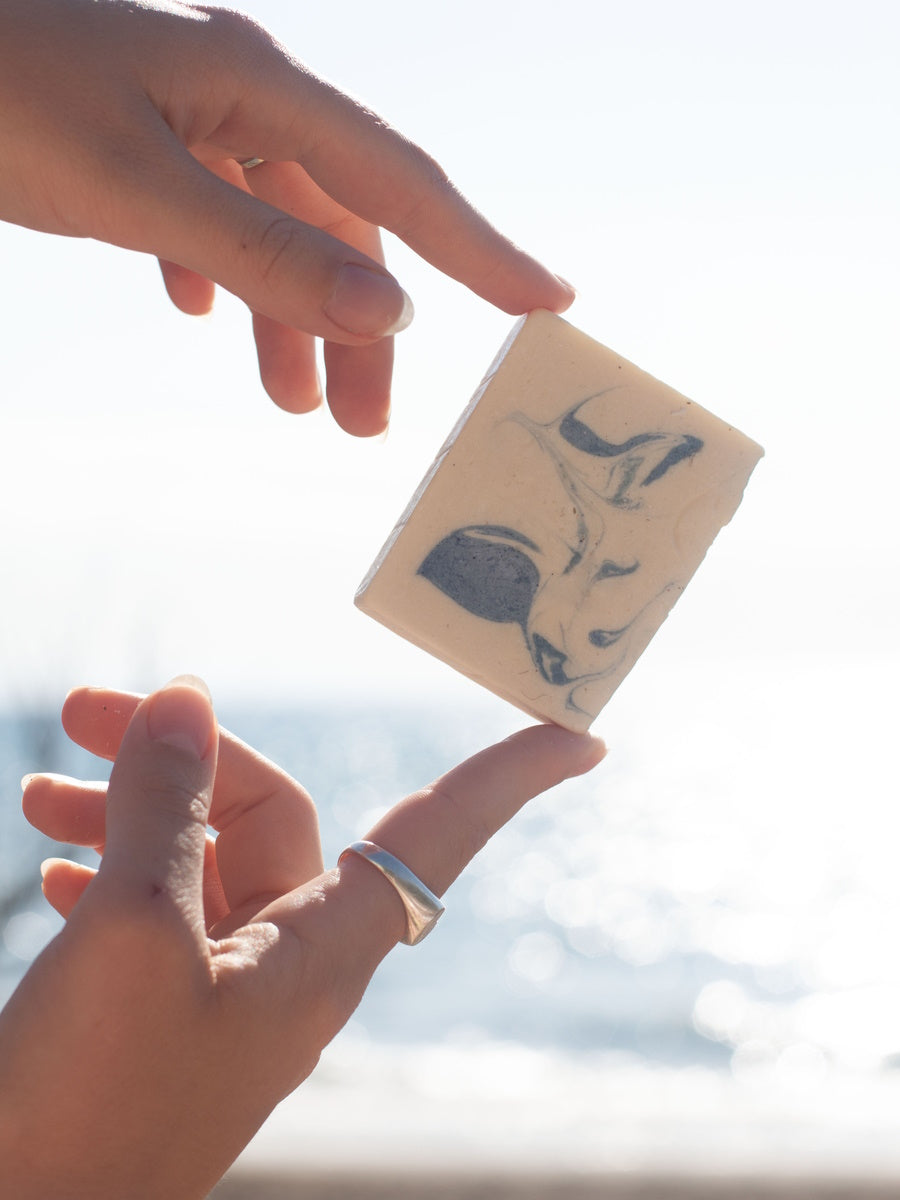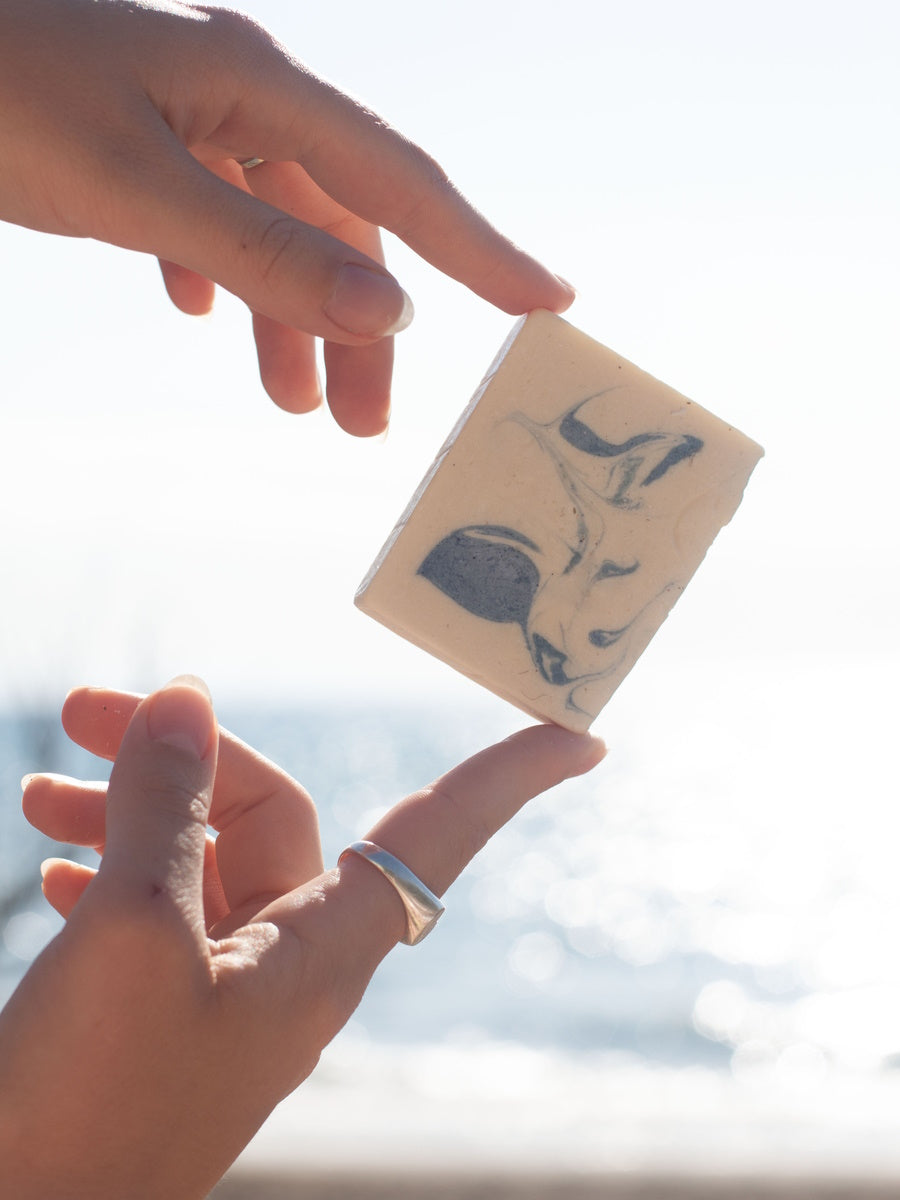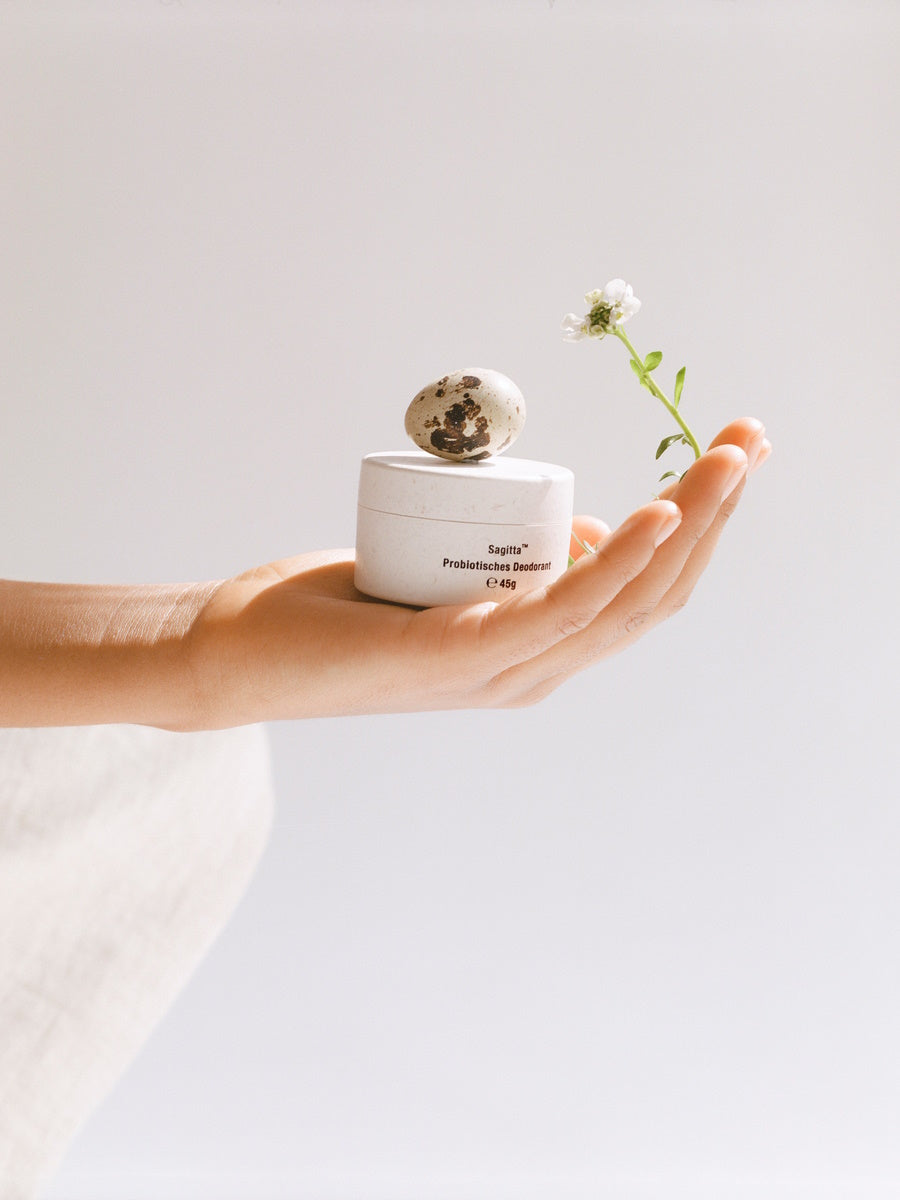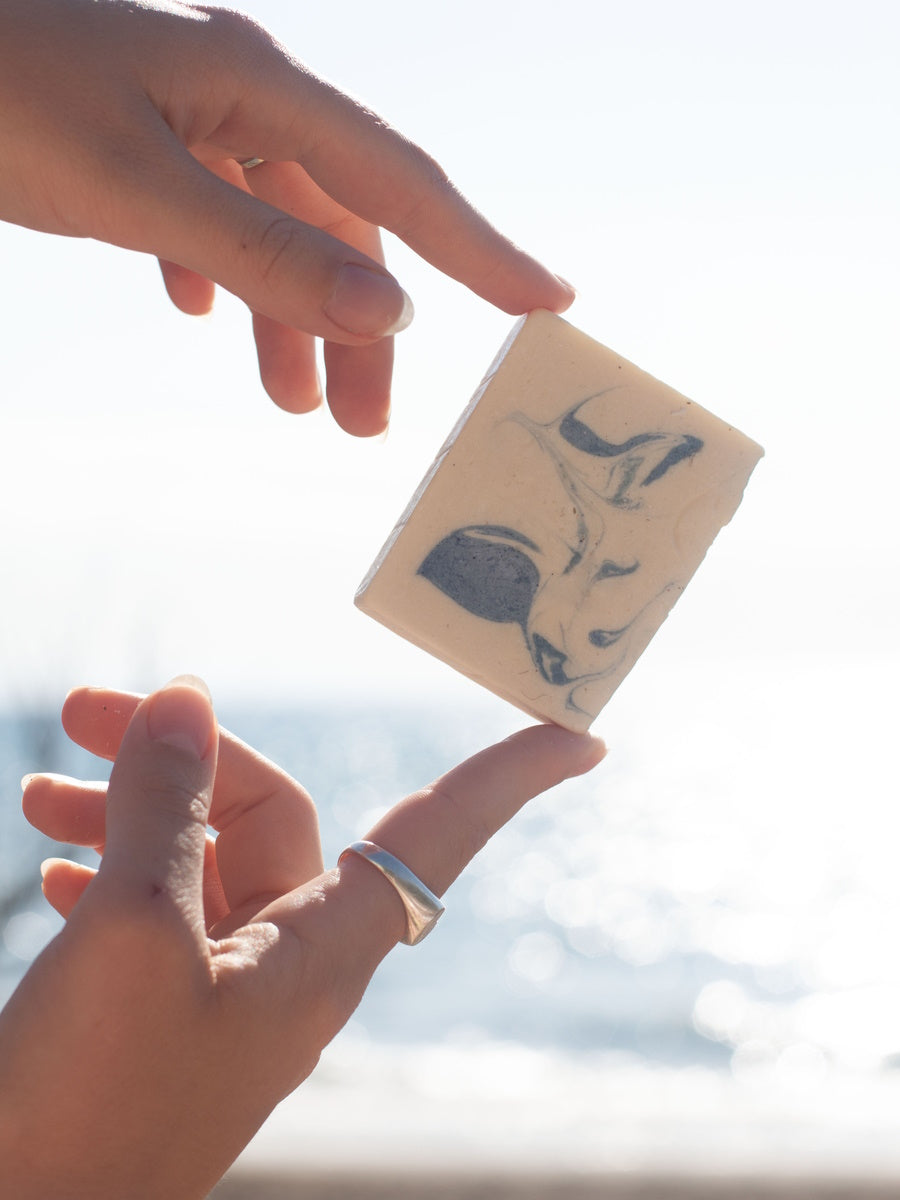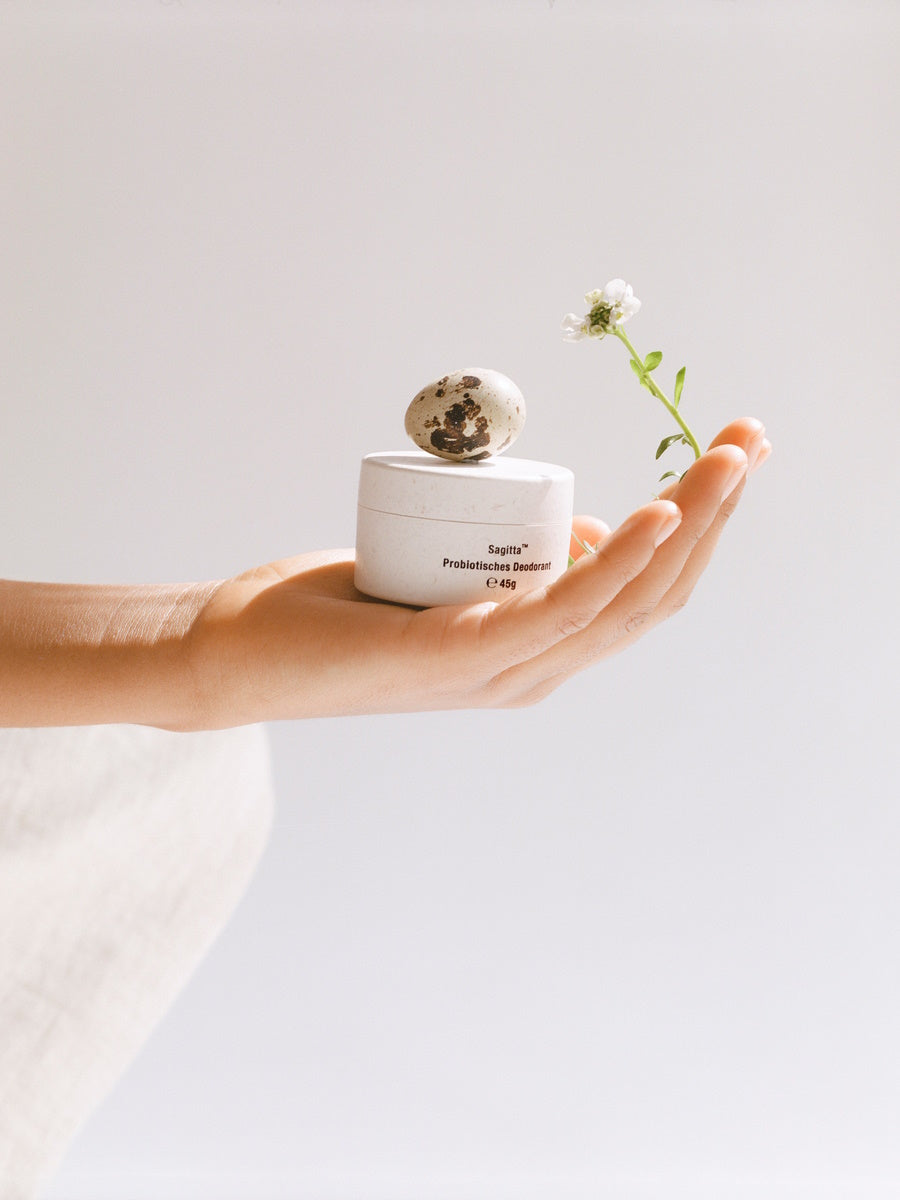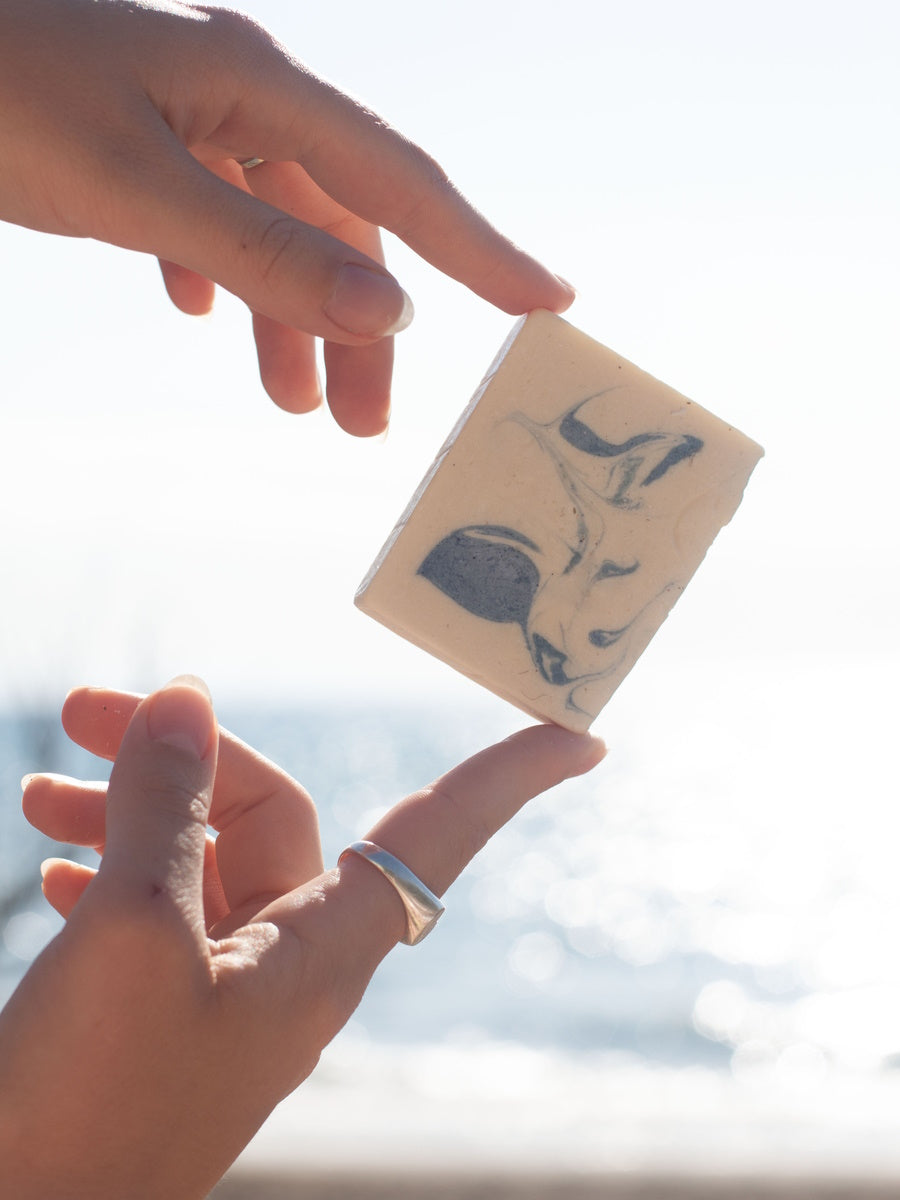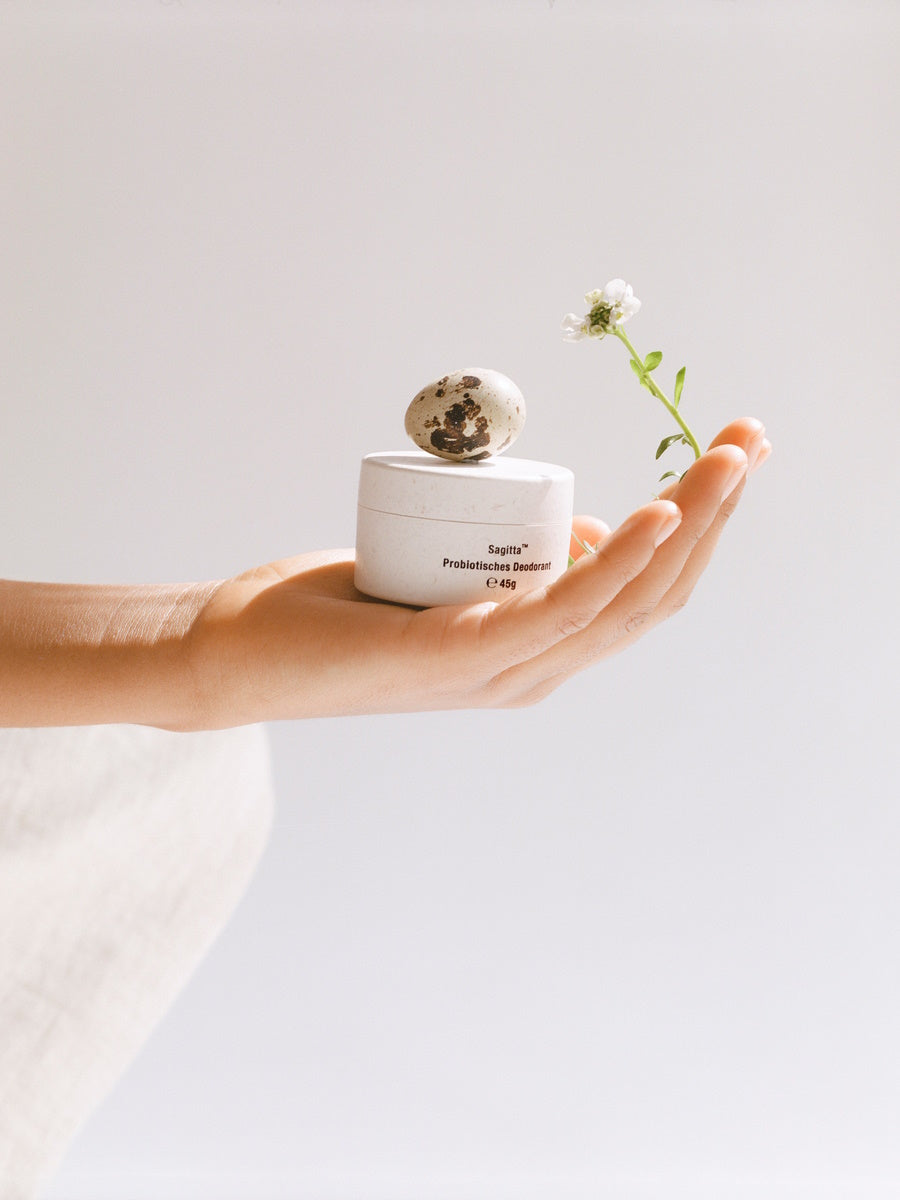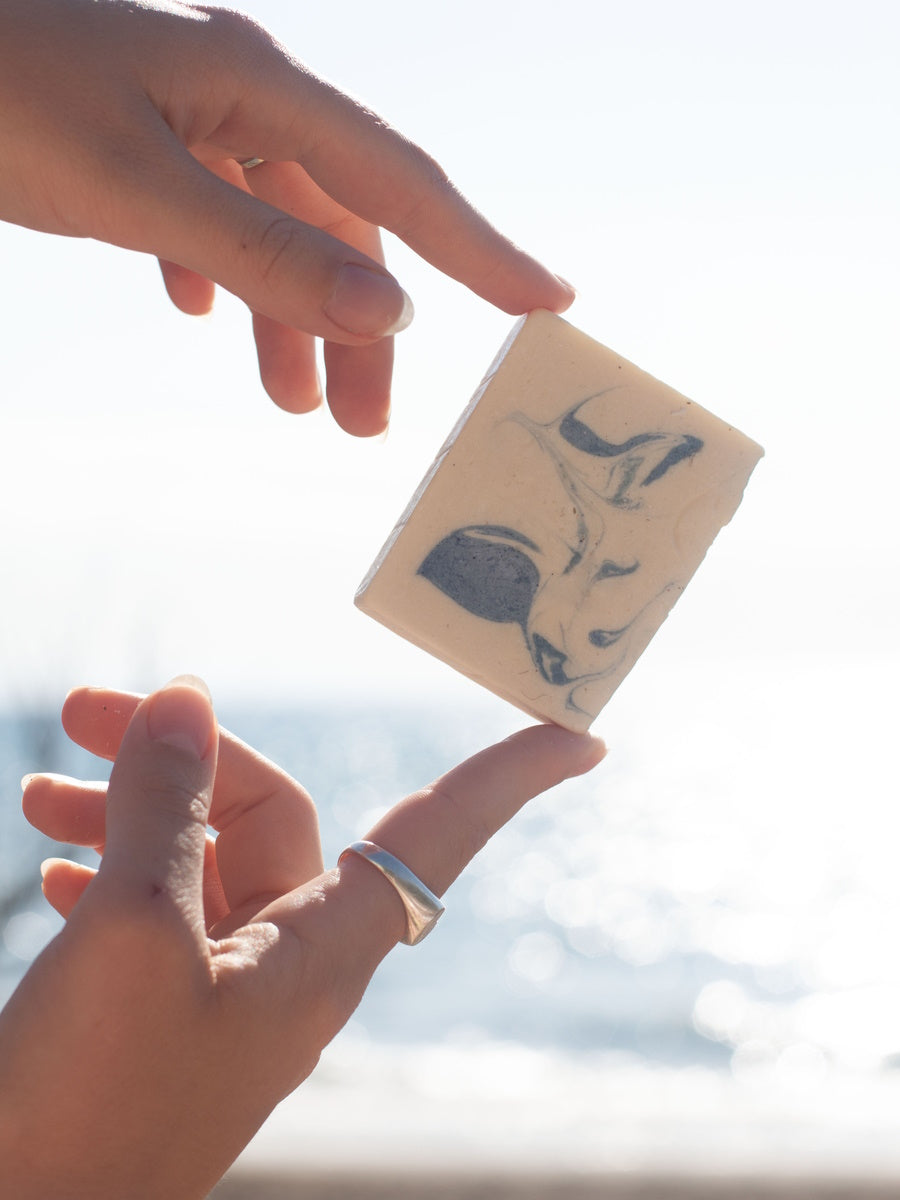 SAGITTA SKIN CARE TRIO "SYMBIOSIS"
AUF LAGER UND IN 2-4 TAGEN BEI DIR
✓ Probiotic deodorant
✓ Prebiotic body soap
✓ Soap pouch
✓ Without aluminum & Co.
✓ Regulates perspiration
The skin care trio "Symbiosis" consists of the products

Sagitta Probiotic Deodorant
Sagitta Prebiotic Body Soap
Sagitta + Resache soap bags,

who support each other.

The prebiotic body soap is the ideal complement to the deodorant because it contains the prebiotics Bio Inulin and Bio Lactis Proteinum. These substances serve as a food source for the good bacteria that the deodorant is enriched with and encourage them to multiply. The job of these bacteria is to help the delicate underarm skin return to biological balance and neutralize odors.

Prebiotic body soap and probiotic deodorant practically form a symbiosis. This is what makes the combination so extremely effective. Only well-groomed skin with a natural, intact skin barrier regulates sweat formation and can effectively prevent it. The result is an odor-free and dry armpit - and all without aluminum, alcohol, preservatives and perfumes. The deodorant itself is also odorless.

The prebiotic body soap is a purely natural soap for body care, made by hand according to old family traditions. It is hand-boiled with organic inulin and organic lactis protein to promote the skin's natural lactic acid production.

This means that the body soap is slightly alkaline and can prevent skin problems. In addition, the harmonious composition of rich shea butter and cold-pressed plant oils provides the skin with valuable moisture. It leaves the skin with a delicate scent of Ho Wood and grapefruit and a silky, soft, nourished feeling.

The third member of the league is the Sagitta + Retaschen soap bag. A wonderful addition to the prebiotic body soap, as it is ideal for foaming the soap. After use, the soap can be hung in the soap bag in the shower to save space so that it dries quickly. The soap bag is made from 100% recycled fabric and helps save plastic.



Contents Sagitta Probiotic Deodorant 45 g, Sagitta Prebiotic Body Soap 90 g



Organic farming

The ingredients of deodorant and body soap come from controlled organic cultivation and are sustainable and palm oil-free. Of course, we do not use any chemical additives, heavy metals, pesticides, preservatives, parabens and microplastics.






LIVE HEALTHIER WITH HEALTHY HABITS

Make sure your deodorant does not contain any harmful ingredients such as aluminum. However, many aluminum-free deodorants are already worn out by midday and sweating and unpleasant smells occur. But that need not be. Sagitta's probiotic deodorant supports an intact skin barrier and can thus prevent sweating.


Our deodorant is the first of its kind in the world because it contains so-called good bacteria that are known to be good for our intestinal flora. But they can also have a positive influence on the skin. That's why good lactobacilli and bifidobacteria lie dormant in our probiotic deodorant. As long as the deodorant is not used, they are in a dormant state. When the deodorant cream is applied, the water in sweat activates these bacteria. They are then fed with the organic inulin from the prebiotic body soap. This stimulates the growth and reproduction of bacteria.



INGREDIENTS
Sagitta Probiotic Deodorant
Shea butter, potato starch, coconut oil, baking soda, beeswax, effective microorganisms, natural vitamin E

INCI: Butyrospermum Parkii, Solanum Tuberosum Starch, Cocos Nucifera Oil. Sodium bicarbonate, Cera Alba, probiotics, tocopherol


Sagitta Prebiotic Body Soap
Shea Butter, Coconut Oil, Olive Oil, Organic Lactis Proteinum, Rapeseed Oil, Aqua.

Essential oils: Ho Wood, grapefruit, juniper, organic inulin, castor oil, sea salt, ultramarine blue.

INCI: Butyrospermum parkii butter, Cocoa anucifera oil, Olea europaea fruit oil, Lactis proteinum, Canola oil, Sodium hydroxide, Aqua, Ricinus communis, Aroma, Inulin lauryl carbamate, Maris Sal, CI 77007, Citral, Geraniol, Citronellol, Limonene, Linaool .



THIS IS HOW THE MAIN INGREDIENTS WORK


Microorganisms (probiotics): The so-called good bacteria for the probiotic deodorant consist of Lactobacilli and Bifidobacteria species, which occur everywhere in the body and help to restore the balance of the skin flora, which is usually massively disturbed by showering and aluminum.n.

Shea butter is obtained from the fruits of the shea tree, which grows in Africa. The seeds are traditionally processed by hand into a buttery vegetable fat that contains a high proportion of skin-friendly fatty acids and vitamin E. Shea butter provides the skin with a lot of moisture and relieves the feeling of dry and irritated skin.

Vitamin E is a collective term for fat-soluble substances, which also includes the tocopherol used here. It helps protect the skin and repair damage to the skin barrier. Together with vitamins A and C, vitamin E is one of the antioxidants whose job is to protect the skin from free radicals.

Organic inulin is a purely plant-based substance that is obtained from plants such as agave and artichoke. It forms a soft film on the skin that helps protect the skin.

Organic Lactis Proteinum As a prebiotic, it can promote skin regeneration and cell renewal. It promotes the production of lactic acid in the skin and can prevent skin problems. In addition, the whey proteins it contains improve the stability of other important ingredients and are part of a system that supports the penetration of active ingredients into the deeper layers of the skin.



APPLICATION
Lather the Sagitta Prebiotic Body Soap with water and rub your body with the bar of soap. Then rinse off the soap foam as usual.

Apply an amount of the deodorant about the size of a hazelnut to clean, dry skin and massage it in over a large area. Then it is spread very thinly, nourishes the skin and supports the good bacteria in their work. One jar should last at least four weeks.n.

If you have used a deodorant containing aluminum for a long time, it may take a few days for the skin to regenerate and care. We therefore ask for a little patience and perseverance.

Always let the soap dry thoroughly after use. One of the beautiful Sagitta + Retaschen soap bags, which you can find in a large selection here in the shop, is ideal for this.



REVIEWS

DEO TEST FROM VOGUE MAGAZINE July 2019

Among the eight favorites in the "Vogue" magazine test, Sagitta's Probiotic Deodorant is No. 1!


THE VERDICT OF THE PROFESSIONAL TESTERS

"Even after a day of dancing at a festival at 25 degrees, I still smell fresh. I'm sticking with it!""
Product test in Girlfriend magazinen"


"Don't let up in the shade even at 37 degrees!"
Product test in Brigitte magazinee"





FAST SHIPPING WITH DHL (2-3 DAYS IN DE)
30 DAY SATISFACTION GUARANTEE
BUYER PROTECTION WITH TRUSTED SHOPS
BONUS PROGRAM FOR LOYAL CUSTOMERS