You can order free shipping in DE from an order value of €50 or more 📦. To AT, CH, BE, DK, NL, LU from 75 €!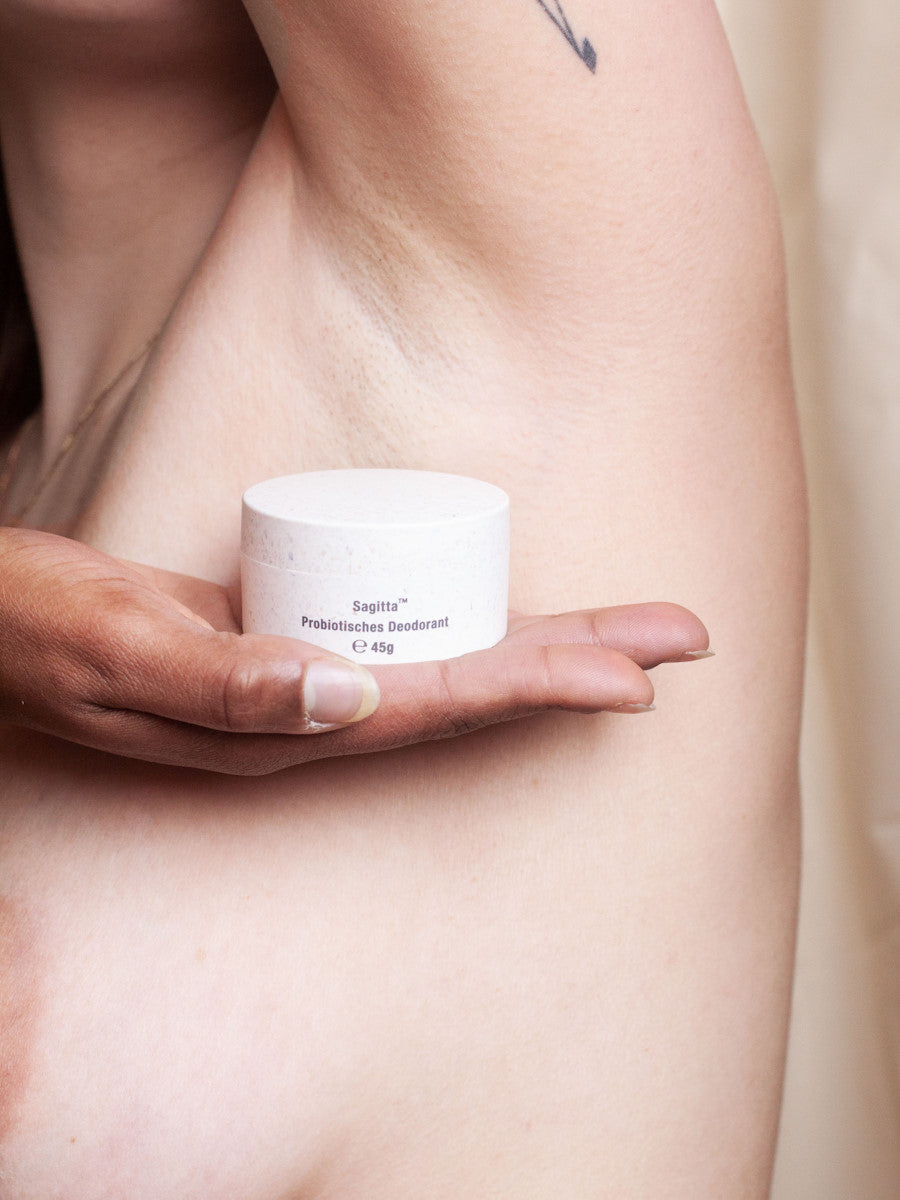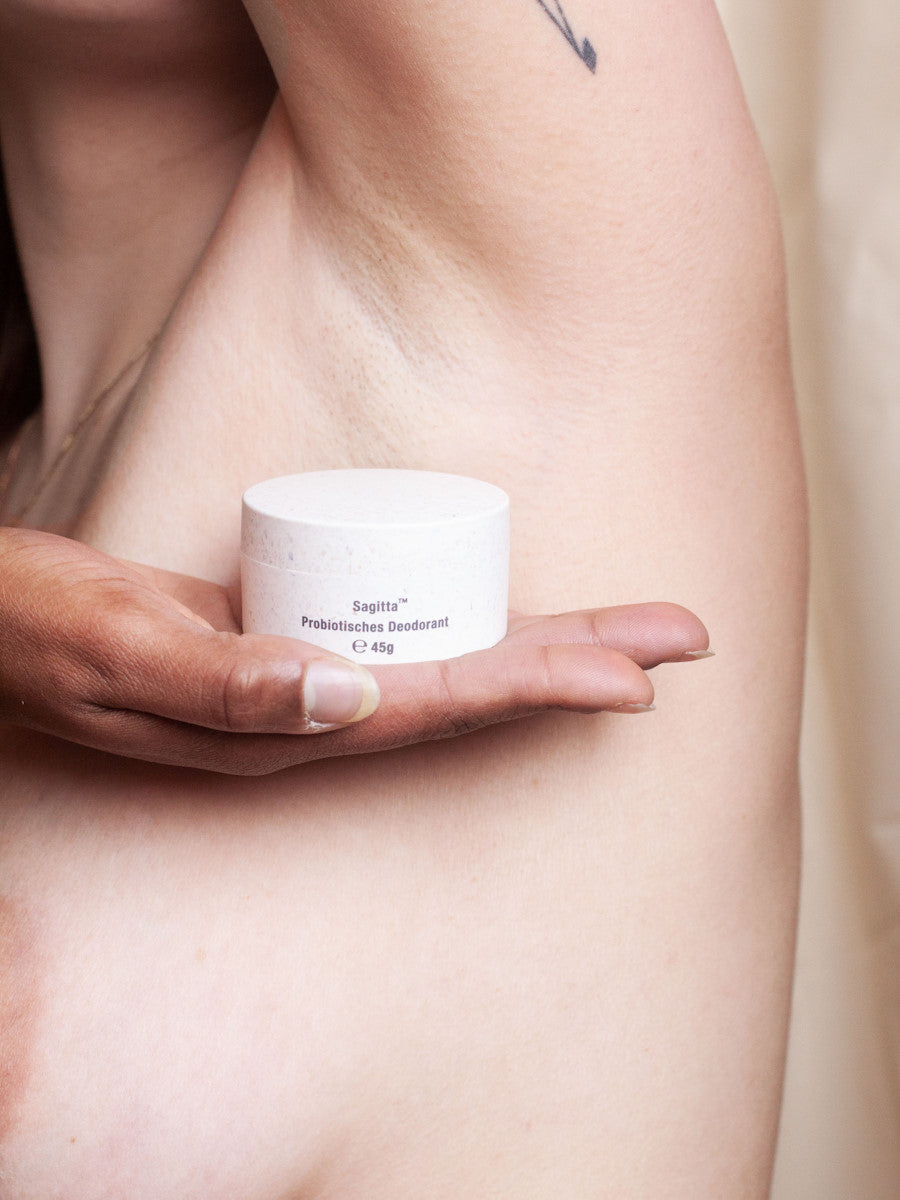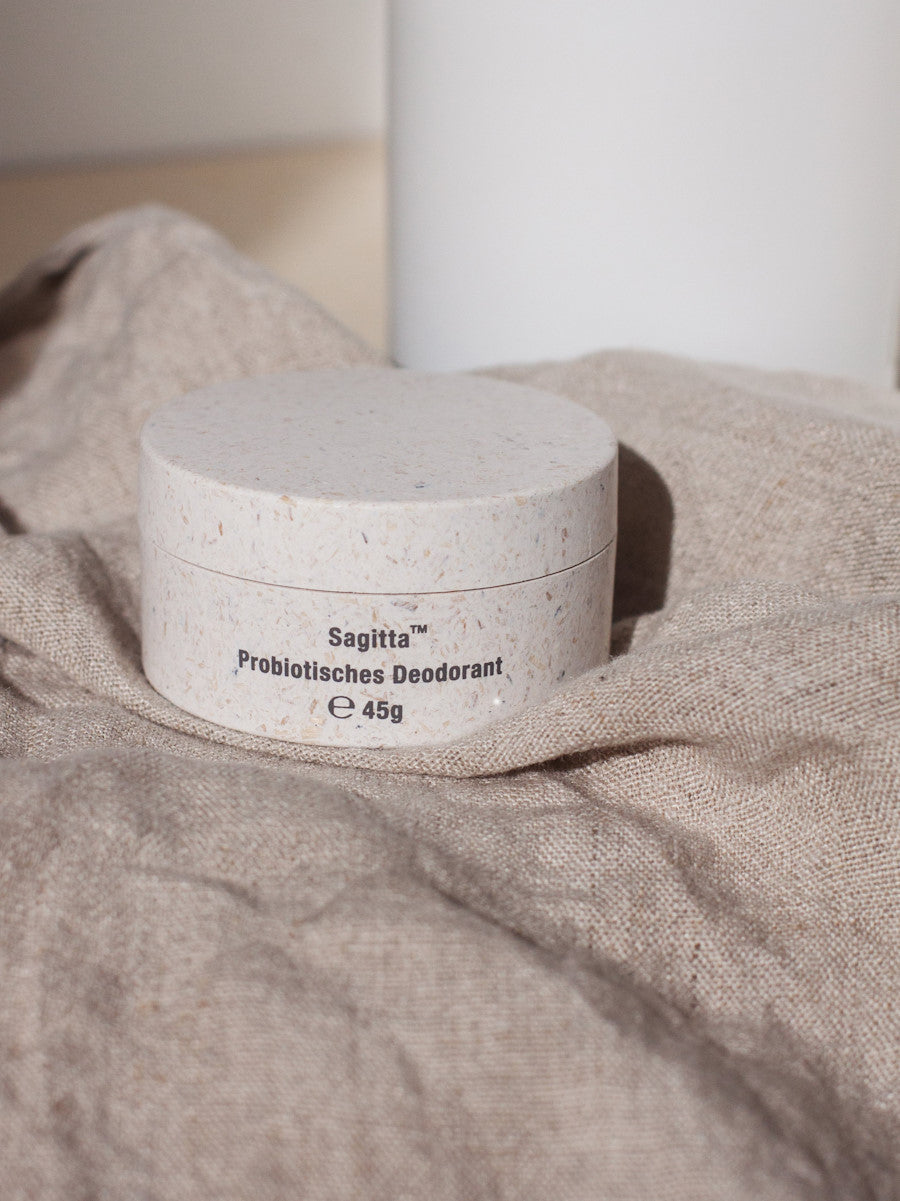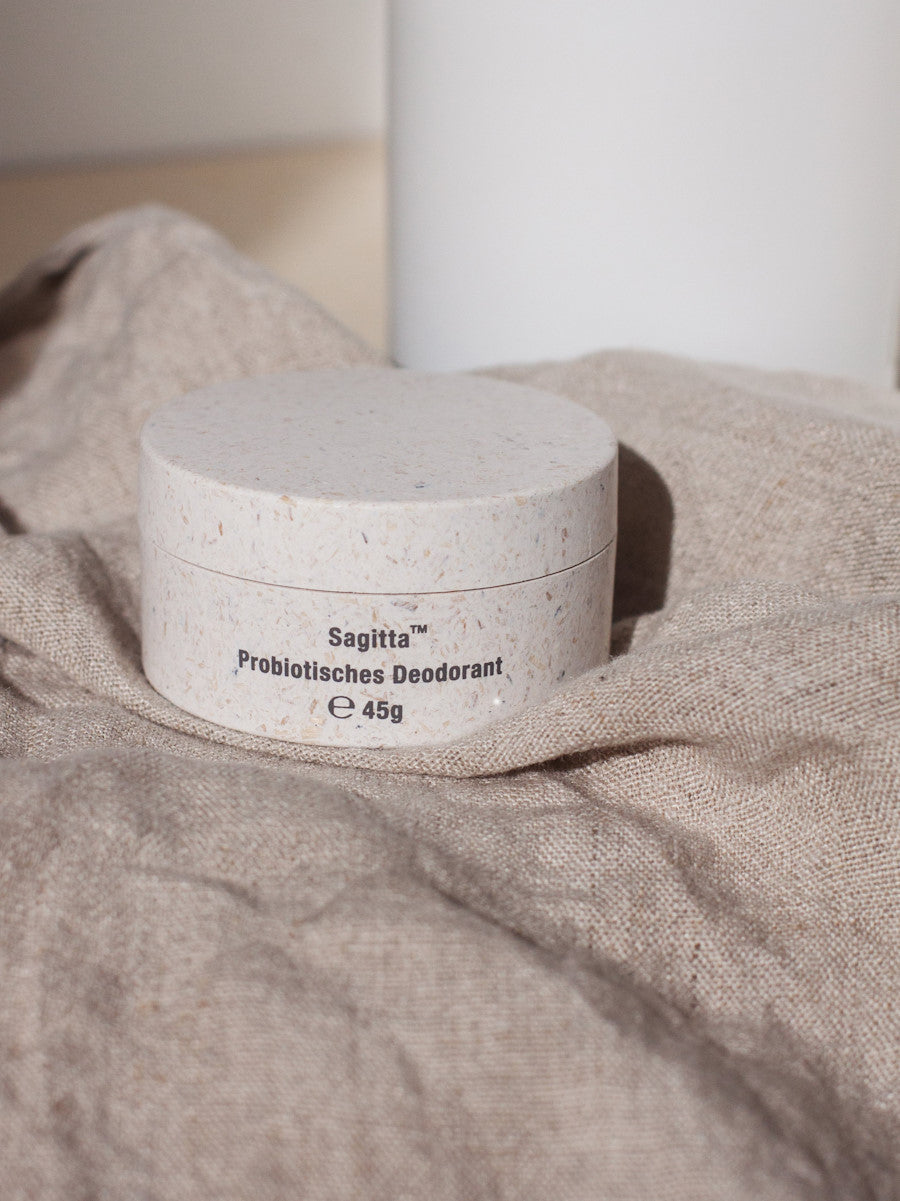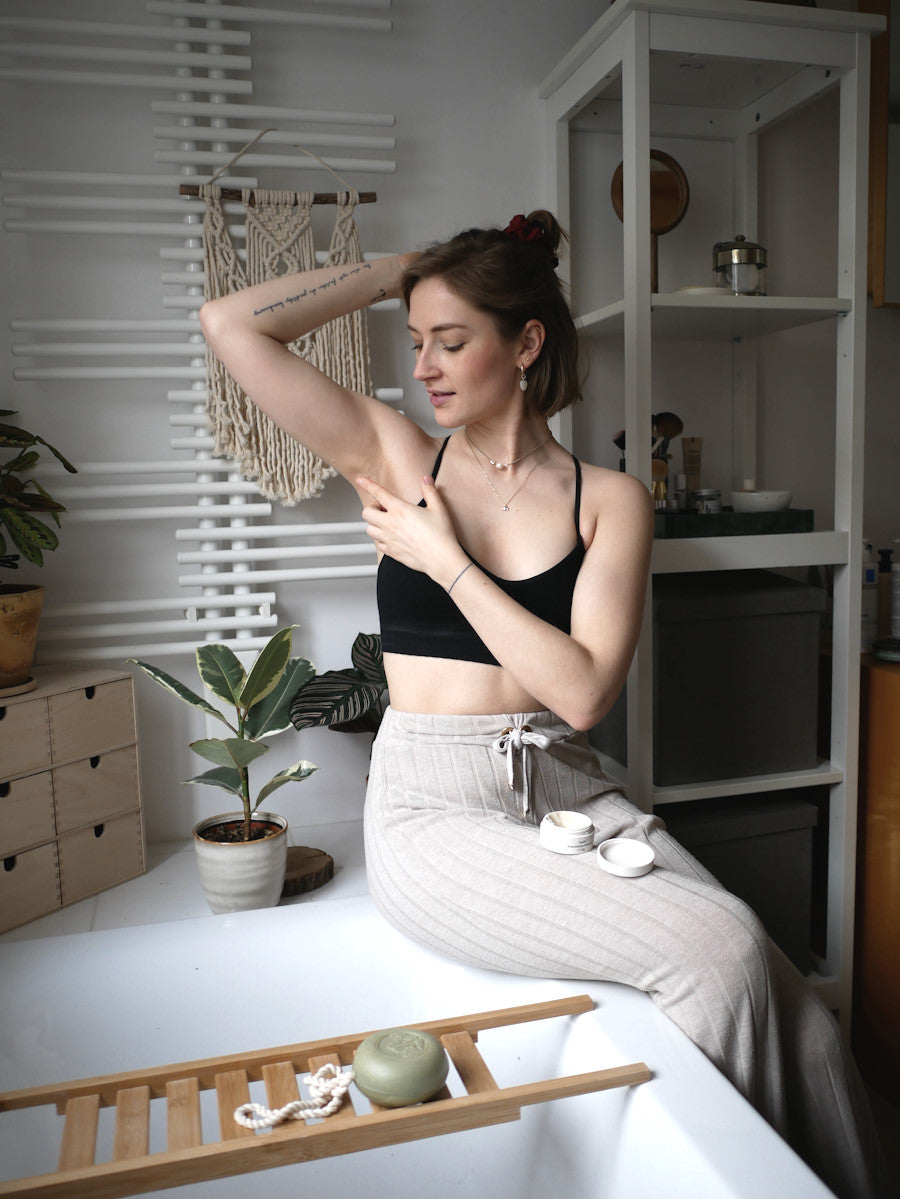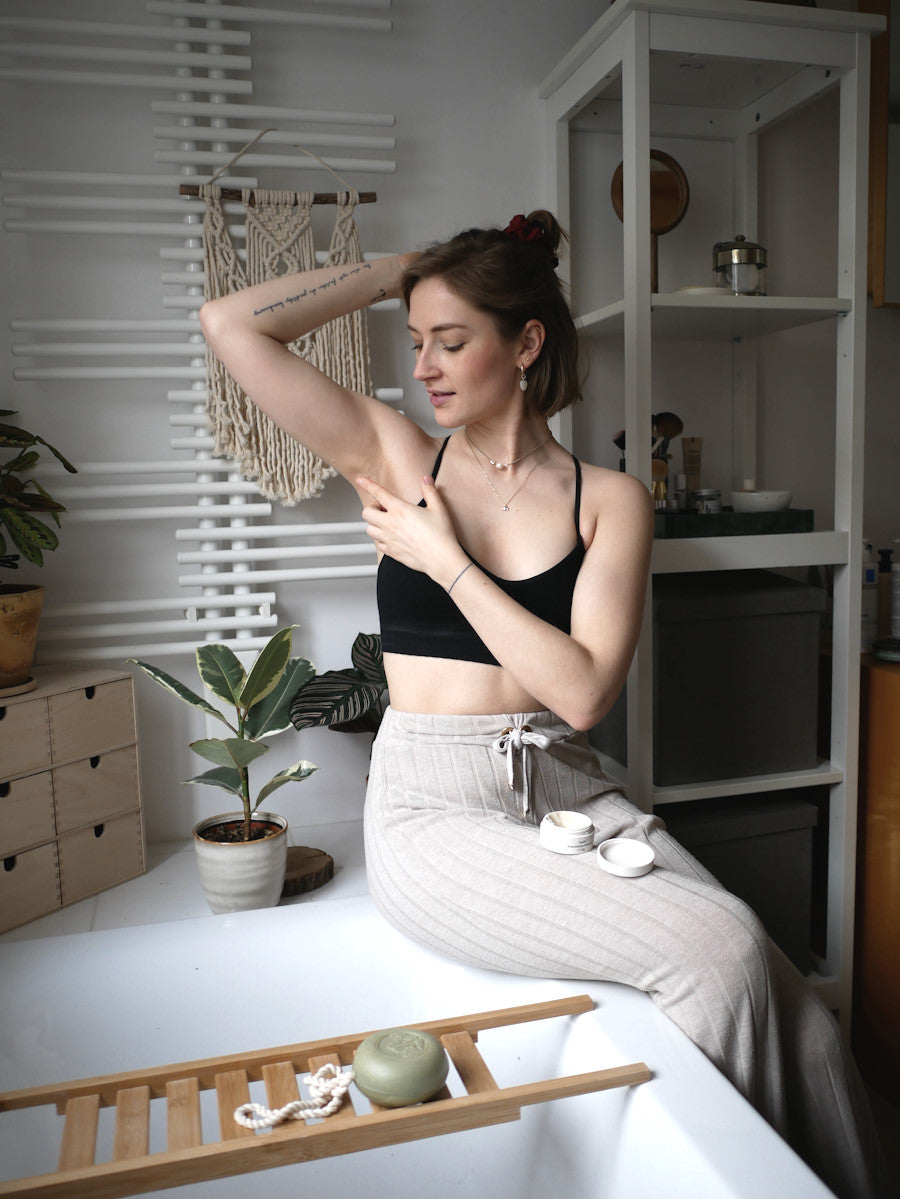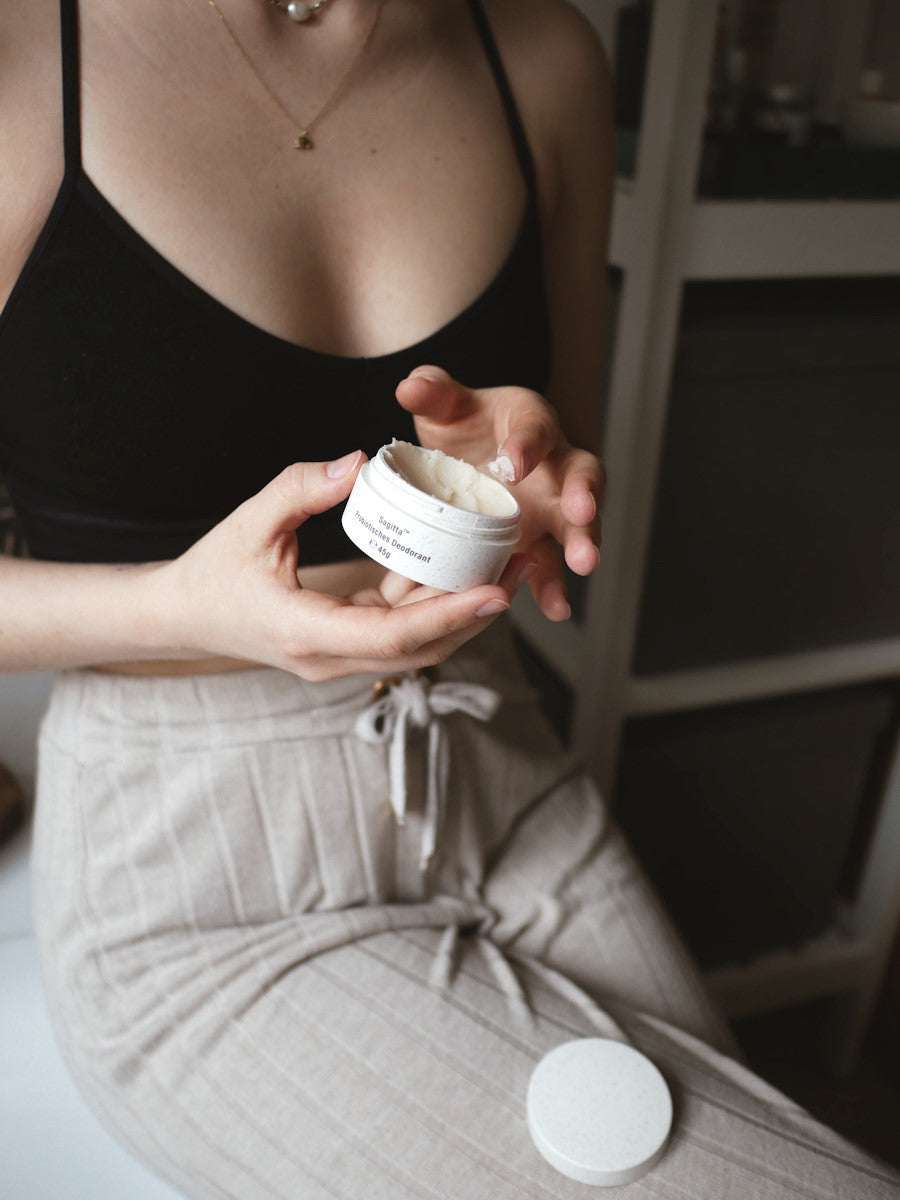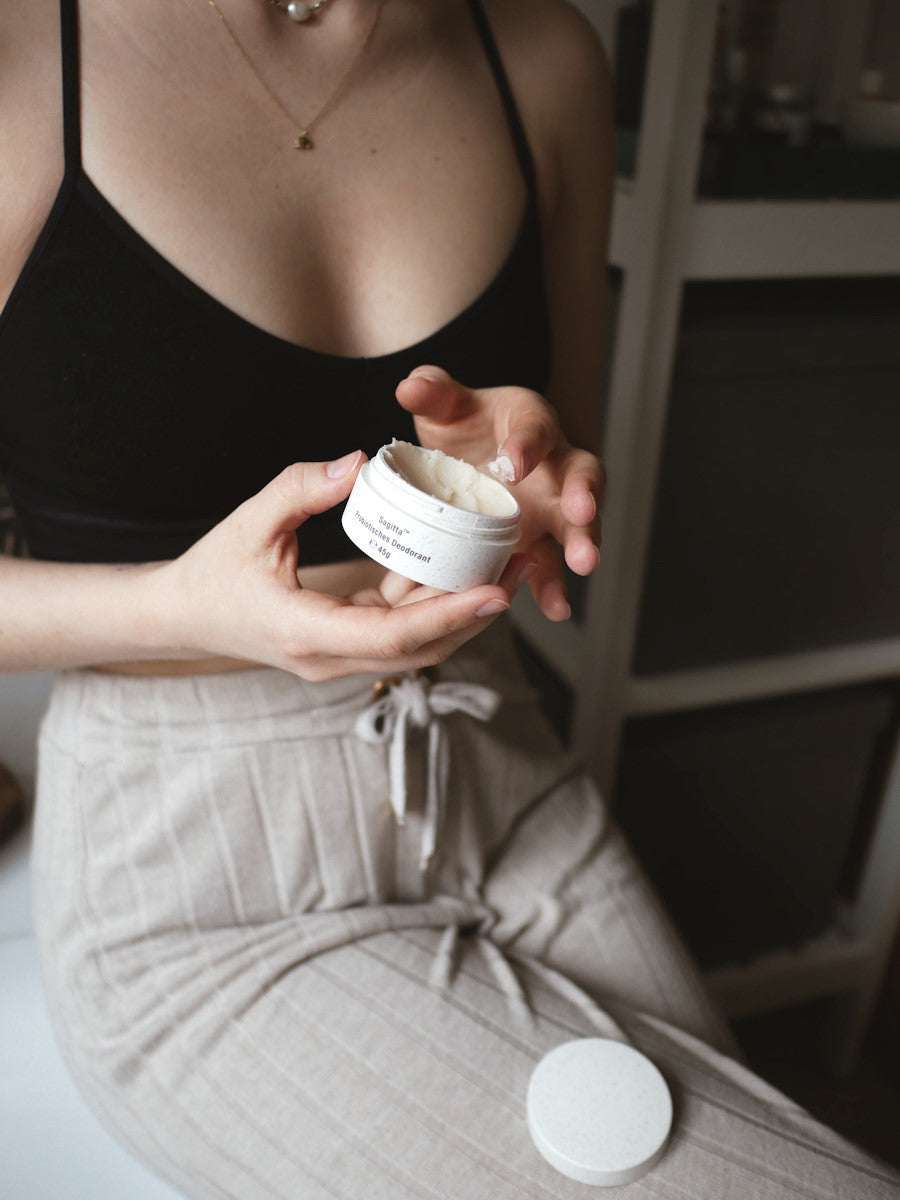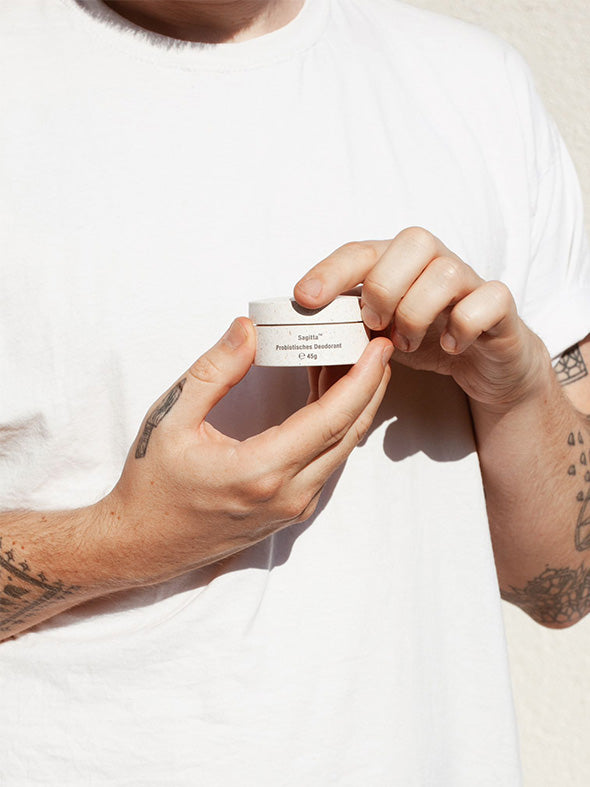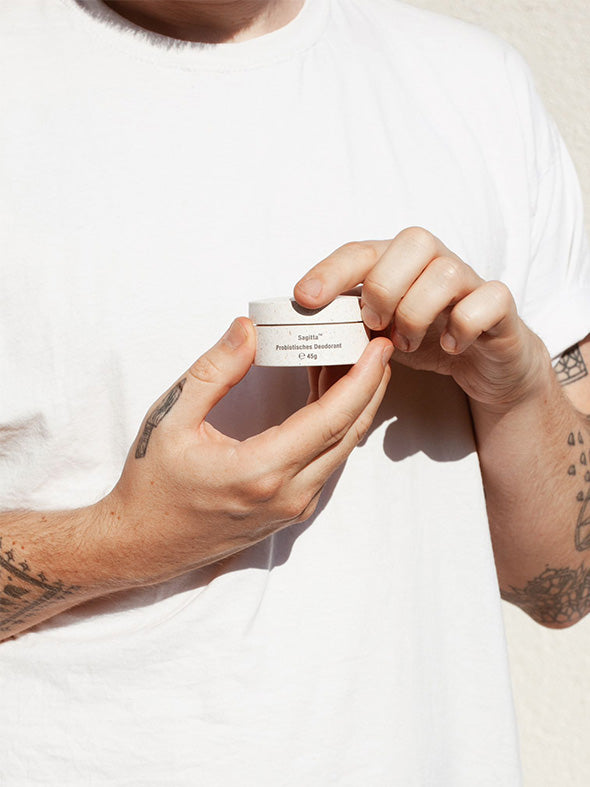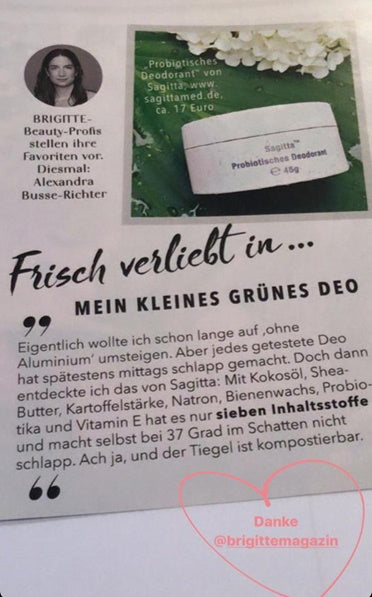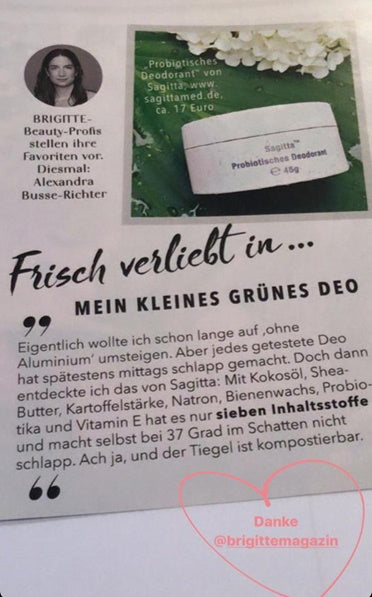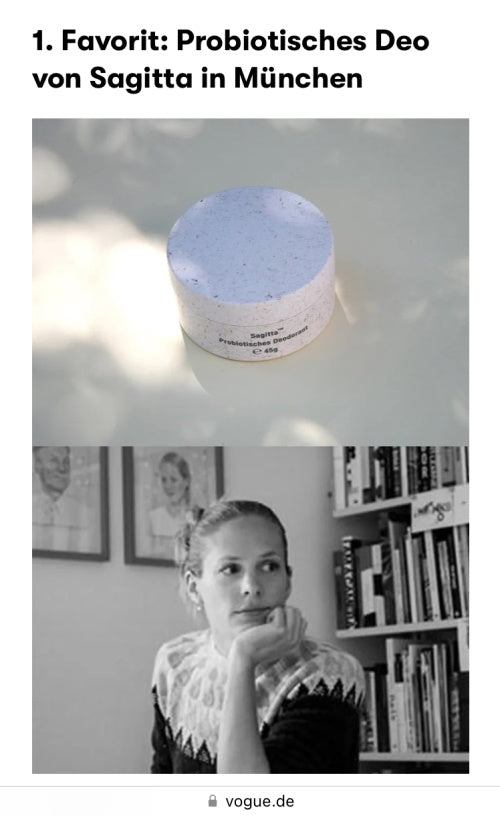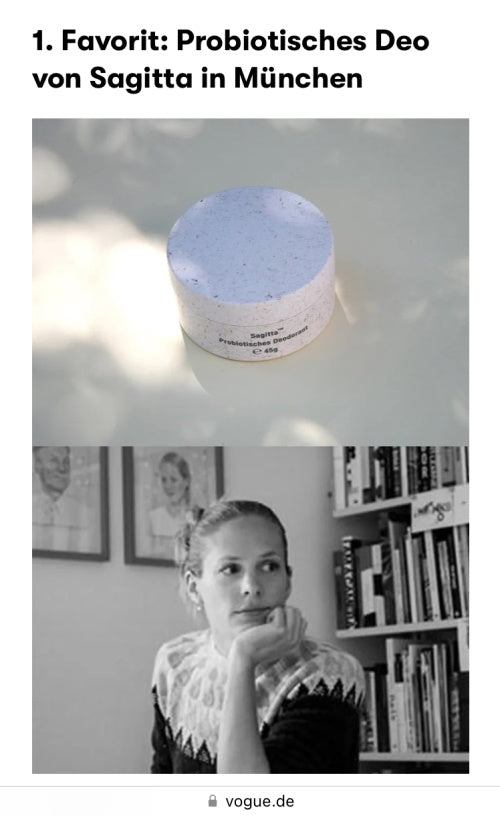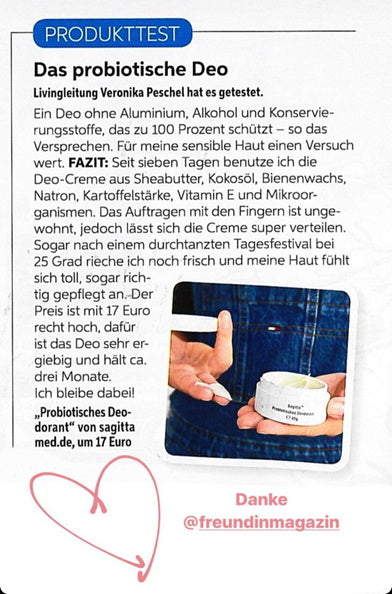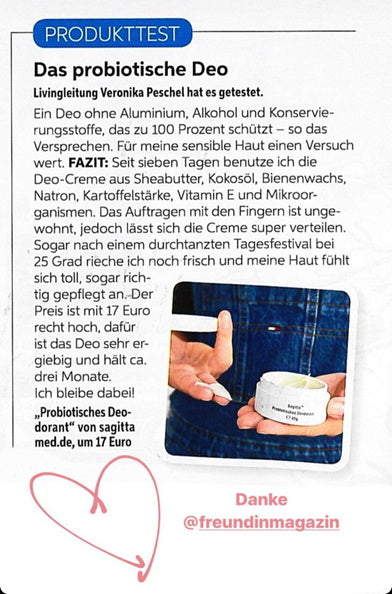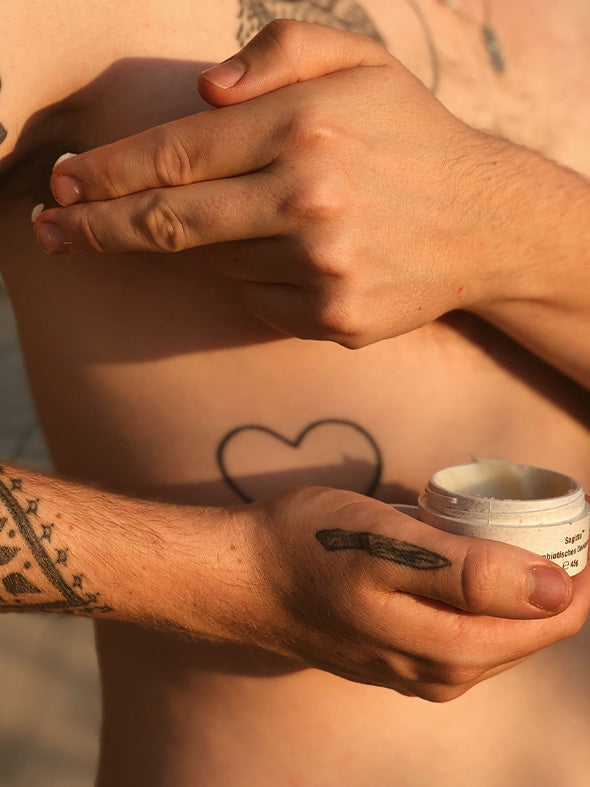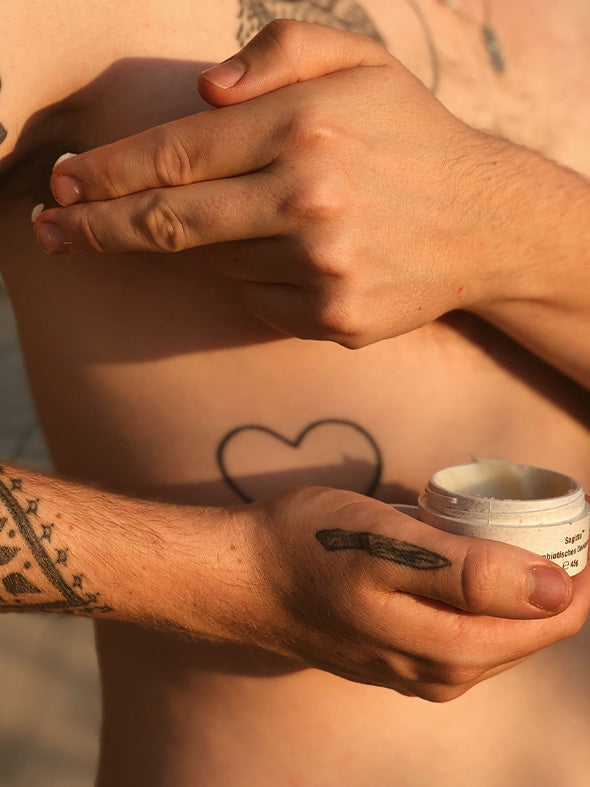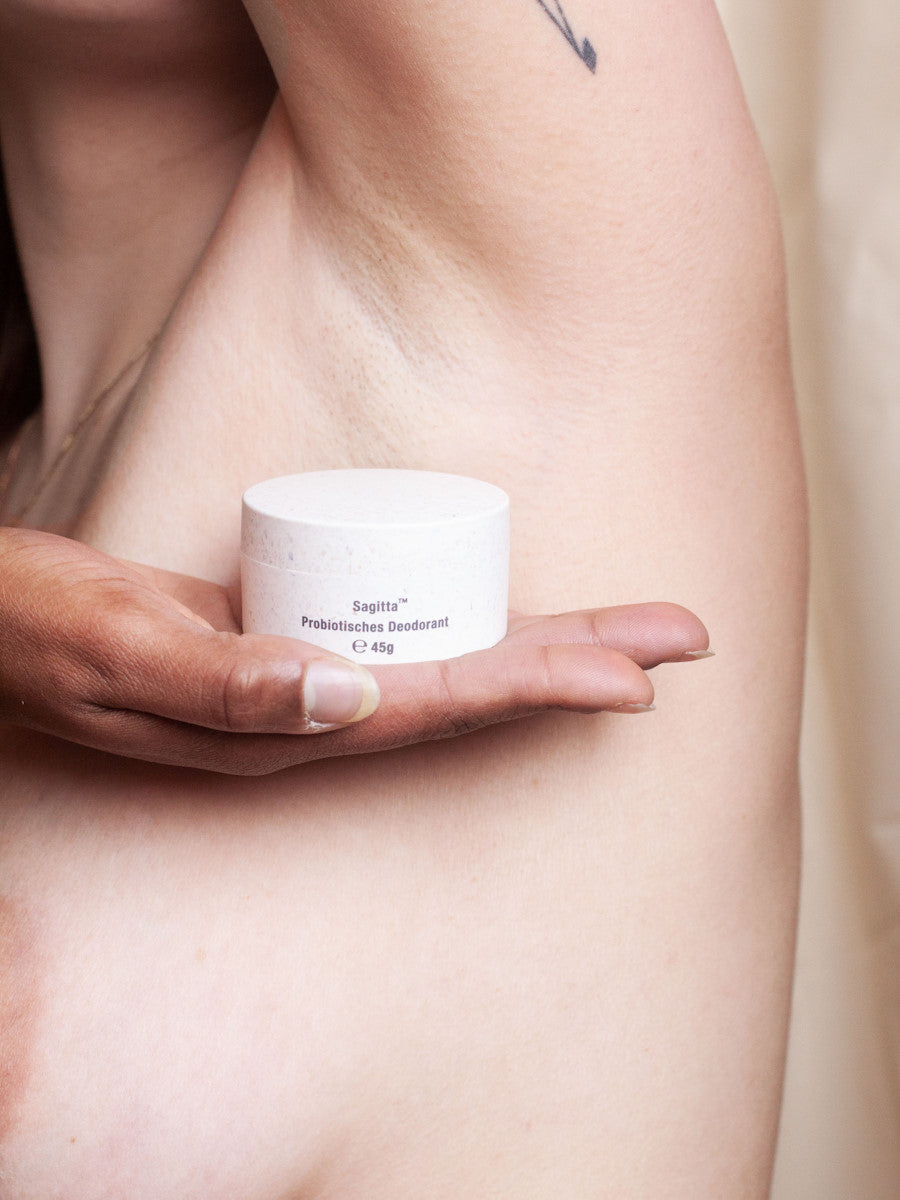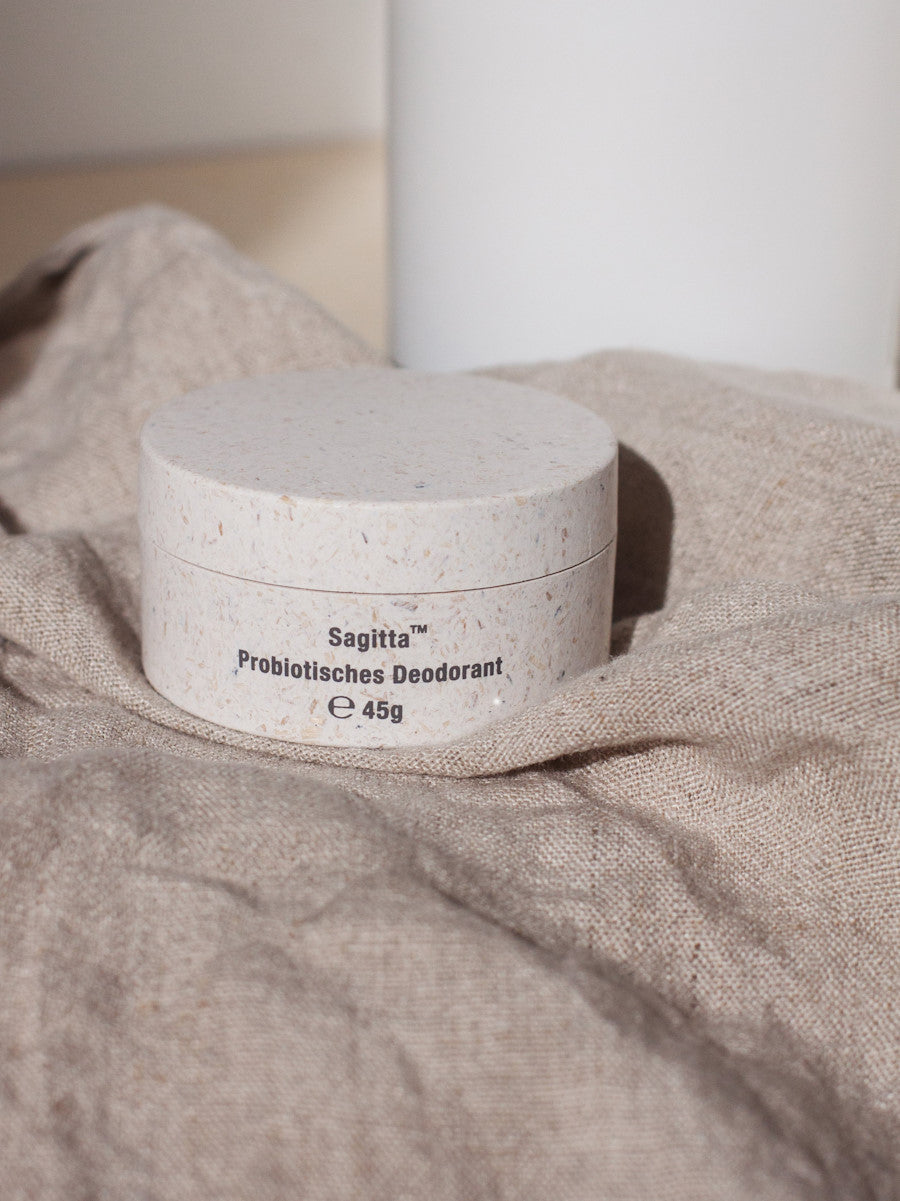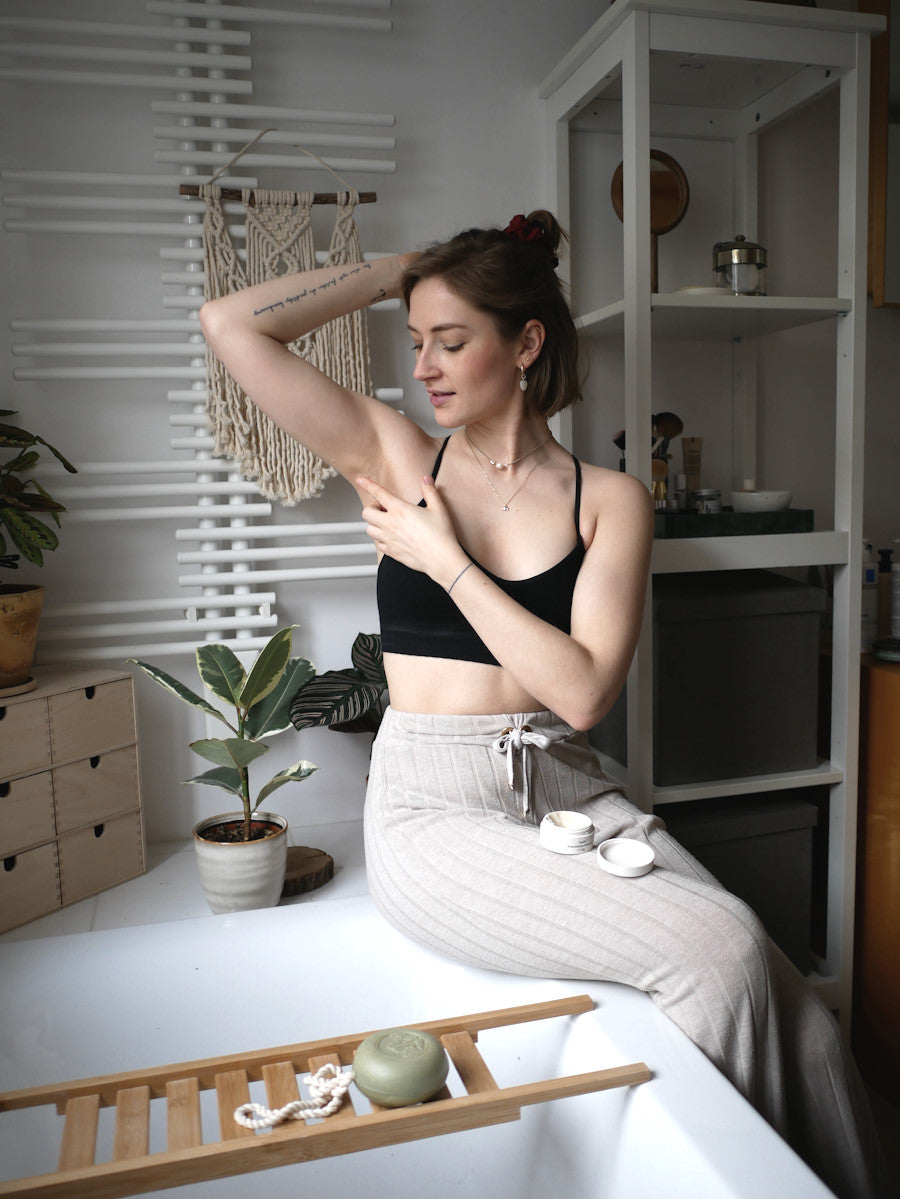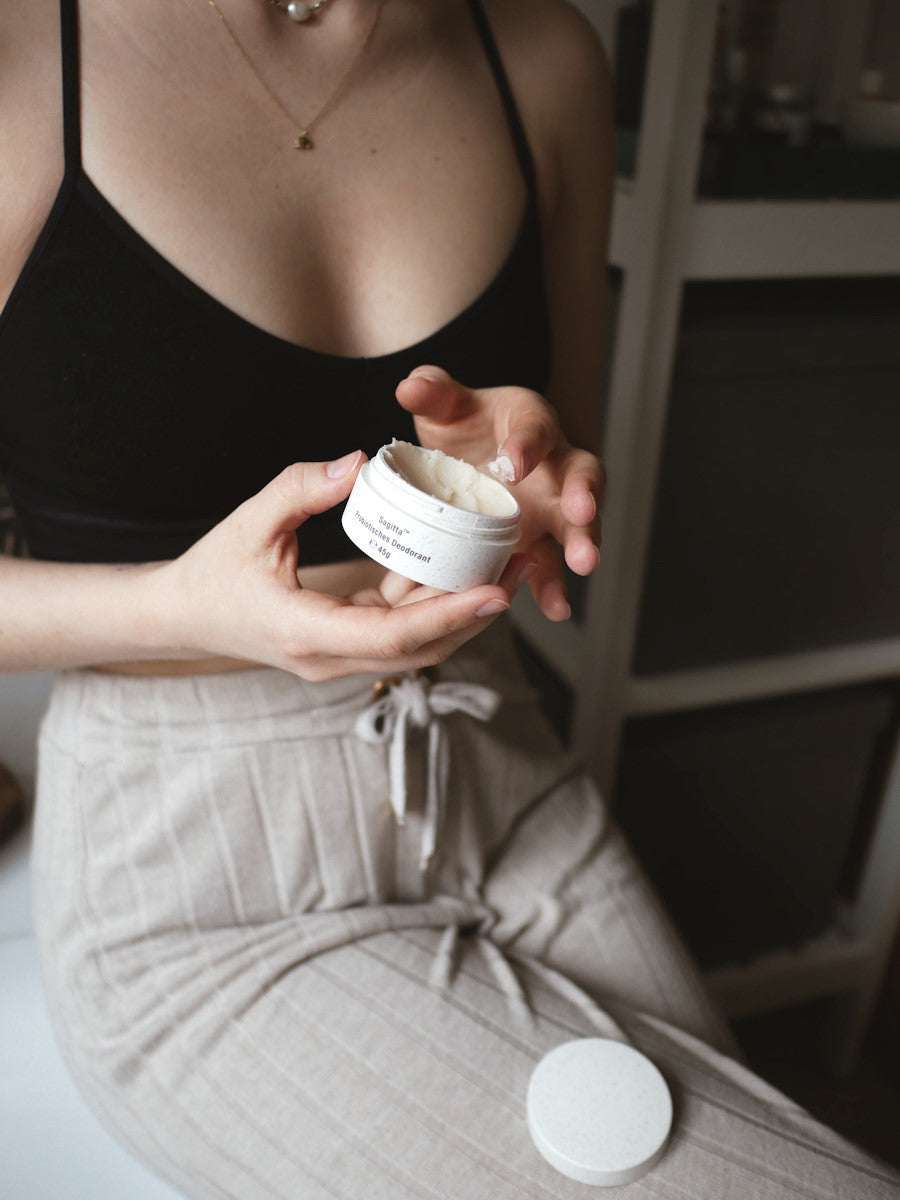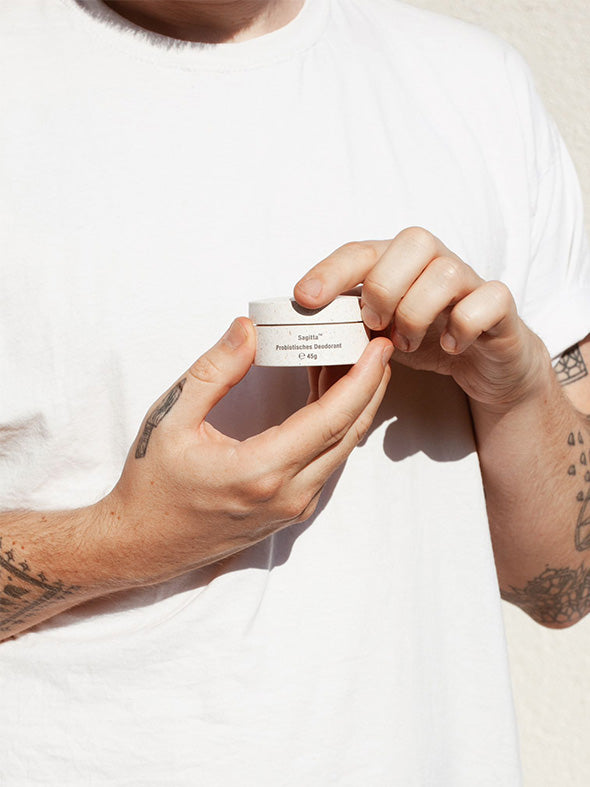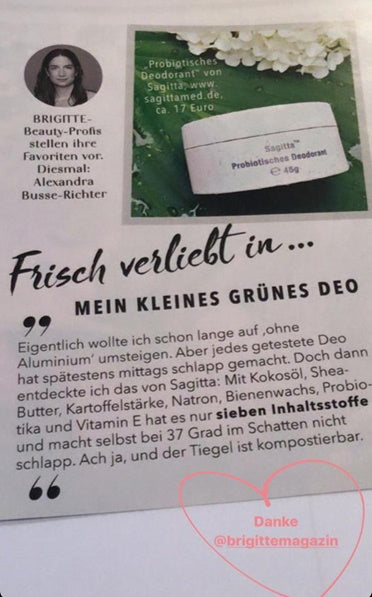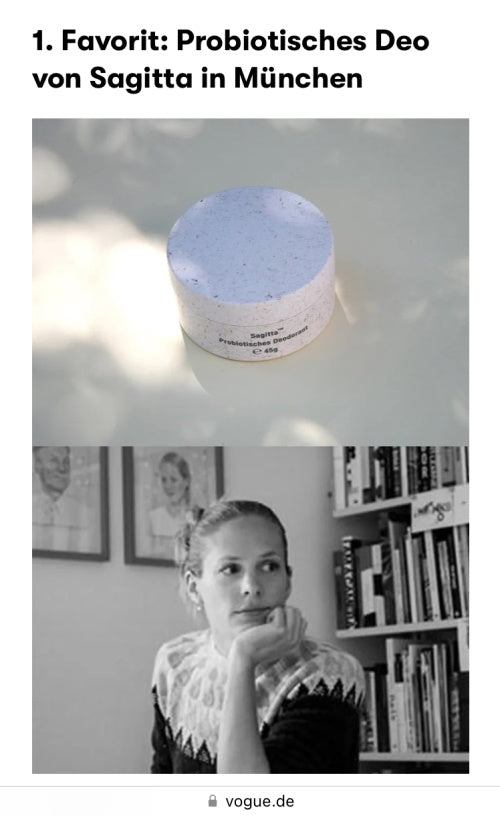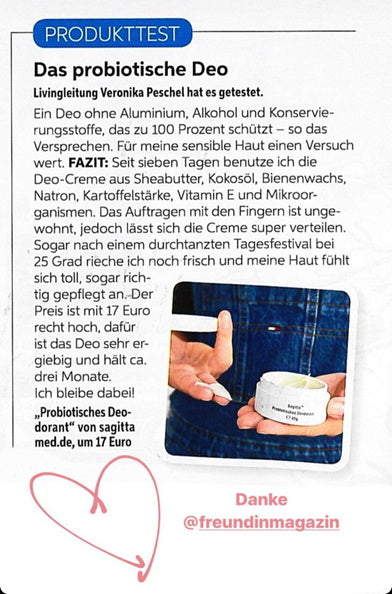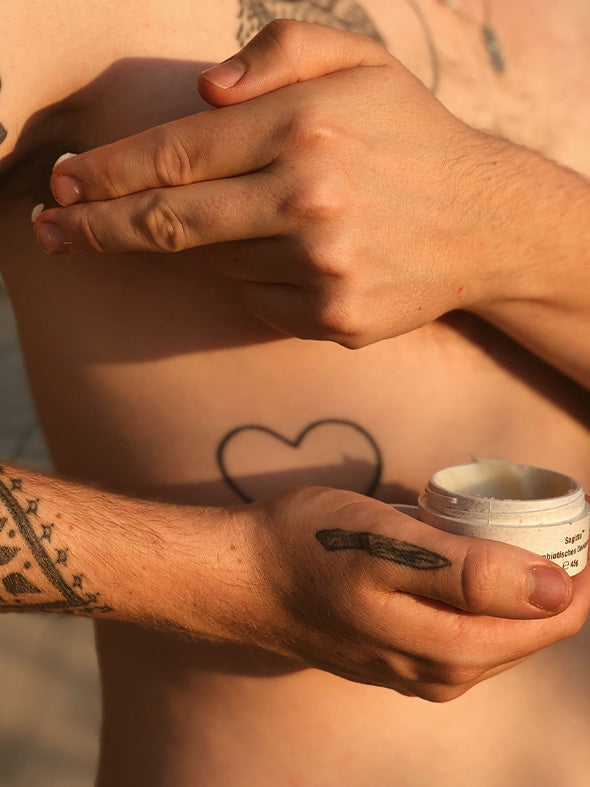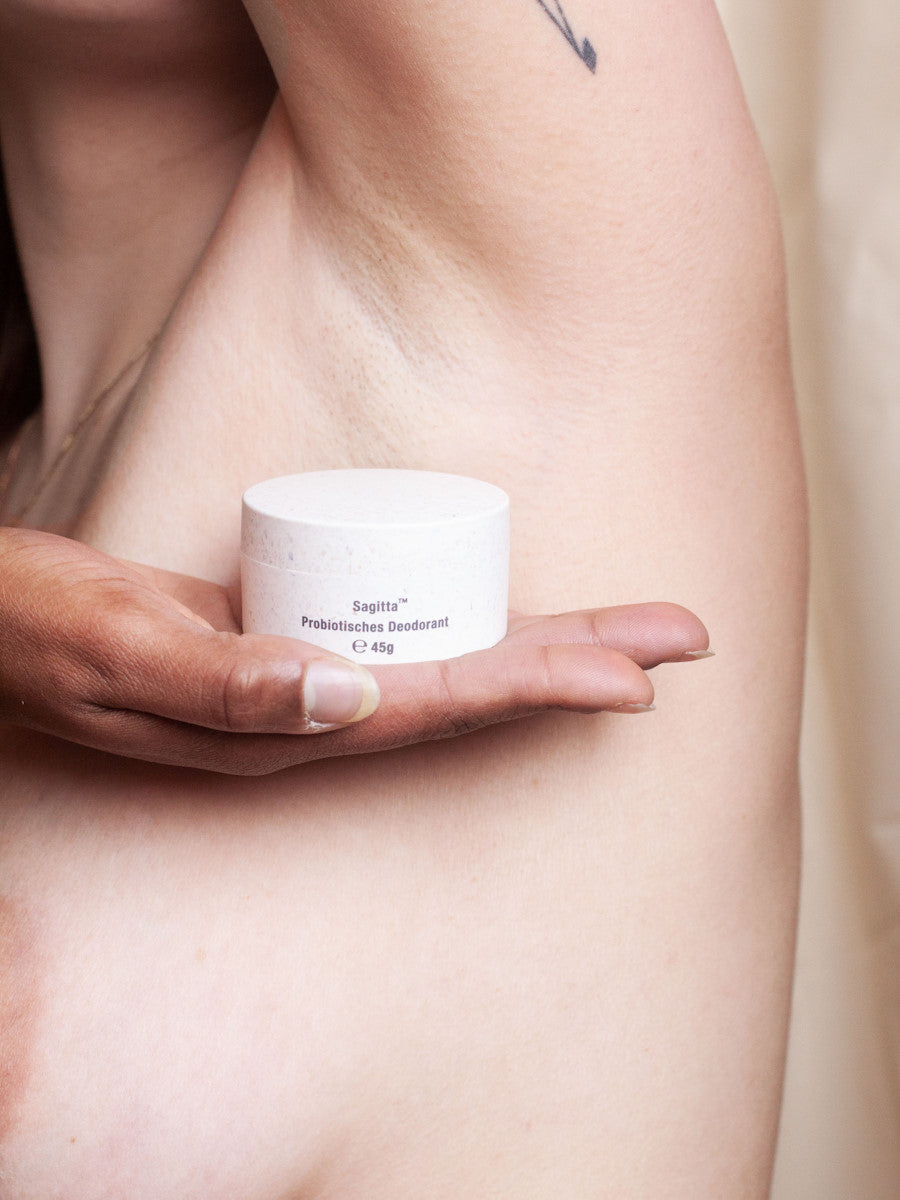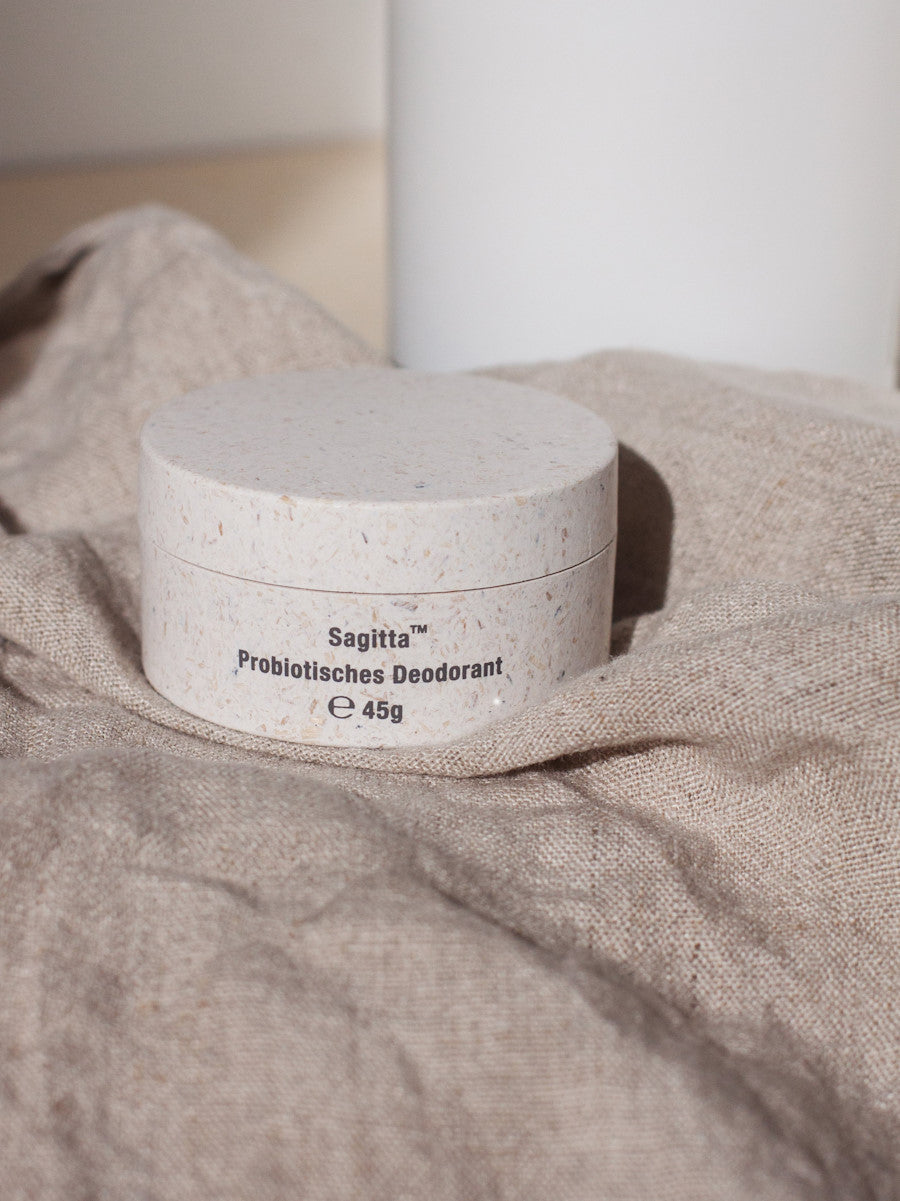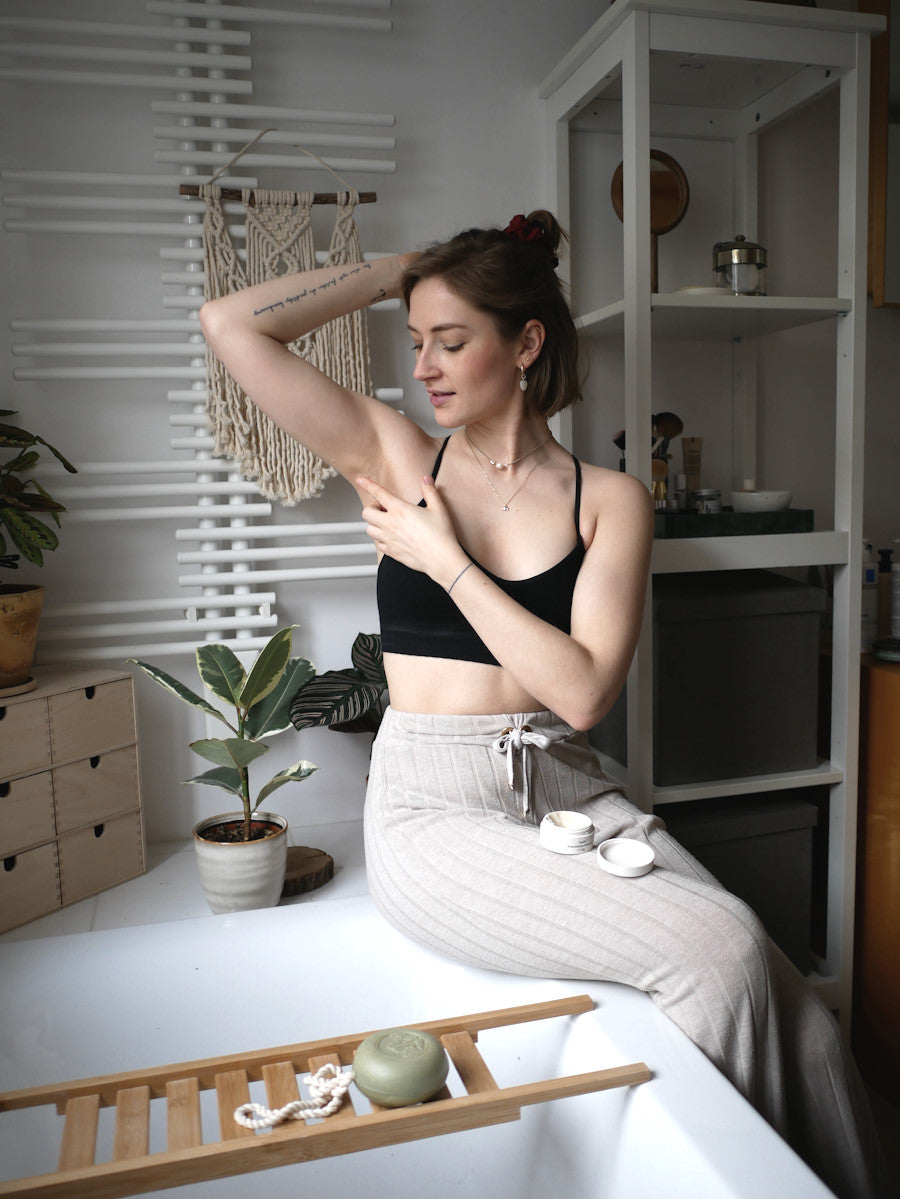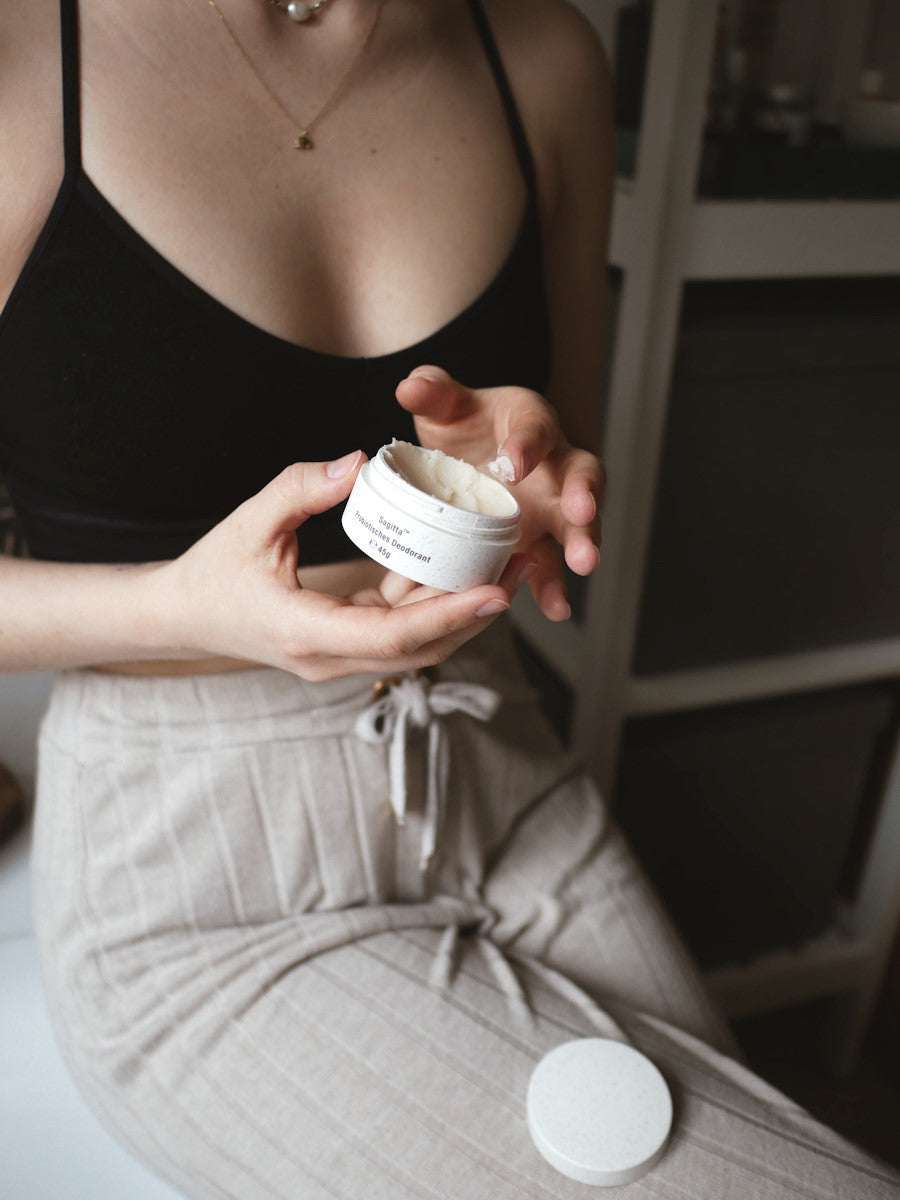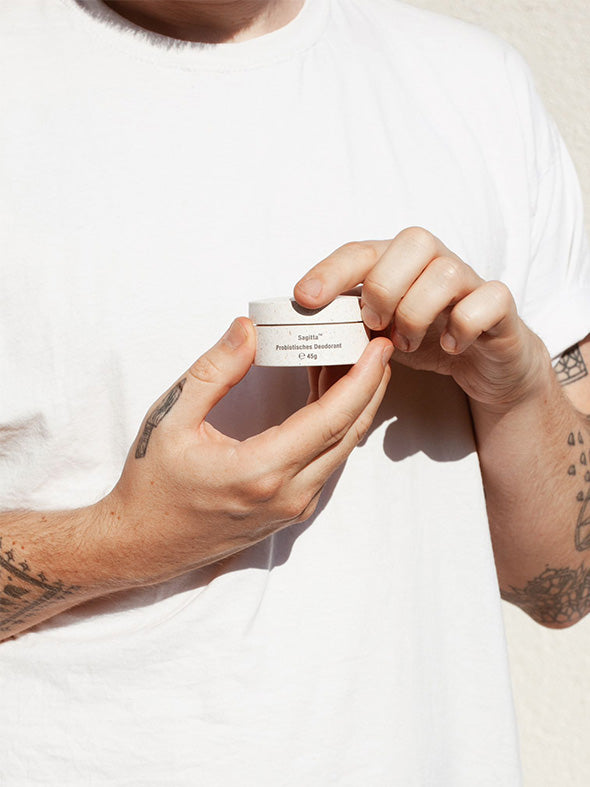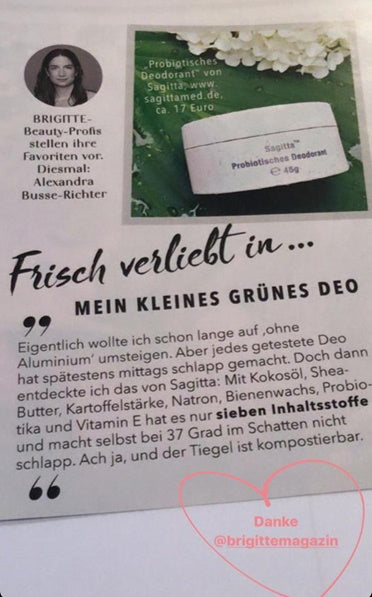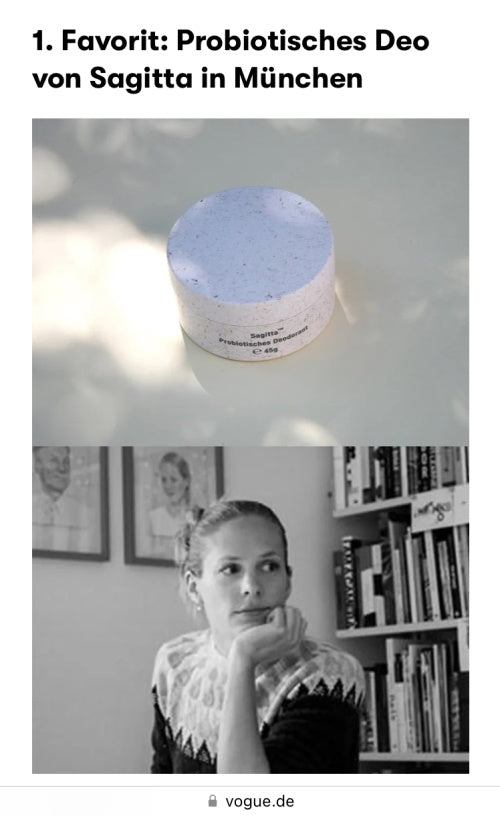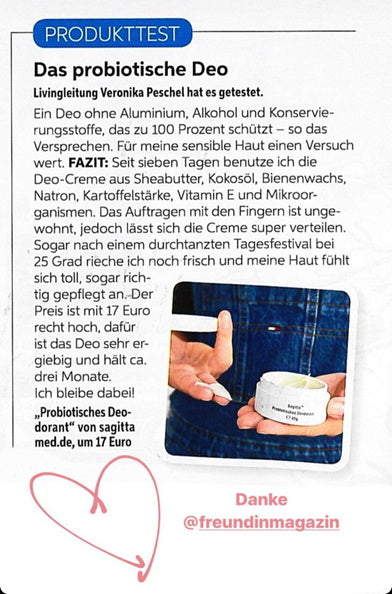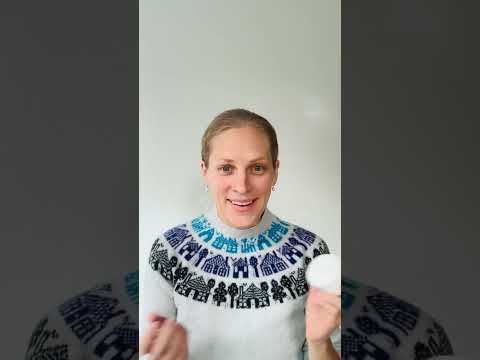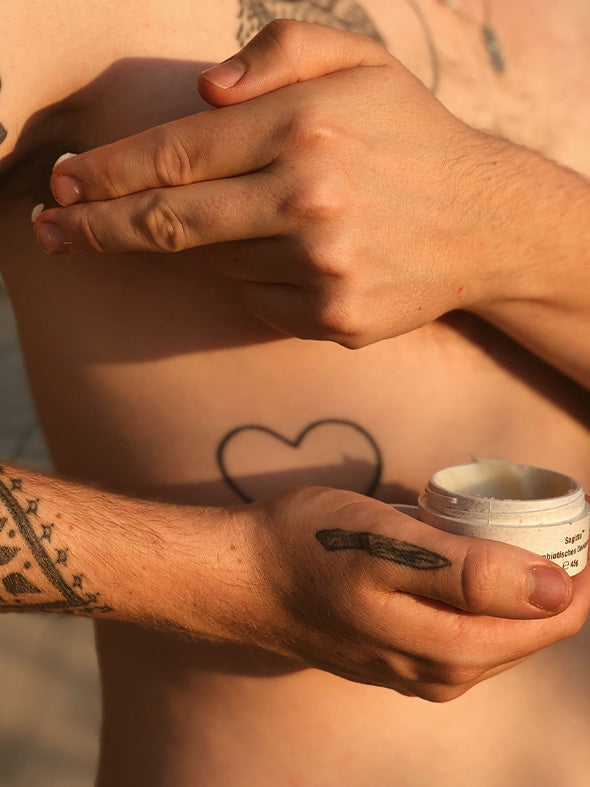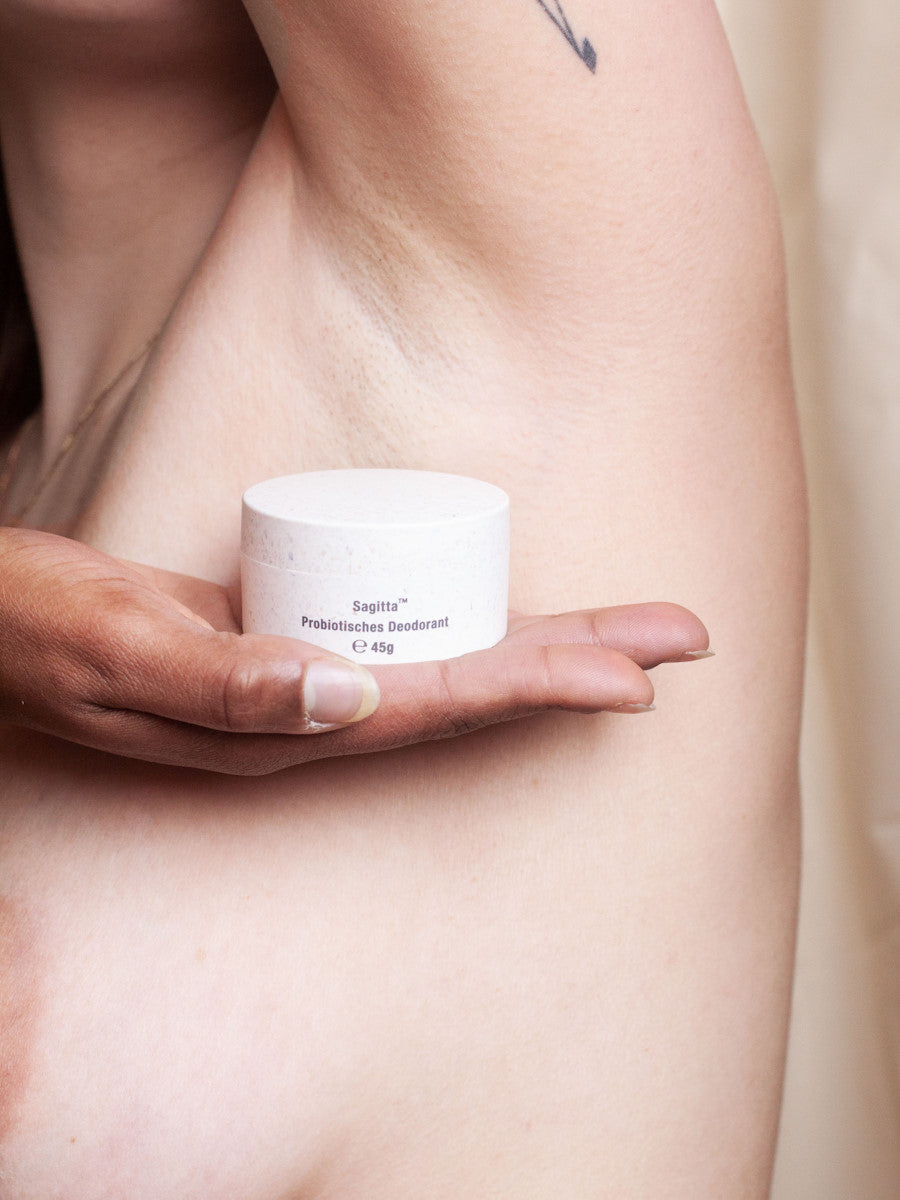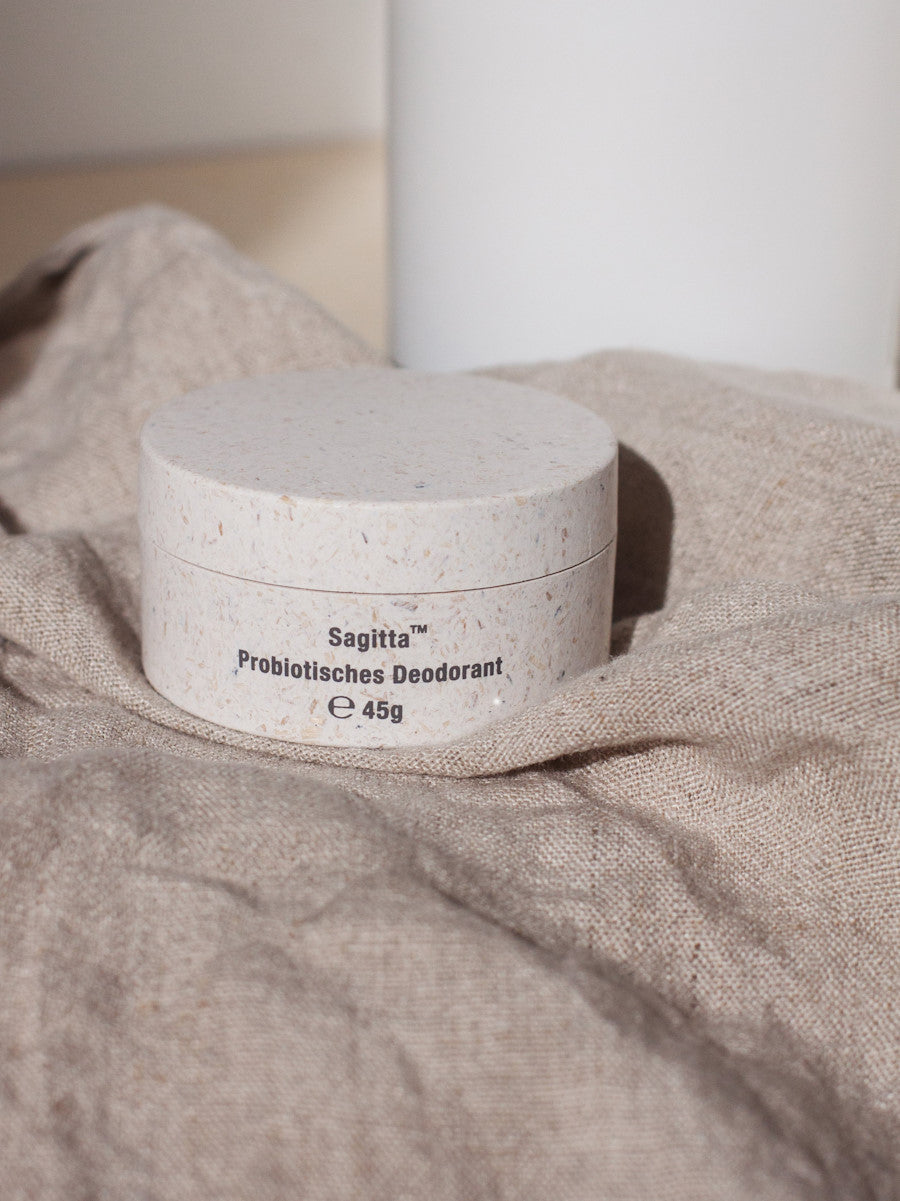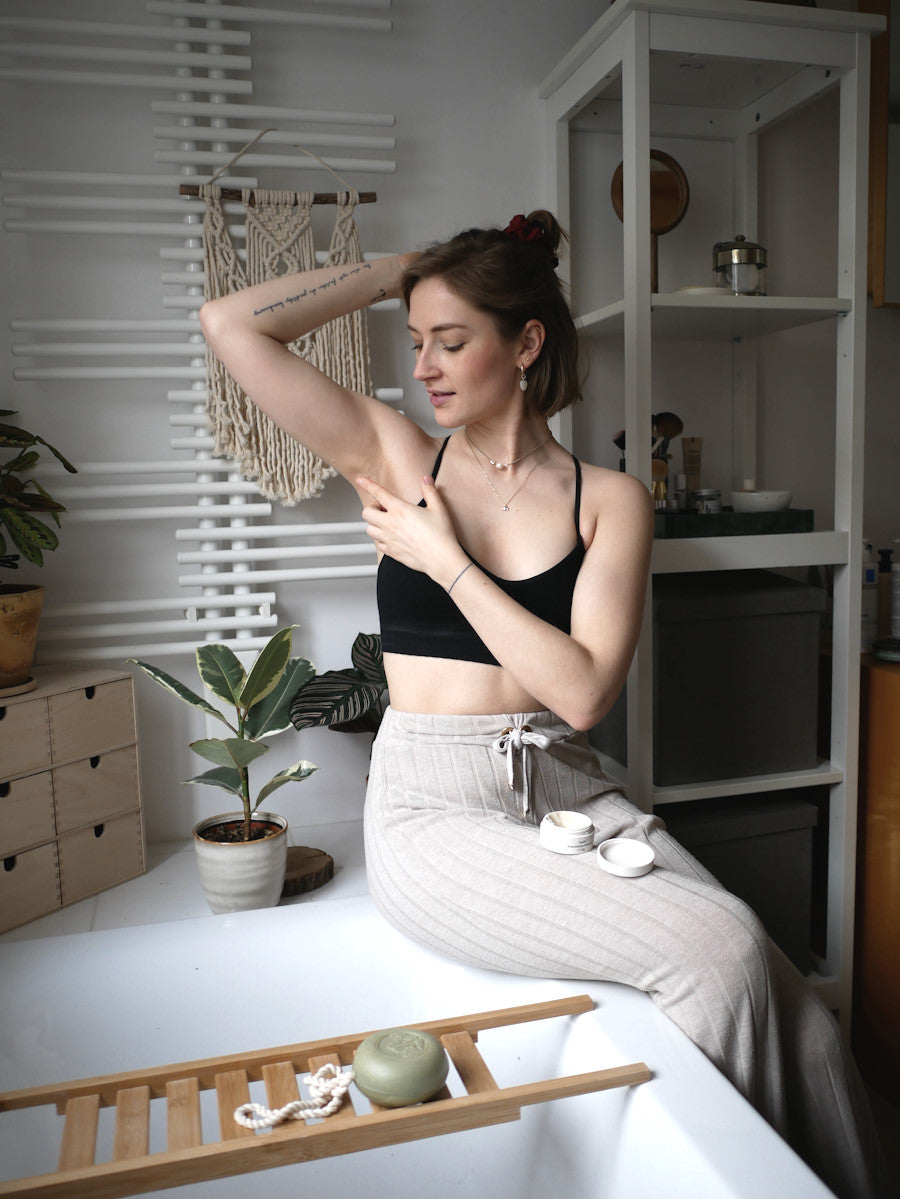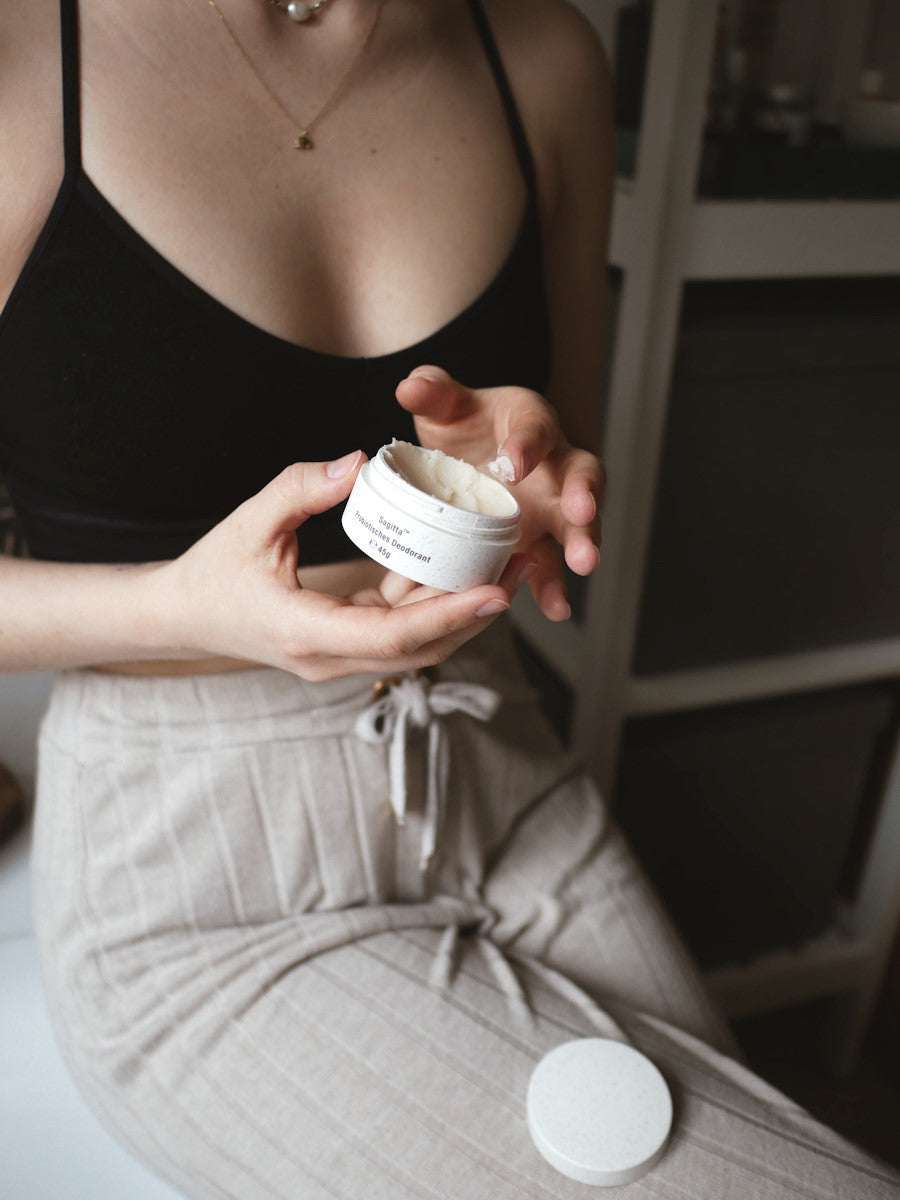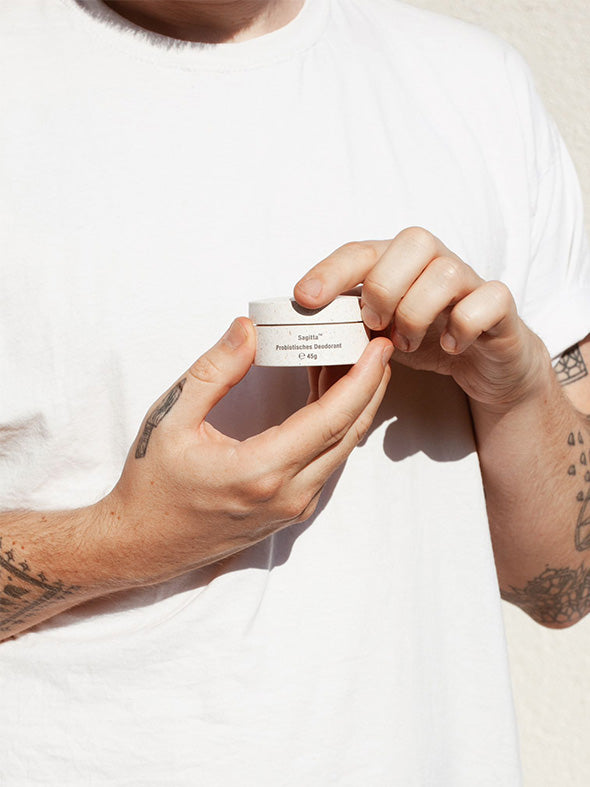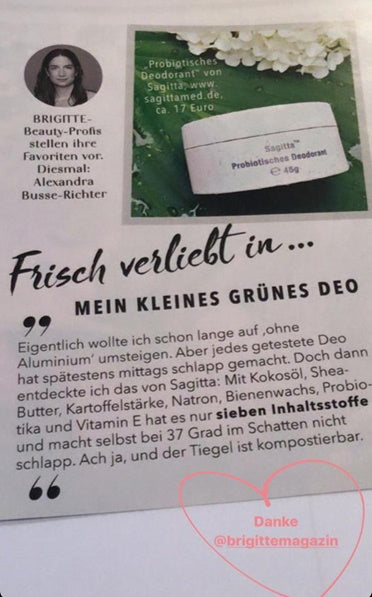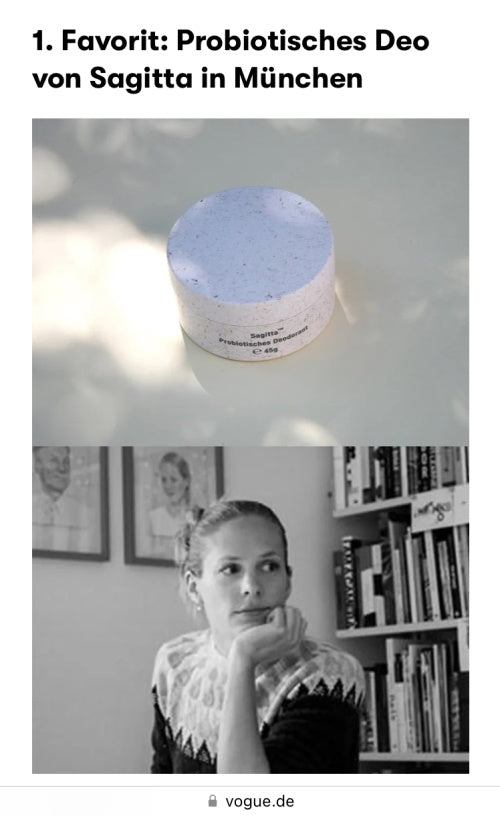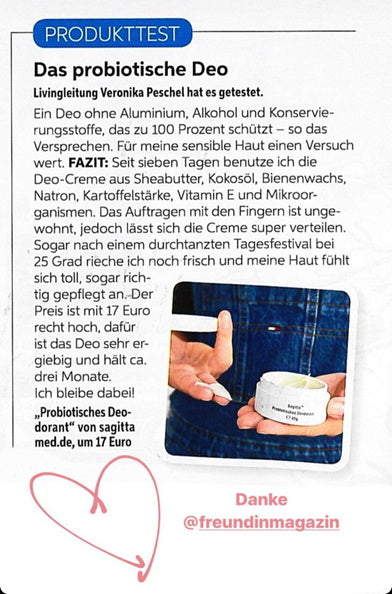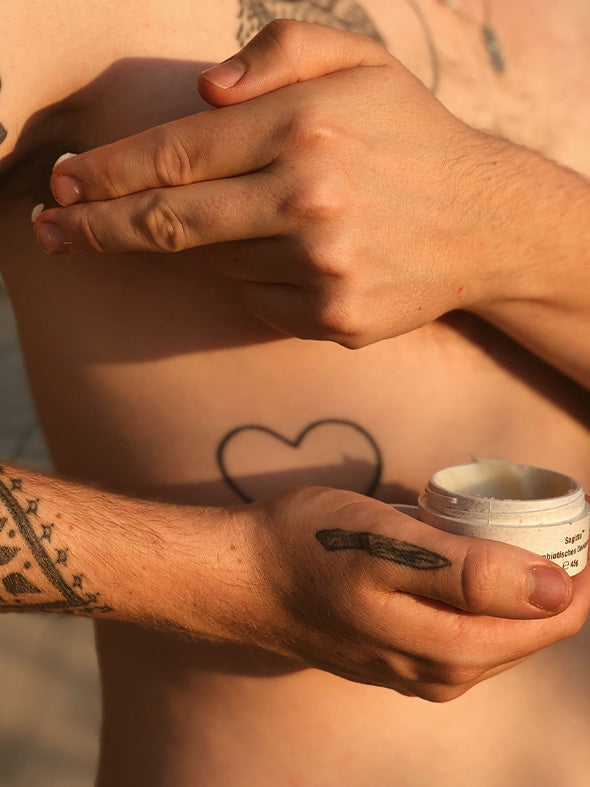 SAGITTA PROBIOTIC DEODORANT
AUF LAGER UND IN 2-4 TAGEN BEI DIR
✓ The first deodorant with living microorganisms
✓ Without aluminum & Co.
✓ Freshly made several times a week
✓ Completely odorless
✓ From controlled organic cultivation
The Sagitta Probiotic Deodorant is the first cream deodorant with living microorganisms. The probiotic bacterial strains can help the delicate underarm skin to regain its biological balance and neutralize odors. Together with rich shea butter, cold-pressed coconut oil and vitamin E, they ensure long-lasting care. Only well-groomed skin with a natural, intact skin barrier regulates sweating and can effectively prevent it. The result is an odor-free and dry armpit - and all without aluminum, alcohol, preservatives and perfumes. The deodorant itself is also odorless.
Our probiotic deodorant is made fresh several times a week. In a clinical study it was dermatologically tested on sensitive skin and received the Very Good certificate.n.

The beautiful jar that contains the Sagitta Probiotic Deodorant is made of wood, is free of microplastics and is therefore even compostable.
Contents 45 g
Organic farming
The Sagitta Probiotic Deodorant contains only seven (!) ingredients. These are all so natural that even allergy sufferers, pregnant and breastfeeding women can use them without hesitation.
The ingredients come from controlled organic cultivation and are sustainable and palm oil-free. Of course, we do not use any chemical additives, heavy metals, pesticides, preservatives, parabens and microplastics.
LIVE HEALTHIER WITH HEALTHY HABITS
Make sure your deodorant does not contain any harmful ingredients such as aluminum. However, many aluminum-free deodorants are already worn out by midday and sweating and unpleasant smells occur. But that need not be. Sagitta's probiotic deodorant supports an intact skin barrier and can thus prevent sweating.
Our deodorant is the first of its kind in the world because it contains so-called good bacteria that are known to be good for our intestinal flora. But they can also have a positive influence on the skin. That's why slumber in ours probiotic deodorant "good lactobacilli and bifidobacteria. As long as the deodorant is not used, they are in a dormant state. When the deodorant cream is applied, the water in sweat activates these bacteria..
The probiotics are combined with raw materials such as shea butter, potato starch and coconut oil. That's why you might even eat it, even though you probably won't like it. Because the deodorant is so healthy, you can simply reapply it during the day if you feel it is necessary. This sometimes happens during the first few applications until the skin gets used to the change. If you didn't have time to shower, you can simply apply the deodorant as is.
Our tip: If you sweat a lot during the day, just try using deodorant at night. This allows the active ingredients to work more intensively with your body, making the deodorant even more effective during the day.
The deodorant can be ordered Mon-Fri mornings by phone on 08091 9374 and is also available in Munich at the Nordstern Apotheke, Nymphenburgerstr. 92 to receive.
INGREDIENTS
Shea butter, potato starch, coconut oil, baking soda, beeswax, effective microorganisms, natural vitamin E
INCI: Butyrospermum Parkii, Solanum Tuberosum Starch, Cocos Nucifera Oil. Sodium bicarbonate, Cera Alba, probiotics, tocopherol
THIS IS HOW THE MAIN INGREDIENTS WORK
Microorganisms (probiotics): The so-called good bacteria for the probiotic deodorant consist of Lactobacilli and Bifidobacteria species, which occur everywhere in the body and help to restore the balance of the skin flora, which is usually massively disturbed by showering and aluminum.n.
Shea butter is obtained from the fruits of the shea tree, which grows in Africa. The seeds are traditionally processed by hand into a buttery vegetable fat that contains a high proportion of skin-friendly fatty acids and vitamin E. Shea butter provides the skin with a lot of moisture and relieves the feeling of dry and irritated skin.
Vitamin E is a collective term for fat-soluble substances, which also includes the tocopherol used here. It helps protect the skin and repair damage to the skin barrier. Together with vitamins A and C, vitamin E is one of the antioxidants whose job is to protect the skin from free radicals.
APPLICATION
Apply an amount about the size of a hazelnut to clean, dry skin and massage in over a large area. Then it is spread very thinly, nourishes the skin and supports the good bacteria in their work. One jar should last at least four weeks.n.
If you have used a deodorant containing aluminum for a long time, it may take a few days for the skin to regenerate and care. We therefore ask for a little patience and perseverance.
REVIEWS
DEO TEST FROM VOGUE MAGAZINE July 2019

Among the eight favorites in the test magazine "Vogue" is this Probiotic deodorant from Sagitta the No. 1!
"Probiotic deodorant But yes: the armpit skin can also get out of balance, and more often than we think. The microorganisms in combination with potato starch, shea butter and coconut oil ensure regeneration and neutralize odors. A tip from Stefan and Sabine Fasching, Those behind the brand recommend not just using the deodorant in the morning: 'Try using the deodorant at night. This allows the active ingredients to work with your body to be more effective.'""
THE VERDICT OF THE PROFESSIONAL TESTERS
"Even after a day of dancing at a festival at 25 degrees, I still smell fresh. I'm sticking with it!""
Product test in the magazine "Girlfriend"
"Don't let up in the shade even at 37 degrees!"
Product test in the magazine "Bridget"
THIS IS WHAT OUR CUSTOMERS SAY: 
"It's actually the first deodorant that I can tolerate without any problems (so far!). I get red spots from all the others, which then itch terribly. I'm really happy that I found you. I've been looking for such expensive deodorants for so long Lying around at home, I'm just happy to have found the right thing."

Gabriele R.
"Your deodorant has really changed my quality of life, I wanted to give you that as feedback. I had already given up hope, tried out countless brands and finally found what I was looking for. Finally no more unpleasant body odor!"
Michele H.
"I got to know your deodorant when my wife brought a small sample from an enthusiastic friend here in Chiemgau. It's just incredible: such an ingenious deodorant!!! I really had no expectations and I was even more positively surprised . Natural ingredients and everything stays fresh all day long. I didn't think I'd find something like this again!! I'll keep an eye on you and recommend it if the opportunity arises."
Florian B.
"I'm already a convinced user! It works great! And since I'm allergic to various fragrances, I'm also thrilled that it's completely odorless. I gave it to everyone for Christmas this year."
Agi W.
"I've been using it for about a year now and I'm completely thrilled!!! I used so many other deodorants before that and then "when it really mattered" I always resorted to products containing aluminum and grudgingly accepted the moderate effect and yellow stains of other products in everyday life - now I have finally found the perfect deodorant!!!"
The_N.

"I've been using your deodorant for a long time and love it very much! It's the only natural deodorant that really works and is absolutely convincing! The sustainable packaging is also just great and looks good in the bathroom. Thank you for your great work!"
Anna H.
 Aexcerpt from the magazine Nature and healing




FAQ
How do I use Sagitta probiotic deodorant??
Our deodorant, a cream made from shea butter, coconut oil and natural vitamin E, is applied thinly and over a large area under the armpit and massaged in. It cares for your sensitive skin, especially after washing.
There is NO aluminum in the Sagitta probiotic deodorant?
True, but we have also avoided all other harmful substances. Preservatives, perfumes or fragrances, silver ions, aluminum - our deodorant doesn't need any of that. From our understanding, it makes no sense to rub or spray these sometimes highly irritating substances onto one of the most sensitive parts of the body.
Our Sagitta Probiotic Deodorant is made from raw materials that can all also be found in food. It couldn't be more compatible and sustainable.
What does probiotic mean??
A probiotic cosmetic is a preparation that contains living microorganisms. While probiotic food for healthy intestinal flora has been around for a long time, probiotic skin care is still fairly new. The way it works is similar: we add live GOOD bacteria to our probiotic deodorant in the form of Lactobacilli and Bifidobacteria species, which occur everywhere in the body and can help to regenerate the skin flora.
So that you can do your job well, we constantly make the deodorant fresh and limit the shelf life of the deodorant to six months.
What is so special about probiotics??
A person cannot live without microbes such as bacteria. Thousands of bacterial strains help us digest, strengthen our immune system and build a protective shield on the skin. The sum of all microbes is called the microbiome. The microbiome is massively weakened by poor nutrition, preservatives or detergents. Good bacterial strains such as Lactobacilli can modulate the microbiome and thus support regeneration.
How does the deodorant smell??
Since our probiotic deodorant contains no perfumes or fragrances, it is odorless. As we understand it, perfume and fragrances do not belong in the sensitive area under the armpit. And it's not just our customers who benefit from this, the many men who use the deodorant really appreciate the neutral smell.
In addition to shea butter, coconut oil and natural vitamin E, why do you also have potato starch, baking soda and beeswax in your deodorant??
Potato starch is a prebiotic and therefore food for the bacteria. In the small amounts used, baking soda keeps the pH value in the right range and we need beeswax as a consistency builder so that the bacteria and starch are evenly distributed in the deodorant. More ingredients are neither necessary nor desired.
Is the deodorant well tolerated??
Our deodorant passed a clinical test on women and men with particularly sensitive skin with very good results. And so far the feedback from our customers has been simply great: from extremely satisfied to enthusiastic. The deodorant has real fans!s!
Is there anything else to consider when using it??
Yes, if you have used a deodorant containing aluminum for a long time, the regeneration and care of the skin can take two to four weeks. The skin may also need a few days to switch from another aluminum-free deodorant. A little patience is sometimes required when using it for the first time.
The jar looks great. Where does he comes from?
He comes from Sulapac, a Finnish start-up. Sulapac has managed to develop sustainable and good-looking packaging made of wood. And our minimalist design is an expression of our sustainability and appeals to both women and men.
Can I just compost the jar??
Just put it in the organic waste. Large community composting plants process organic waste such as the crucible under heat and pressure without leaving any residue; in smaller plants it is sorted out and sent to emission-free incineration. Your compost pile at home will also compost it, but it will take longer.
FAST SHIPPING WITH DHL (2-3 DAYS IN DE)
30 DAY SATISFACTION GUARANTEE
BUYER PROTECTION WITH TRUSTED SHOPS
BONUS PROGRAM FOR LOYAL CUSTOMERS