You can order free shipping in DE from an order value of €50 or more 📦. To AT, CH, BE, DK, NL, LU from 75 €!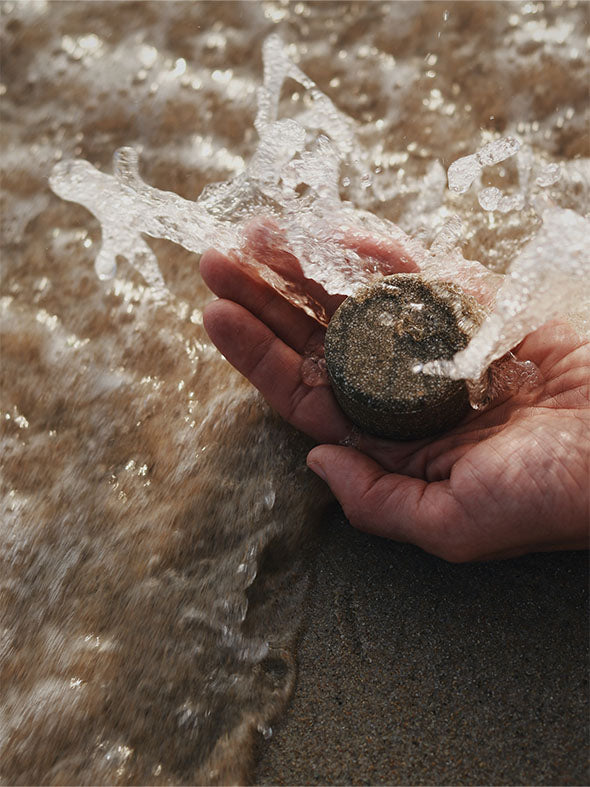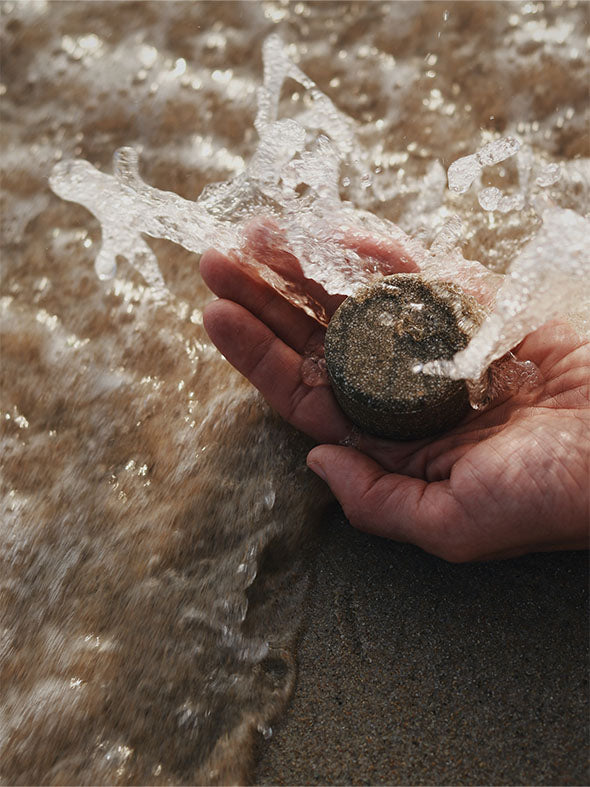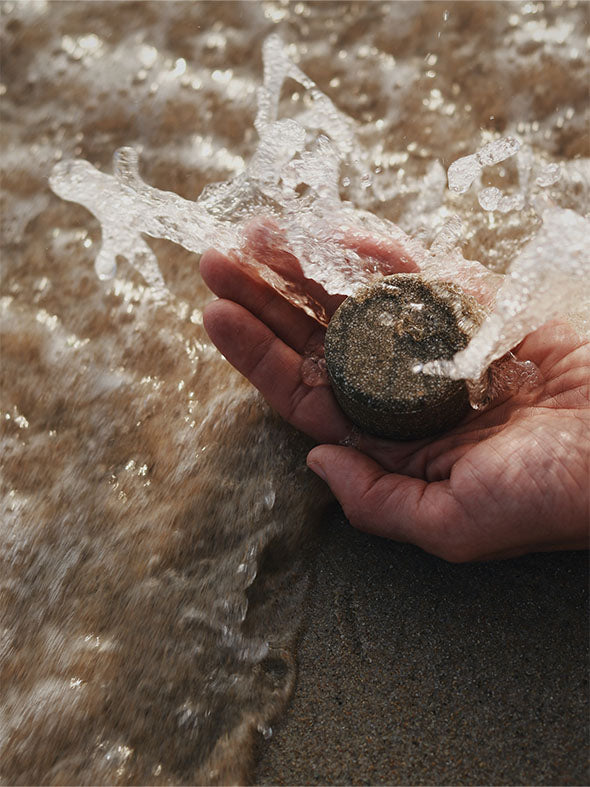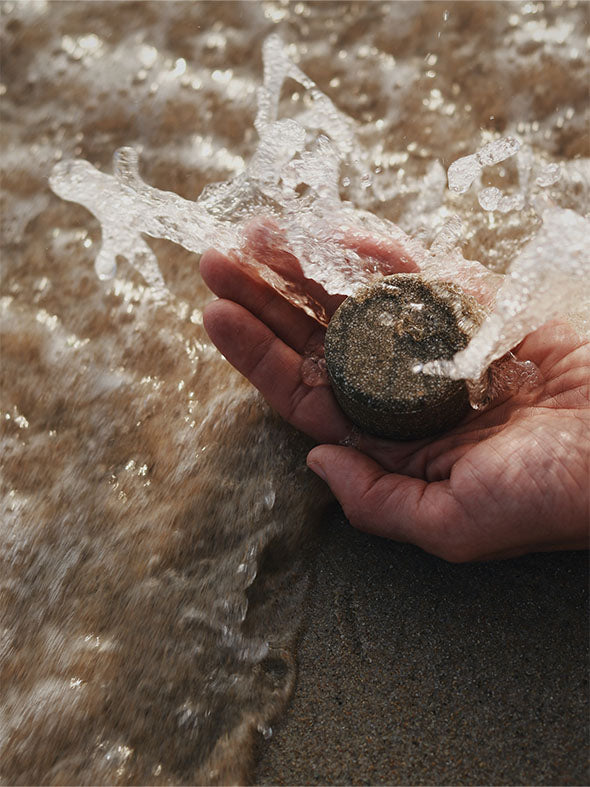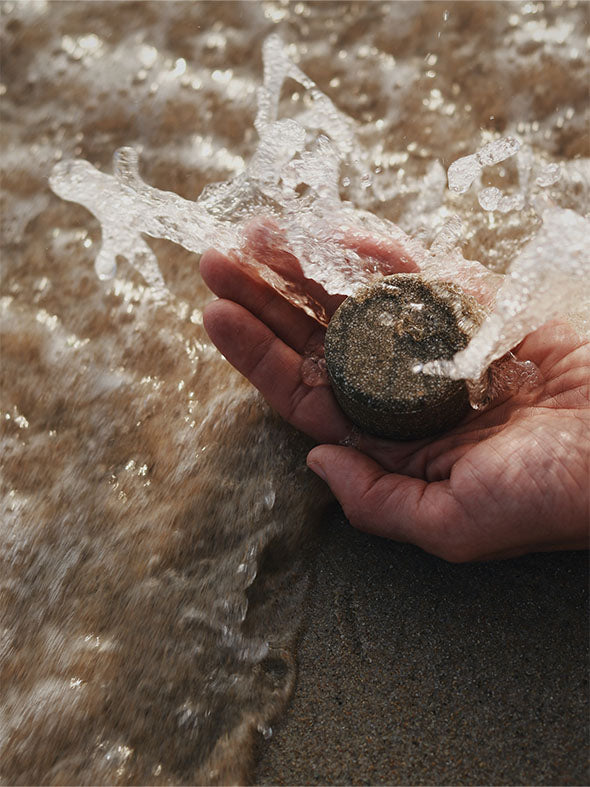 SAGITTA + BARNET CONCEPT - SHAMPOO BAR - TREAT
AUF LAGER. VERSANDFERTIG UND IN 2-4 TAGEN BEI DIR.
✓ Gentle hair wash
✓ Soothes stressed scalp
✓ With the prebiotic organic inulin
✓ Vegan and sustainable
✓ With free soap bag
TREAT care and regeneration of scalp and hair of all lengthsn
We have combined our Sagitta knowledge, which has been tried and tested for decades, with the modern know-how of Barnet Concept, one of the hottest hair salons in Munich, and developed sensational shampoo bars. The brown bars are not hair soaps, but nothing more than shampoos from which the water has been removed. So you can wash your hair as usual with creamy foam. The pH value is in the slightly acidic to neutral range, so an acidic rinse like for hair soaps is not necessary.
The brown bar TREAT combines marshmallow root powder with high-quality hemp and almond oils and quickly turns out to be a real blessing for troubled scalps. Because washing your hair is very gentle, so it not only cares for the sensitive scalp, but also soothes it. Your hair is easy to comb, feels silky and shines with its natural shine.
The solid shampoo TREAT is enriched with organic inulin, a prebiotic that nourishes the scalp and helps to restore the normal condition of the skin if it is damaged by external influences.
Mild cleansing surfactants, nutrients for skin and hair made from organic plant powder, moisturizing oils with vitamin E and finely balanced conditioners are carefully selected. The balanced mix and gradation of these ingredients are crucial for balanced care and regeneration of hair and scalp.
Careful handcrafting, no water or alcohol - this is also part of our Sagitta + Barnet Concept Edition. And to protect the bars, we give you a bag made exclusively for Sagitta made from 100% recycled fabric with every order..
Contents 50 g


Organic farming
The ingredients of the brown solid shampoo TREAT are all vegan, sustainable, biodegradable and palm oil-free. Of course, we do not use any chemical additives, heavy metals, pesticides, preservatives, parabens and microplastics.
LIVE HEALTHIER WITH HEALTHY HABITS
From now on, use a healthy shampoo and do your scalp and hair good. With a prebiotic shampoo you support the regeneration of your natural skin flora every time you wash your hair, because it provides nutrients to the good bacteria that live on your scalp. In addition, the small, round TREAT bars do not contain any harmful surfactants and emulsifiers because they are made from natural, biodegradable ingredients.n.
And you're also doing good for the environment, because unlike most liquid shampoos, the shampoo bars do not contain any microplastics or water at all.
INGREDIENTS

Ingredients: Marshmallow root powder, birch leaf powder, nettle leaves, phytokeratin, broccoli seed oil, hemp oil, argan oil, almond oil, tea tree oil + limonene, arvensis mint oil, shea butter, SCS, SCI, vitamin E, citric acid, inulin
HOW THE MAIN INGREDIENTS WORK:
Marshmallow root powder Soothes sensitive scalps and makes hair softer and silkier. It is well moisturized and nourished, making it easier to detangle.
Birch leaf powder contains tannins, flavonoids and vitamin C. Regular use on skin and hair prevents hair loss.
Nettle leaves contain flavonoids, vitamin A and minerals. Regular use supplies skin and hair with nutrients and thereby strengthens the hair.
Phytokeratin acts like a conditioner. It makes hair supple, soft and shiny, easier to comb, adds volume and reduces static electricity.
Broccoli seed oill contains vitamins, polyunsaturated fatty acids and carotenoids. It also acts as a conditioner and enhances the effects of phytokeratin. It also nourishes the skin and makes it smooth and supple.
Hemp oil contains a particularly large number of different unsaturated fatty acids and vitamins. It nourishes the skin and makes it smooth and supple. The fatty acids help protect the skin from infections.
Argan oil contains many unsaturated fatty acids and many antioxidants. It nourishes the skin and makes it smooth and supple.
almond oil contains a particularly high amount of unsaturated fatty acids and provides mild, anti-irritating care for the skin.
Tea tree oil is an essential oil and also contains, among other things, limonene, a slightly bitter fragrance. As an antioxidant, it helps protect hair from breakage and ensures shine and easy combing.
Mint oil arvensis from field mint is an essential oil that has a mild, fresh scent.
Shea butter is obtained from the fruits of the shea tree, which grows in Africa. The seeds are traditionally processed by hand into a buttery vegetable fat that contains a high proportion of unsaturated fatty acids, vitamin E and allantoin. The fatty acids protect against moisture loss and the vitamin E prevents hair breakage and ensures shine and easy combing. Thanks to ingredients such as allantoin, shea butter can help accelerate cell structure and cell regeneration in the case of skin irritations.
SCS and SCI are mild, anionic surfactants for cleaning skin, hair and teeth.
Vitamin E (tocopherol) As a fat-soluble vitamin, it builds cell protection especially in the epidermis, intercepts aggressive compounds in the skin and supports regeneration. As an antioxidant, it prevents hair breakage and ensures shine and easy combing.
citric acid, finely ground and water-free, is used exclusively to adjust the pH value.
Inulin, obtained from chicory, is a natural mixture of sugars that serves as food for the good bacteria and thus supports the regeneration of the skin flora after washing.t.
APPLICATION
The Sagitta Shampoo Bars come to you in recycled bags. To wash your hair, moisten it and your brown TREAT Shampoo Bar in the bag and massage your scalp until enough foam is created in the hair.
You can rinse the bar and bags briefly and hang them up at the sink or in the shower. This means the bars don't soften and can be used for up to forty washes.
Then continue washing your hair with your hands and rinse out the foam with plenty of water. If you massage for a long time without creating enough lather or if you have long hair, use a second wash after rinsing.
The shampoo bars are gentle on hair and scalp and are also suitable for hard water. The pH value is in the slightly acidic to neutral range. An acidic rinse like hair soap is definitely not necessary. You can wash and reuse the bags if necessary.
Useful knowledge on the side: The practical little bags are produced by the young Munich start-up Retaschen, which has the bags sewn by hand from discarded, transparent curtains in several social institutions in Bavaria with a lot of commitment. Jutta Esser and Waltraud Stitzl used to be bankers, but today, as the founders of Retaschen, they are committed to environmental protection, sustainability and social responsibility.s.
We thought the rebags for fruit, vegetables and more were a great business idea and together we developed the Sagitta + Retaschen bar bags, which are sewn exclusively for Sagitta in size and color. With every order we give you one of these sustainable bar bags.
FAST SHIPPING WITH DHL (2-3 DAYS IN DE)
30 DAY SATISFACTION GUARANTEE
BUYER PROTECTION WITH TRUSTED SHOPS
BONUS PROGRAM FOR LOYAL CUSTOMERS