You can order free shipping in DE from just €50 📦 and from €75 in AT and CH!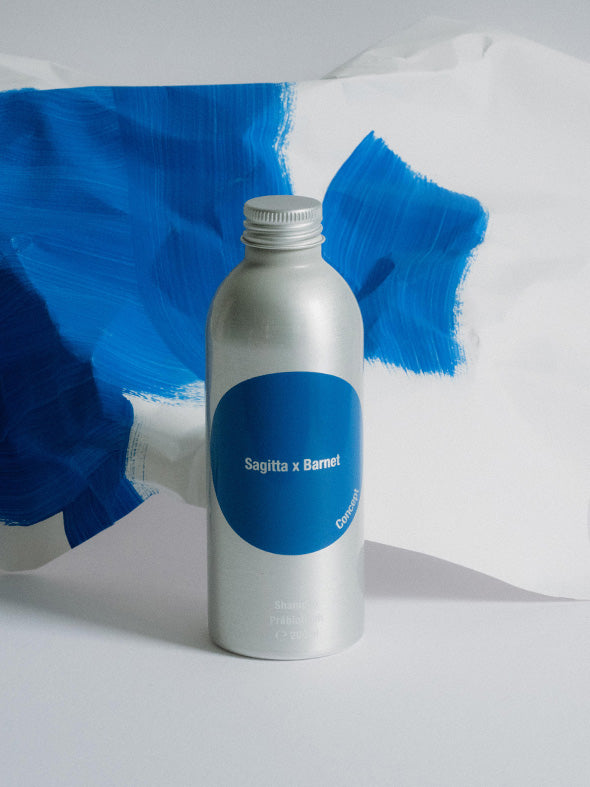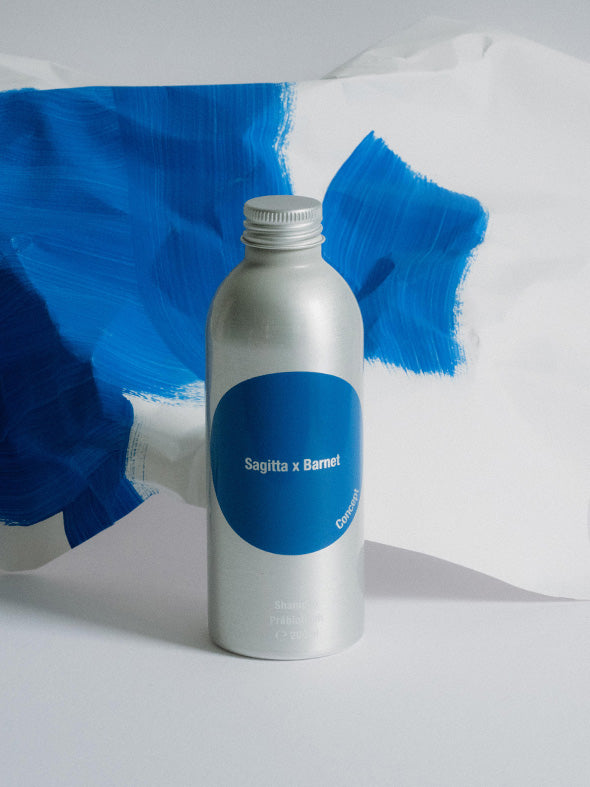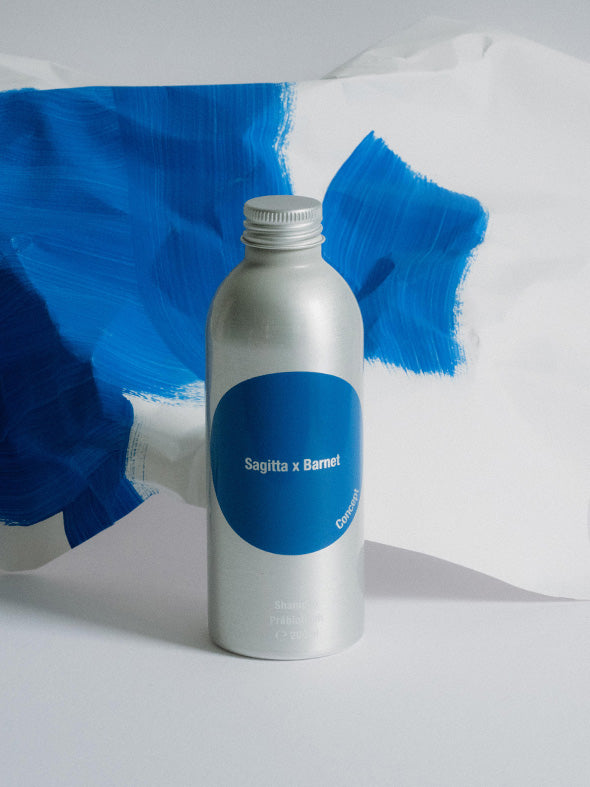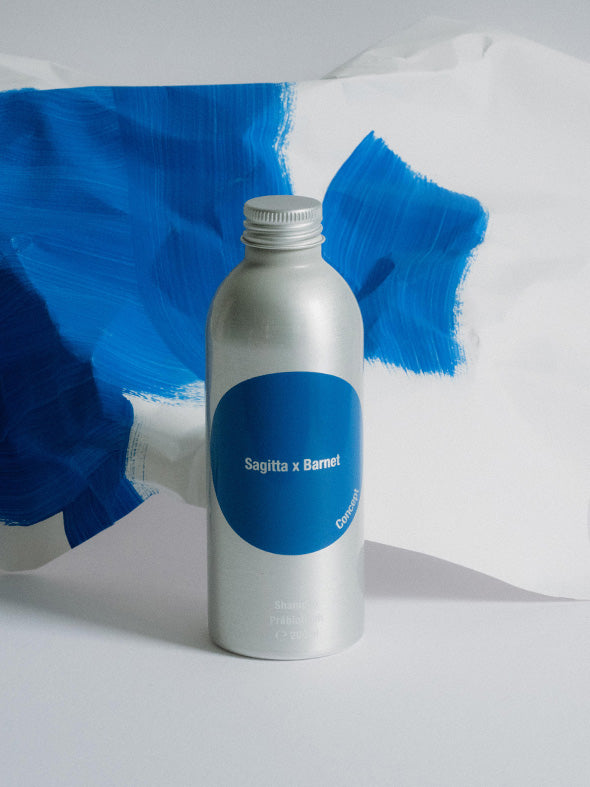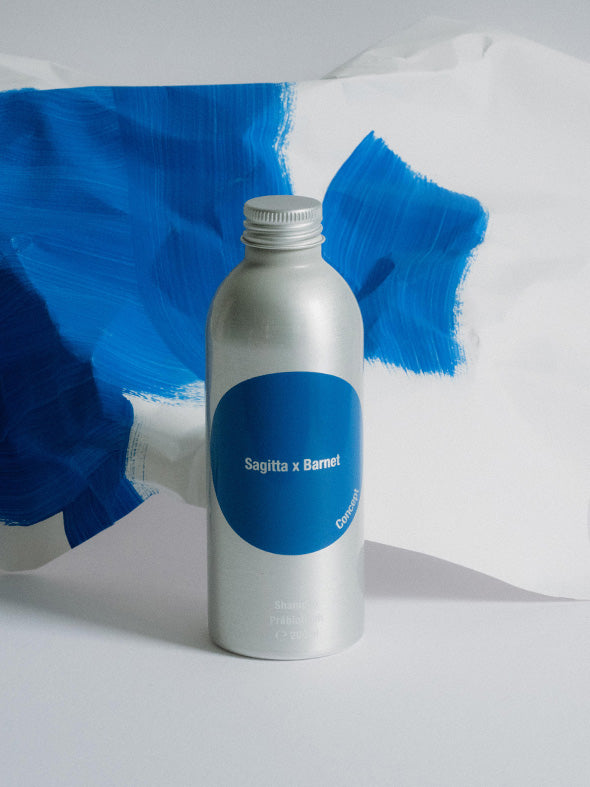 SAGITTA + BARNET CONCEPT - PREBIOTIC SHAMPOO
AUF LAGER UND IN 2-4 TAGEN BEI DIR
✓ Aloe vera juice instead of water
✓ Nourishes and moisturizes
✓ Soothes the scalp
✓ With the prebiotic organic inulin
✓ For daily hair washing
We have combined our ancient knowledge with the modern know-how of Barnet Concept, one of the hottest hair salons in Munich, and developed a sensational aloe vera-based shampoo. While conventional shampoos primarily contain water, the Sagitta + Barnet Concept prebiotic shampoo consists mainly of aloe vera juice, which is valued for its nourishing, moisturizing and soothing effects.

The active washing ingredients, which are responsible for the moisture and softness of the hair, and the nutrients for the hair and scalp have been carefully combined according to a tried and tested, unique concept from Sagitta + Barnet Concept. It is enriched with the prebiotic organic inulin, which helps the scalp heal itself by stimulating the natural production of lactic acid and supporting the skin flora. The result is healthy hair care with a shampoo that is suitable for every hair type and for daily washing.
Contents 200 ml
Organic farming
The ingredients of the prebiotic shampoo from Sagitta + Barnet Concept come from controlled organic cultivation and are palm oil-free. Of course, we do not use any chemical additives, heavy metals, pesticides, preservatives, parabens and microplastics.  

A notice: Since there are unfortunately no good alternatives to plastic for the pump head, we ask that you order the pump head free of charge with your first shampoo and then reuse it. The shampoo is also good to use without a pump head. Simply carefully pour a small amount into the palm of your hand.
LIVE HEALTHIER WITH HEALTHY HABITS
Replace your water-based shampoo with an aloe vera shampoo. Aloe vera is a real benefit, especially for dry hair and dry scalp. The scalp and hair are well moisturized, dandruff is simply washed away and itching is relieved. The moisture that aloe vera provides also ensures that your hair shines wonderfully again.
Many shampoos, including natural cosmetics, contain surfactants that can have an unfavorable effect on the skin flora. With the prebiotic shampoo from Sagitta + Barnet Concept you protect your sensitive scalp from these sometimes very aggressive ingredients. Our shampoo does not contain any harmful surfactants or emulsifiers because it contains natural, biodegradable ingredients.
INGREDIENTS
INCI: Aloe Barbadensis Leaf Juice, Coco-Glucoside, Aqua, Sodium Coco-Sulfate, Cocos Nucifera Oil, Caprylyl Glycol, Inulin, Hydrolyzed Wheat Protein, Hydrolyzed Rice Protein, Taraxacum Officinale Extract, Panthenol, Glycerin, Fructose, Glucose, Sucrose, Guar Hydroxypropyltrimonium Chloride, Amorphophallus Konjac Root Extract, Sodium Stearoyl Glutamate, Citric Acid, Sodium Levulinate, Sodium Anisate, Sodium Chloride, Sodium Benzoate, Parfum.
HOW THE MAIN INGREDIENTS WORK:
Aloe Barbadensis Leaf Juice is the juice from the leaves of aloe vera. It contains more than 160 valuable active ingredients such as vitamins A, B, C and E, minerals, amino acids, fatty acids, trace elements, enzymes and salicylic acid. The main active ingredient in aloe vera is aloverose, also called acemannan, a sugar molecule that strengthens the cell membrane and, according to recent studies, even has prebiotic properties. The medicinal plant aloe vera is valued primarily for its anti-inflammatory, moisturizing and skin-protecting properties.
Organic inulin is a purely vegetable substance that is obtained from plants such as agaves and artichokes. It forms a soft film on the skin that helps protect the skin.
APPLICATION
To use, distribute one to two pumps or a small amount of shampoo in your hands and massage into wet hair until enough foam is created. Then rinse thoroughly. No conditioner or conditioner is necessary. Your hair is also so easy to comb, feels silky and shines with a natural shine.
EVALUATION
THIS IS WHAT OUR CUSTOMERS SAY:
"I've recently had your Sagitta x Barnet liquid shampoo and just wanted to say it's the best shampoo for my curls and scalp. I will highly recommend it.""
Sandra P.
"After the first use, my hair was flying a bit. However, this no longer happened with subsequent uses. After using it for a week now, my hair looks strong, has a nice shine and somehow doesn't get greasy so quickly! And the shampoo is more productive than I initially used it thought :) So thumbs up! The deodorant is great too!! I will definitely order from you again."."
Patricia F.
"The aloe vera shampoo really impressed me. Recently, after washing my hair, my hairdresser asked me if I wanted a conditioner. Is it necessary, I asked and she said no, so she asked yes. So far it's always been necessary! I I've been using the Probiotic Aloe Vera Shampoo without conditioner or anything else for about three months now and my hair feels really great. Even my hairdresser noticed the change. So 5 stars and a clear recommendation!"g!"
Brigitte K.
FAST SHIPPING WITH DHL (2-3 DAYS IN DE)
30 DAY SATISFACTION GUARANTEE
BUYER PROTECTION WITH TRUSTED SHOPS
BONUS PROGRAM FOR LOYAL CUSTOMERS