You can order free shipping in DE from an order value of €50 or more 📦. To AT, CH, BE, DK, NL, LU from 75 €!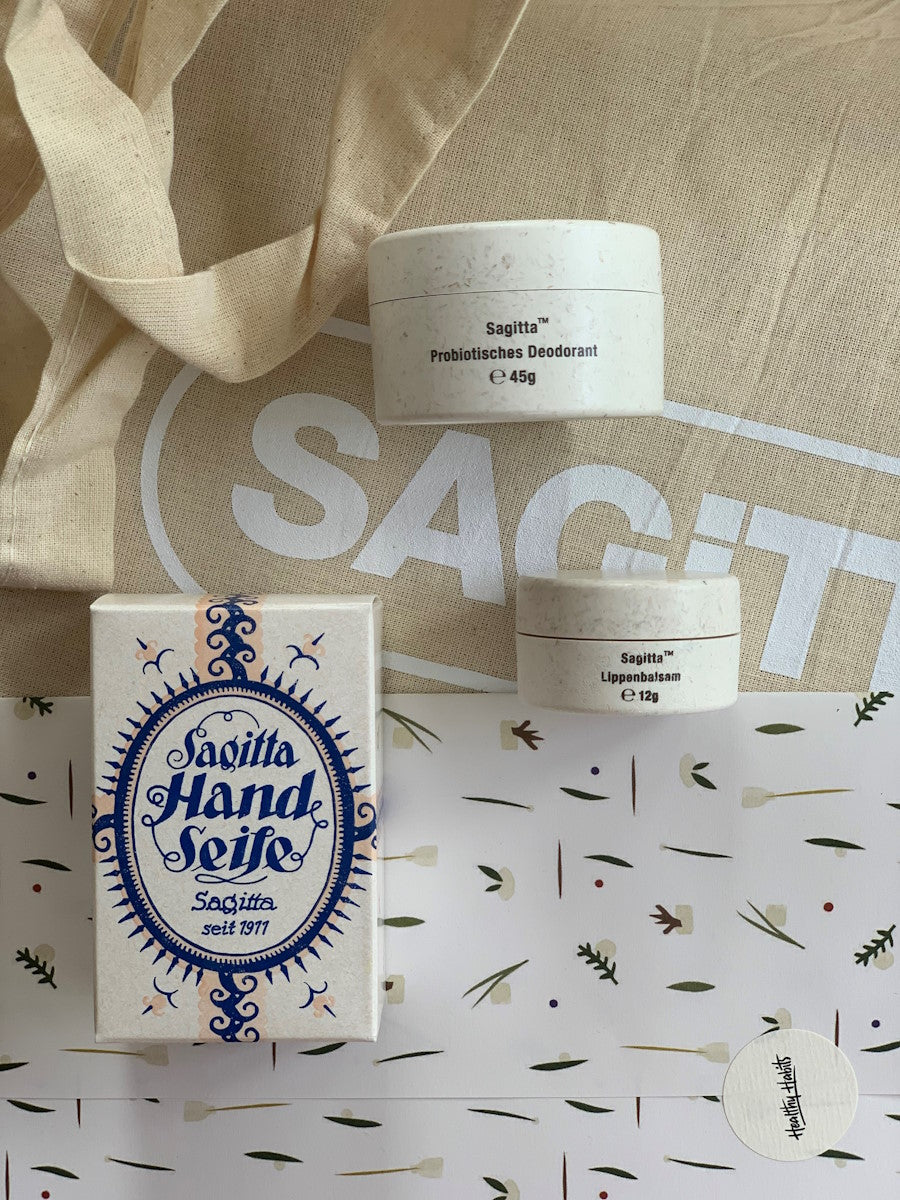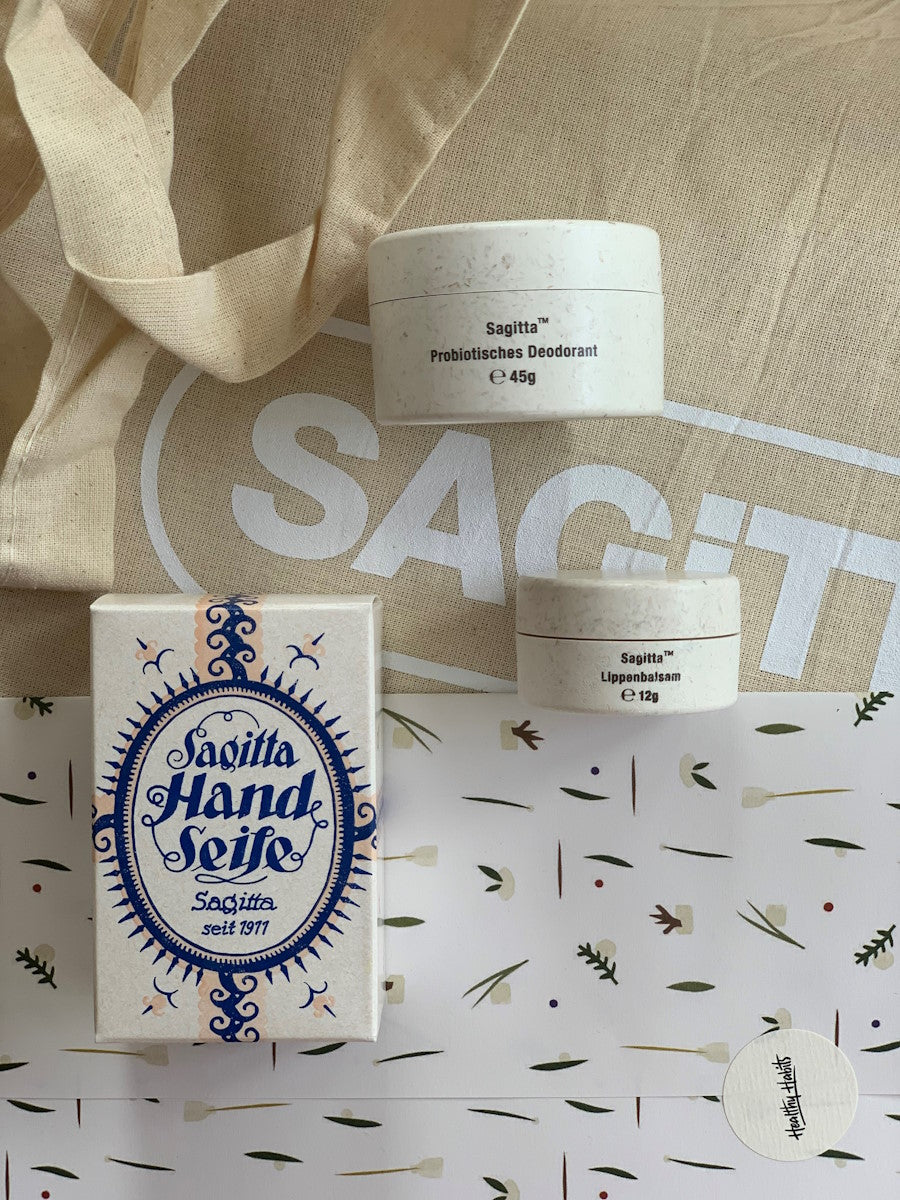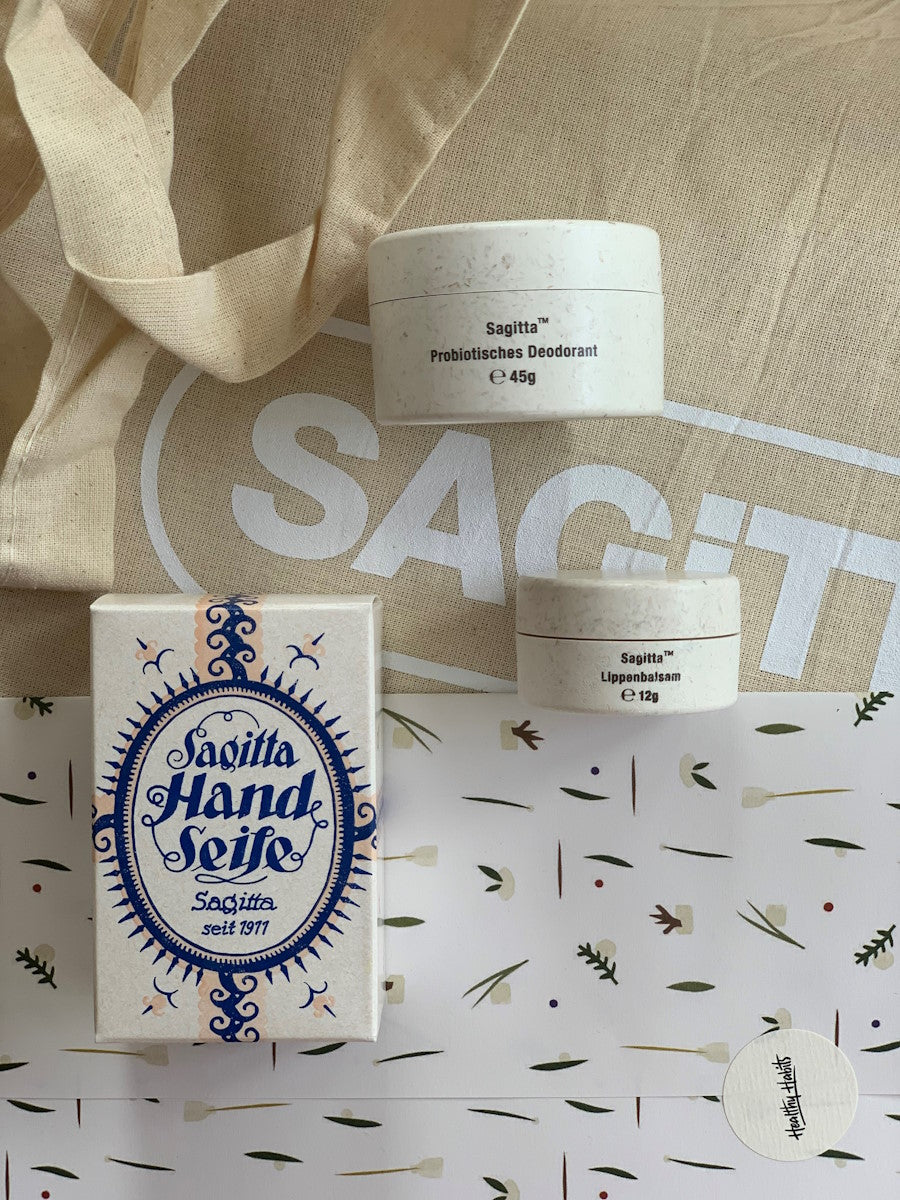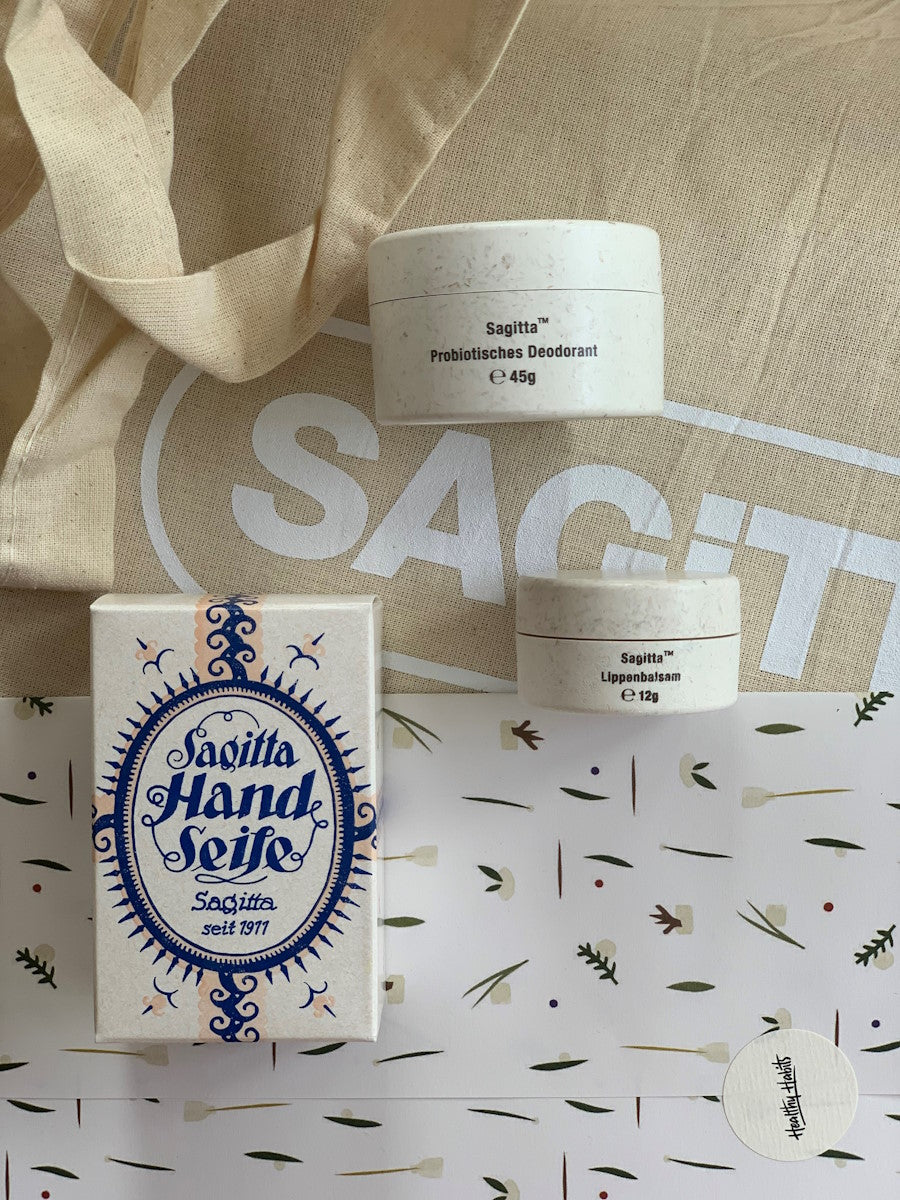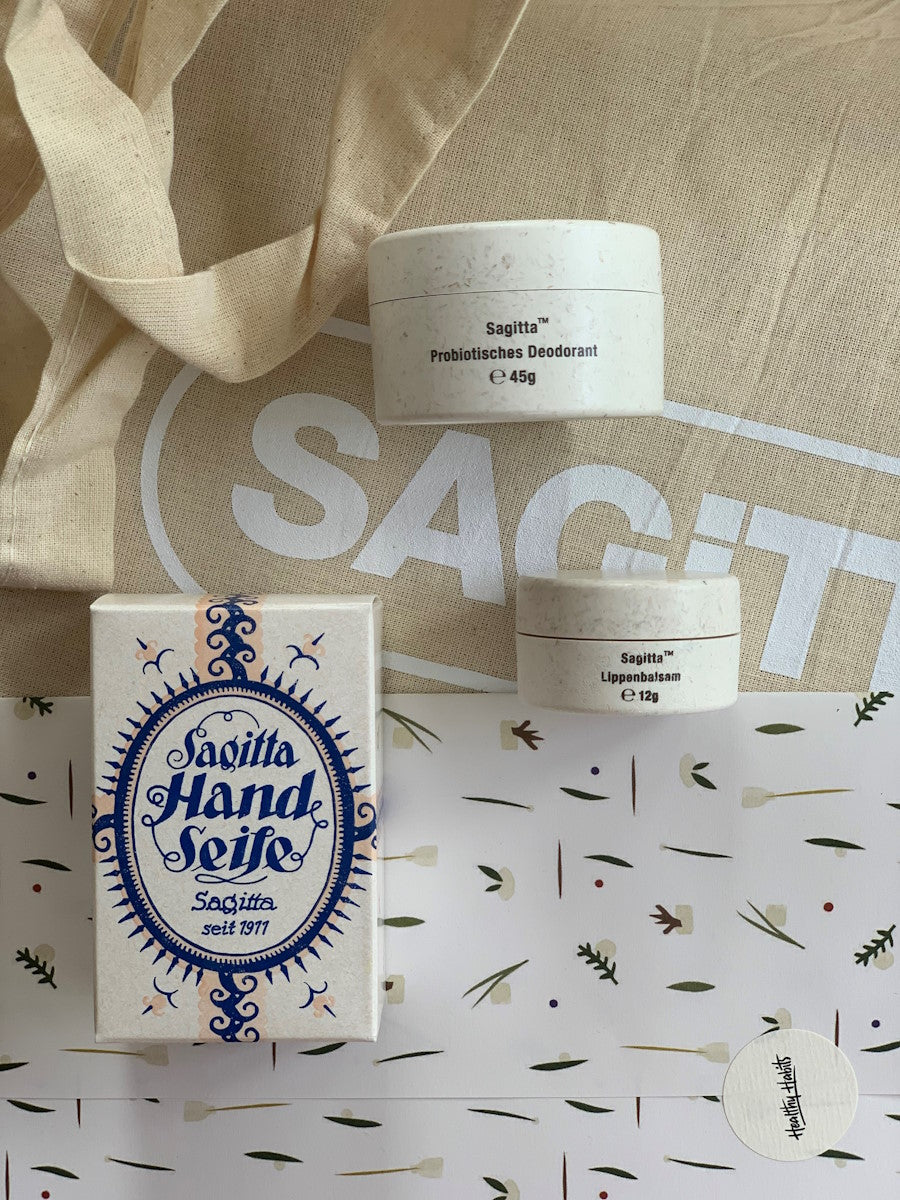 SAGITTA SENSITIVE SKIN SET
AUF LAGER. VERSANDFERTIG UND IN 2-4 TAGEN BEI DIR.
✓ Probiotic deodorant
✓ Lip Balm
✓ Hand soap 1911
✓ Ideal for sensitive skin
✓ Also for children and young people
The Sagitta Sensitive Skin Set consists of the products

Sagitta Probiotic Deodorant
Sagitta lip balm and
Sagitta hand soap 1911
and offers gentle, natural care for sensitive skin. The deodorant is probiotic and theoretically just as edible as the lip balm. The 1911 hand soap is prebiotic and contains food for the good bacteria. All three products are so natural and healthy that they are ideal for sensitive skin. . 
The Sagitta Probiotic Deodorant is the first of its kind to contain living microorganisms. Good bacterial strains help restore the biological balance of your sensitive underarm skin and neutralize unpleasant odors. With a mixture of rich shea butter, cold-pressed coconut oil and vitamin E, it nourishes your skin sustainably. The deodorant is free of aluminum, alcohol, preservatives and perfumes and is completely odorless.s.

The Sagitta lip balm is the perfect addition to your lip care. It provides your sensitive lip skin with intensive moisture and leaves a protective film that makes the lips smooth and soft. The lip balm contains only six natural ingredients from organic farming. The combination of shea and cocoa butter as well as walnut and apricot kernel oil quickly makes your lips supple again, while the beeswax helps to heal stressed lips. The lip balm is free of chemical additives and microplastics. You can use it without hesitation, even if you suffer from allergies, are pregnant or breastfeeding.

The Sagitta hand soap 1911 has been produced in a gentle cold process for over 100 years according to old traditions. It gently cleanses and cares for the hands and leaves the skin feeling pleasant. Enriched with juniper oil, known for its cleansing properties, and pine oil, which has a bitter, spicy scent and is said to have an antibacterial effect, it is reminiscent of a walk in the forest and lifts your mood.
Tip: The sensitive skin set is also perfect for teenagers and children. The deodorant in particular is ideal as a starter deodorant for teenagers.

Contents: Sagitta Probiotic Deodorant 45 g, Sagitta Lip Balm 12 g, Sagitta Hand Soap 1911 100 g.




Organic farming

The ingredients of the Sagitta Sensitive Skin Set come from controlled organic cultivation and are sustainable and palm oil-free. Of course, we do not use any chemical additives, heavy metals, pesticides, preservatives, parabens and microplastics.






LIVE HEALTHIER WITH HEALTHY HABITS

Discover the Sagitta Sensitive Skin Set now and care for your skin naturally, gently and effectively.
 
 

INGREDIENTS
Sagitta Probiotic Deodorant
Shea butter, potato starch, coconut oil, baking soda, beeswax, effective microorganisms, natural vitamin E

INCI: Butyrospermum Parkii, Solanum Tuberosum Starch, Cocos Nucifera Oil. Sodium bicarbonate, Cera Alba, probiotics, tocopherol


Sagitta lip balm
Shea butter, walnut kernel oil, apricot kernel oil, beeswax, cocoa butter, natural vitamin E.
INCI: Butyrospermum Parkii, Cera Alba, Juglans Regia Oleum, Prunus Armeniaca Oleum, Theobroma Cacao Oleum

Sagitta hand soap 1911

Olive oil (saponified), coconut oil (saponified), sodium stearate, water, glycerin, almond oil, shea butter, inulin (prebiotic)
Essential oils: juniper oil, pine oil
INCI: Sodium Olivate, Sodium Cocoate, Sodium Stearate, Aqua, Glycerin, Prunus Amygdalus Dulcis Oil Butyrospermum Parkii Butter, Inulin, Juniperus Communis Fruit Oil, Pinus Cembra Twing Leaf Oil, Sodium Chloride, Sodium Citrate, Limonene, CI77492


THIS IS HOW THE MAIN INGREDIENTS WORK


Microorganisms (probiotics): The so-called good bacteria for the probiotic deodorant consist of Lactobacilli and Bifidobacteria species, which occur everywhere in the body and help to restore the balance of the skin flora, which is usually massively disturbed by showering and aluminum.n.

Shea butter is obtained from the fruits of the shea tree, which grows in Africa. The seeds are traditionally processed by hand into a buttery vegetable fat that contains a high proportion of skin-friendly fatty acids and vitamin E. Shea butter provides the skin with a lot of moisture and relieves the feeling of dry and irritated skin.

Vitamin E is a collective term for fat-soluble substances, which also includes the tocopherol used here. It helps protect the skin and repair damage to the skin barrier. Together with vitamins A and C, vitamin E is one of the antioxidants whose job is to protect the skin from free radicals.
Walnut kernel oil Due to its high linoleic acid content, it is absorbed particularly quickly into the skin and contributes to the natural renewal of skin cells. It can make dry, cracked skin supple again. It is also suitable for sensitive skin areas such as the lips.
Apricot kernel oil is a base oil that is so mild that it is well tolerated even by sensitive, irritated and irritated skin. It has a smoothing and calming effect on the skin and is well absorbed.
Beeswax moisturizes the skin and at the same time forms a light protective film on the skin, which serves as a barrier against harmful environmental influences. This protective film does not clog the pores, but allows the skin to breathe and has a soothing effect on dry skin and skin irritations. Provitamin A (beta-carotene), which is abundant in beeswax, supports the renewal of skin cells, leaving the skin feeling smooth and elastic.
Juniper oil is highly valued for its diverse health effects. It is often used externally for chronic skin conditions and for faster healing of the skin, because juniper oil can have a cleansing, germicidal and disinfecting effect.
Pine oil has been used for centuries for its health-promoting effects. Pine wood has a positive effect on sleep and your daily mood, and pine oil is also said to have a relaxing effect. In addition, it can have anti-inflammatory and antibacterial effects and soothe the skin.

Organic inulin is a purely plant-based substance that is obtained from plants such as agave and artichoke. It forms a soft film on the skin that helps protect the skin.



APPLICATION
Apply about a hazelnut-sized amount of the Probiotic deodorant Apply to clean, dry skin and massage in over a large area. Then it is spread very thinly, nourishes the skin and supports the good bacteria in their work. One jar should last at least four weeks.n.

If you have used a deodorant containing aluminum for a long time, it may take a few days for the skin to regenerate and care. We therefore ask for a little patience and perseverance.
Wear that Sagitta lip balm Apply to lips with fingertip and distribute evenly. A tiny amount is enough because Sagitta lip balm is very effective. This means your lips are always well protected and feel soft, full and cared for. Particularly recommended in the cold season, in wind and weather and in the sauna.


Use that Sagitta hand soap 1911 for washing hands.

REVIEWS

DEO TEST FROM VOGUE MAGAZINE July 2019

Among the eight favorites in the "Vogue" magazine test, Sagitta's Probiotic Deodorant is No. 1!


THE VERDICT OF THE PROFESSIONAL TESTERS

"Even after a day of dancing at a festival at 25 degrees, I still smell fresh. I'm sticking with it!""
Product test in Girlfriend magazinen"


"Don't let up in the shade even at 37 degrees!"
Product test in Brigitte magazinee"





FAST SHIPPING WITH DHL (2-3 DAYS IN DE)
30 DAY SATISFACTION GUARANTEE
BUYER PROTECTION WITH TRUSTED SHOPS
BONUS PROGRAM FOR LOYAL CUSTOMERS