You can order free shipping in DE from an order value of €50 or more 📦. To AT, CH, BE, DK, NL, LU from 75 €!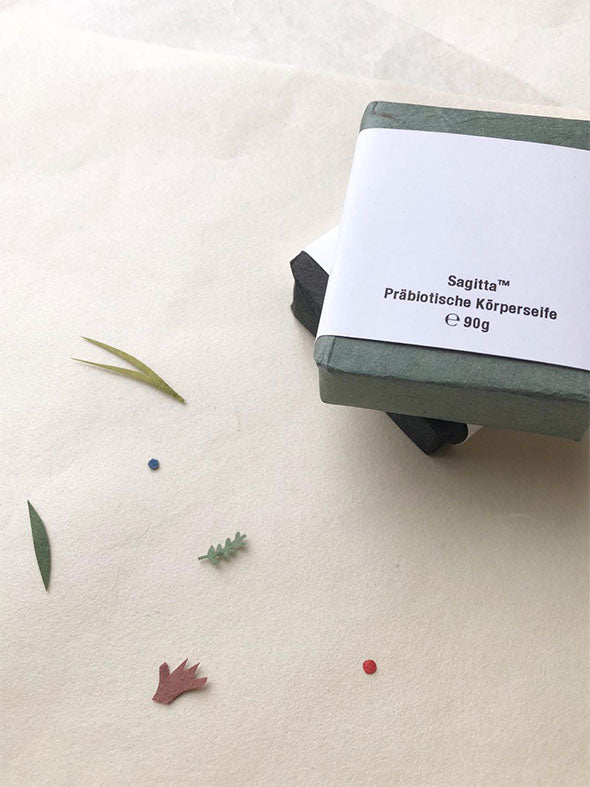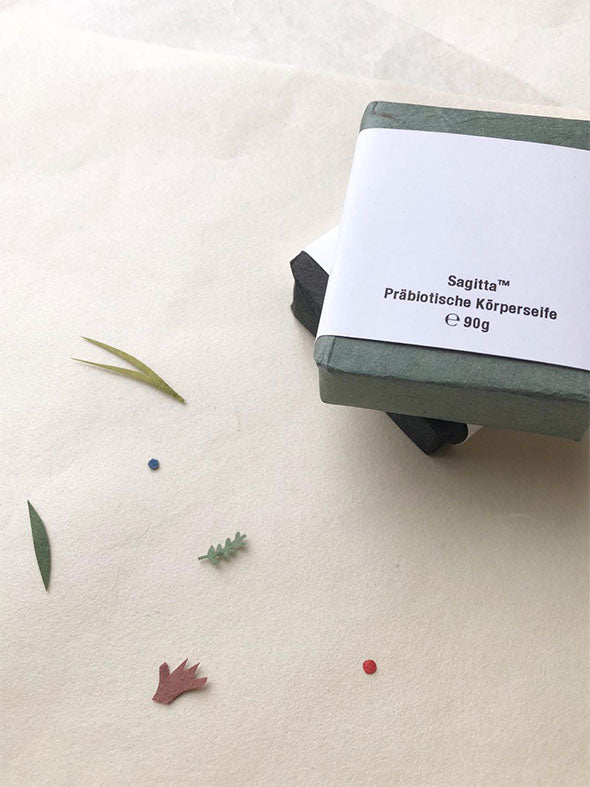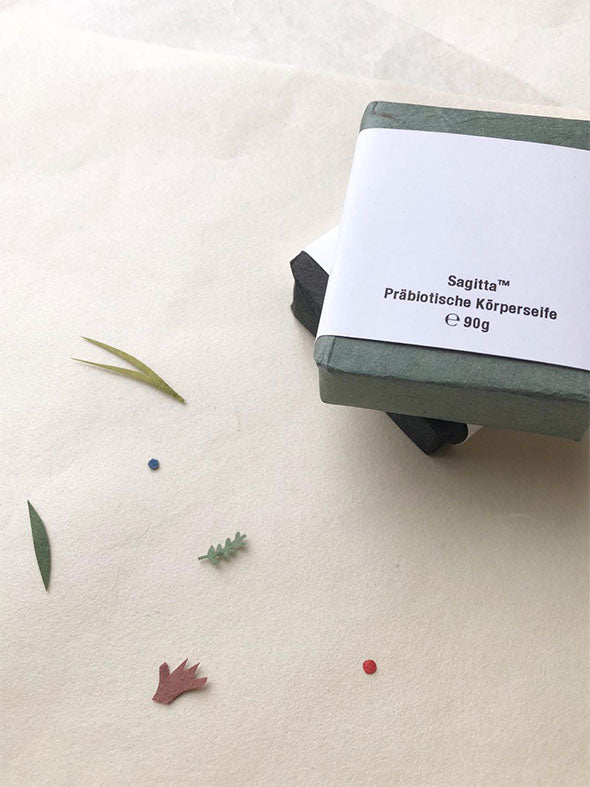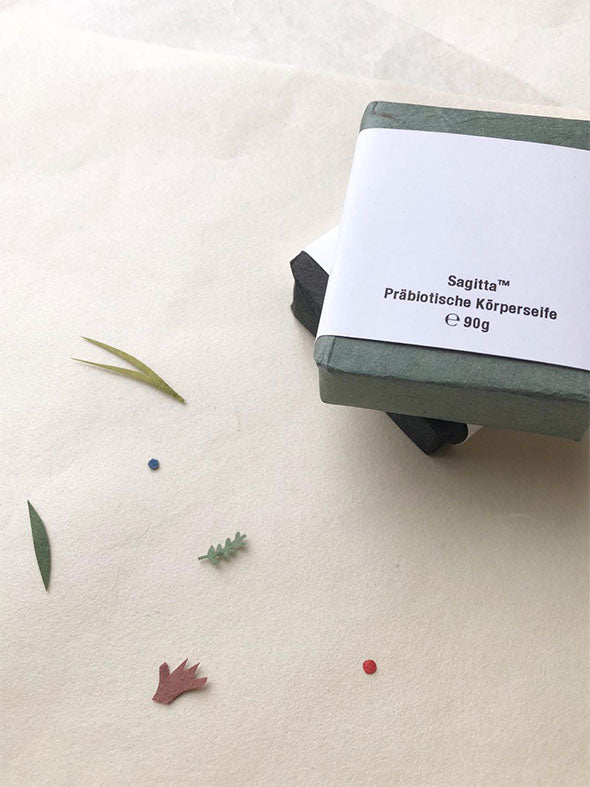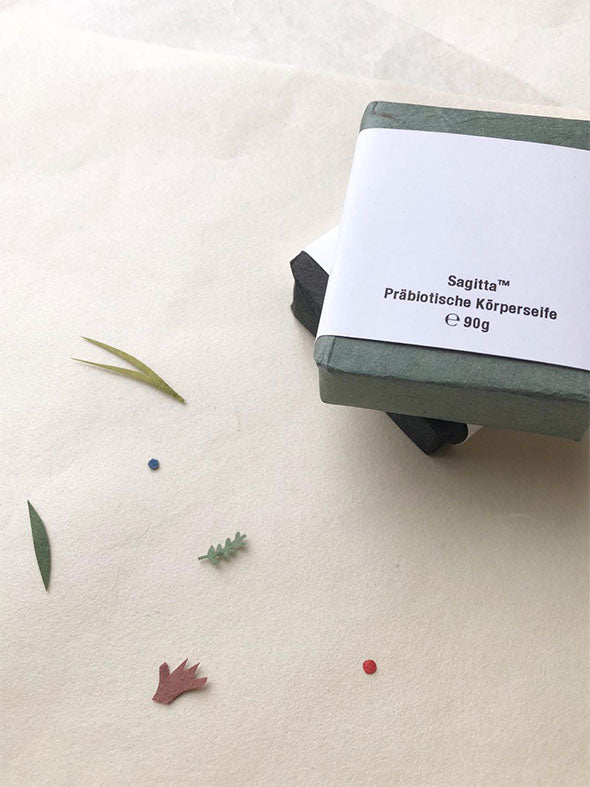 SAGITTA PREBIOTIC BODY SOAP
AUF LAGER UND IN 2-4 TAGEN BEI DIR
✓ Hand-boiled with inulin and Lactis Proteinum
✓ Can prevent skin problems
✓ Provides valuable moisture
✓ Smells delicately of Ho Wood and grapefruit
✓ From controlled organic cultivation
The Sagitta Prebiotic Body Soap is a purely natural soap for body care, made by hand according to old family traditions. It is hand-boiled with organic inulin and organic lactis protein to promote the skin's natural lactic acid production.

This means that the body soap is slightly alkaline and can prevent skin problems. In addition, the harmonious composition of rich shea butter and cold-pressed plant oils provides the skin with valuable moisture.

The Sagitta Prebiotic Body Soap leaves the skin with a delicate scent of Ho Wood and grapefruit and a silky, soft, nourished feeling.
Contents 90 g


Organic farming
The ingredients of this body soap come from controlled organic cultivation and are palm oil-free. Of course, we do not use any chemical additives, heavy metals, pesticides, preservatives, parabens and microplastics.

Our tip:
Try ours too Probiotic deodorant. It works particularly well in combination with Sagitta Prebiotic Body Soap.
LIVE HEALTHIER WITH HEALTHY HABITS
Use body soap instead of shower gel for washing and showering. Most shower gels, including natural cosmetics, contain surfactants that can have an unfavorable effect on the skin flora. With Sagitta Prebiotic Body Soap you can protect your skin from these sometimes very aggressive ingredients and at the same time prevent skin problems.
INGREDIENTS
Shea Butter, Coconut Oil, Olive Oil, Organic Lactis Proteinum, Rapeseed Oil, Aqua.
Essential oils: Ho Wood, grapefruit, juniper, organic inulin, castor oil, sea salt, ultramarine blue.

INCI: Butyrospermum parkii butter, Cocoa anucifera oil, Olea europaea fruit oil, Lactis proteinum, Canola oil, Sodium hydroxide, Aqua, Ricinus communis, Aroma, Inulin lauryl carbamate, Maris Sal, CI 77007, Citral, Geraniol, Citronellol, Limonene, Linaool .
HOW THE MAIN INGREDIENTS WORK:

Organic inulin is a purely plant-based substance that is obtained from plants such as agave and artichoke. It forms a soft film on the skin that helps protect the skin.
Organic Lactis Proteinum As a prebiotic, it can promote skin regeneration and cell renewal. It promotes the production of lactic acid in the skin and can prevent skin problems. In addition, the whey proteins it contains improve the stability of other important ingredients and are part of a system that supports the penetration of active ingredients into the deeper layers of the skin.

Shea butter is obtained from the fruits of the shea tree, which grows in Africa. The seeds are traditionally processed by hand into a buttery vegetable fat that contains a high proportion of skin-friendly fatty acids and vitamin E. Shea butter provides the skin with a lot of moisture and relieves the feeling of dry and irritated skin.
A notice: The Sagitta Prebiotic Body Soap will have a slightly more yellow color in the future because we are not using titanium white.
APPLICATION
Lather the Sagitta Prebiotic Body Soap with water and rub your body with the bar of soap. Then rinse off the soap foam as usual.

Always let the soap dry thoroughly after use. One of the beautiful ones is ideal for this Sagitta + Resache soap bags, which you can find in a large selection here in the shop.
FAST SHIPPING WITH DHL (2-3 DAYS IN DE)
30 DAY SATISFACTION GUARANTEE
BUYER PROTECTION WITH TRUSTED SHOPS
BONUS PROGRAM FOR LOYAL CUSTOMERS